Marine squadron commander at Iwakuni fired months after fatal midair collision
by
James Bolinger
April 26, 2019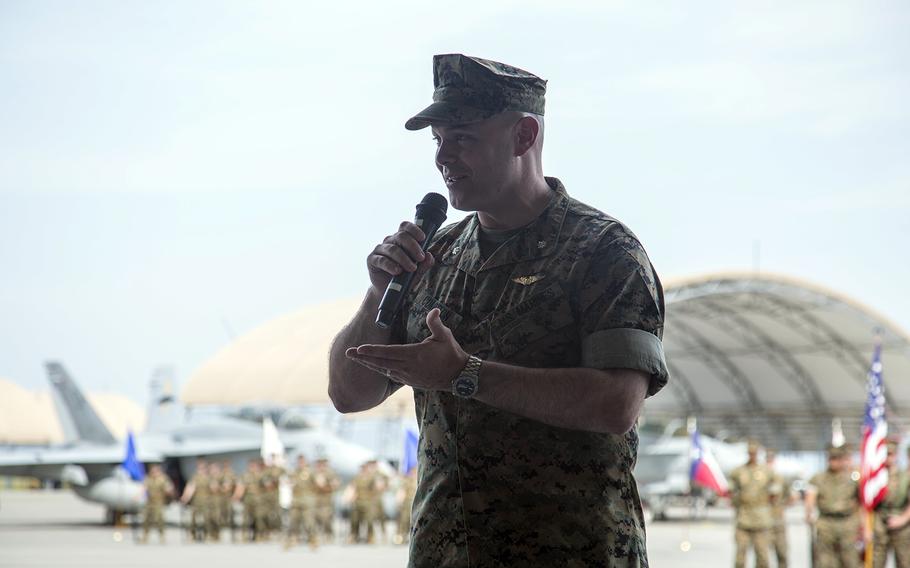 MARINE CORPS AIR STATION IWAKUNI, Japan — The commander of All Weather Fighter Attack Squadron 242 at MCAS Iwakuni has been relieved of command, according to a spokesman for the III Marine Expeditionary Force.
Lt. Col. James Compton was removed April 22 by Maj. Gen. Thomas Weidley, commander of the 1st Marine Aircraft Wing in Okinawa, due to a "loss of trust and confidence," according to an email statement Friday from 1st Lt. David Mancilla of III MEF. Compton held the post just short of a year; he took command of the squadron on May 25.
An F/A-18D Hornet from the squadron was involved in a fatal midair collision Dec. 6 with a KC-130J from Marine Aerial Refueler Transport Squadron 152, also based at MCAS Iwakuni, that killed six Marine aviators.
Compton was fired as a "direct result of decisions made that may have been related to the fatal collision," according to the Marine Corps Times, which reported Compton's dismissal Thursday. The newspaper did not identify the source of that statement.
Mancilla, a spokesman for the III Marine Expeditionary Force, the parent unit for 1st Marine Air Wing, would not confirm that statement when queried Friday by Stars and Stripes.
"The investigation into the mishap in December is still ongoing," according to Mancilla's email. "This is an internal Marine Corps personnel matter, and we will not release any further information at this time."
Lt. Col. Kevin Campbell was named the interim commanding officer of the squadron, Mancilla stated.
Mancilla declined to comment on Compton's future in the Marine Corps, stating that "as a matter of policy and privacy, we don't discuss internal Marine Corps personnel matters."
The six Marines who died in the crash were: Lt. Col. Kevin Herrmann, 38; Maj. James Brophy, 36; Capt. Jahmar Resilard, 28; Staff Sgt. Maximo Alexander Flores, 27; Cpl. William Ross, 21; and Cpl. Daniel Baker, 21.
The weapons officer for the Hornet survived the incident and was released from the hospital several days after the crash. He has not been identified.
Resilard, the Hornet pilot, was pronounced dead after being found by the Japan Maritime Self-Defense Force ship JS Setoyuki the day of the crash.
The search for the crew of the KC-130 was called off Dec. 11, after ships, planes and special forces from the U.S., Japan and Australia searched 35,000 square nautical miles.
The downed planes, which launched from MCAS Iwakuni, were conducting regularly scheduled training, including aerial refueling, when the accident happened, the Marines said at the time.
In December, the Marine Corps stated that Navy salvage experts had likely found both aircraft. Signals were detected Dec. 19 and 21 at a depth of approximately 9,843 feet. Two of the pingers are thought to mark the location of the KC-130 and the third is associated with the F/A-18.
"A team of deep-water salvage experts led by United States Navy's Supervisor of Salvage and Diving … deployed from Yokosuka and arrived on scene Dec. 18," the December statement said. "There, the highly skilled operators searched for the aircrafts' emergency relocation pingers with a U.S. Navy-owned towed pinger locator (TPL-25) system."
bolinger.james@stripes.com Twitter: @bolingerj2004