Marine spouse presents $11,050 to Okinawa governor to help restore fire-ravaged Shuri Castle
by
Aya Ichihashi
February 7, 2020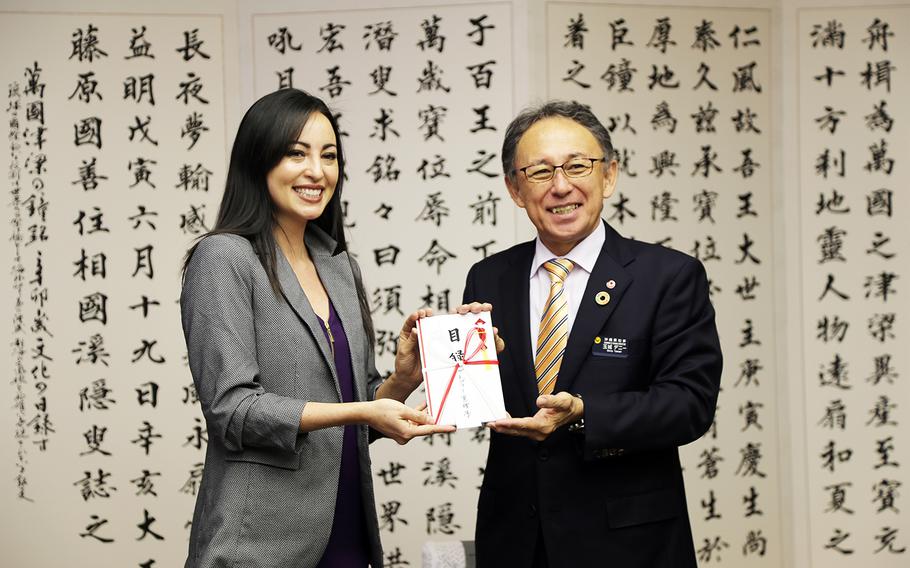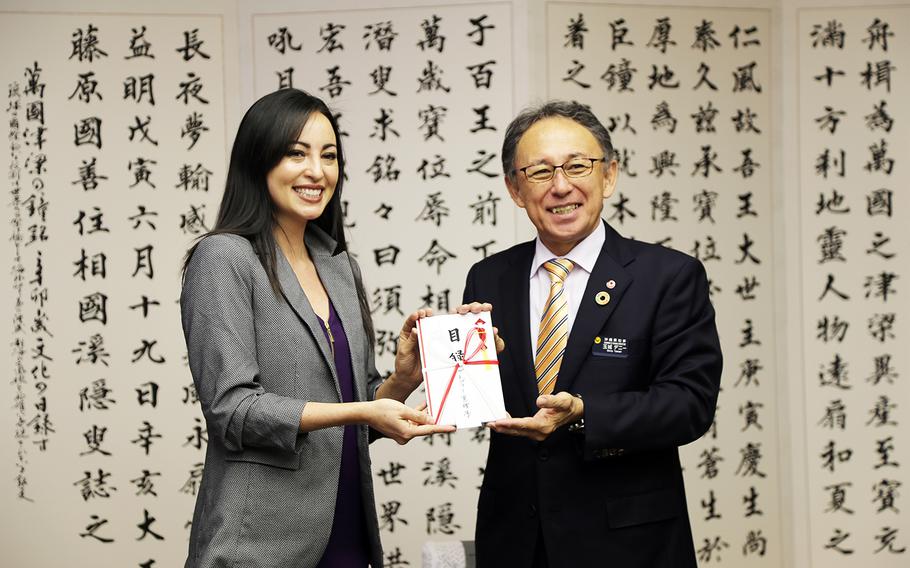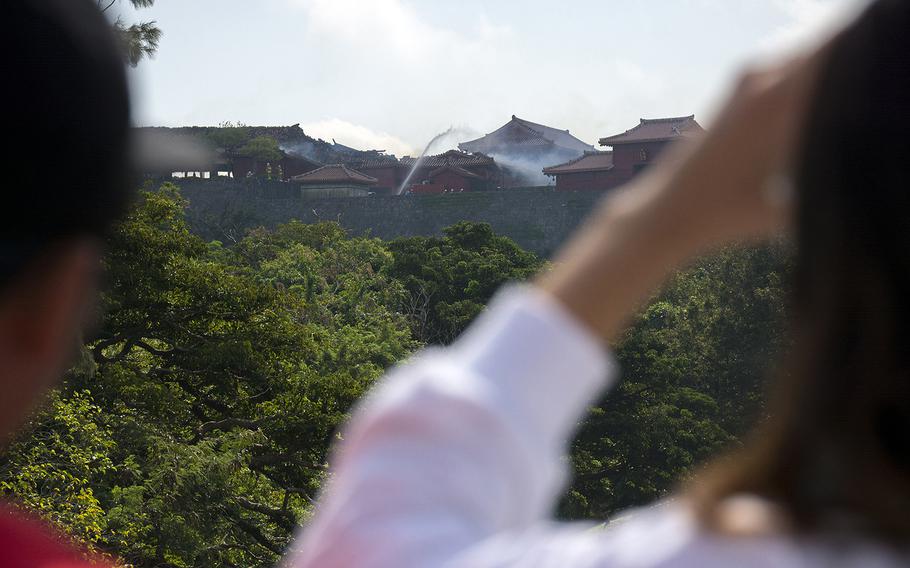 NAHA, Okinawa — A Marine Corps spouse who raised more than $11,000 through a GoFundMe campaign gave the money to Okinawa's governor on Thursday to help restore Shuri Castle, a landmark destroyed by fire Oct. 31.
More than 200 people, mostly U.S. military members and their families serving on Okinawa or who had served there previously, as well as Okinawans living in the U.S., gave to the fund, said Mari Gregory, 41. She and her husband, Maj. Indigo Gregory, 44, of Marine Corps Base Quantico, Va., were stationed at Camp Courtney, Okinawa, until summer 2019.
"Through the fundraising, I've really felt how much people love Okinawa," Mari Gregory told Stars and Stripes before the presentation. "And even if you don't live in Okinawa, Okinawa still stays with you in your heart wherever you go in the world. And it's been demonstrated through the fundraising that people literally from around the world donated because they want to see the castle to be rebuilt and they love Okinawa just as much as everybody else."
Shuri Castle, which dates to the 15th century, was destroyed during World War II and rebuilt in 1992. It was considered a symbol of Okinawa's struggle to recover from World War II.
It was reported ablaze at 2:21 a.m. Oct. 31 and burned for more than 11 hours. A total of 171 firefighters responded, but the fire consumed several buildings, including the castle's iconic main hall, called the Seiden.
The Naha City Fire Department finished its investigation at the end of January, a spokesman for the agency said Thursday. Its report is due soon, he said.
"We should be able to announce it by the end of February," the spokesman said. Some government officials in Japan customarily speak on condition of anonymity.
An initial police investigation yielded little about the cause of the fire, the Okinawa police spokesman said.
"The fire was too strong, and everything was burned down," he said.
On the day of the fire, Mari Gregory started a GoFundMe campaign to help restore the landmark, she said. She was not alone. As of Wednesday, the prefectural government has received nearly $10 million in donations toward restoring the castle.
"I feel happy that if we can contribute just a little bit for the restoration of Shuri Castle, maybe it won't be in our lifetime that we'll see it again," Mari Gregory said, "but our children and grandchildren still will enjoy the castle."
Minister Shinzo Abe vowed in November to rebuild Shuri Castle because of its importance to Okinawans.
"It is government's responsibility to rebuild Shuri Castle as early as possible and support it financially," he said.
Okinawa Gov. Denny Tamaki, accepting the donation from Mari Gregory, said: "We will do our best to rebuild the Shuri Castle as early as possible so you can show the castle to your daughters one day."
ichihashi.aya@stripes.com Twitter: @AyaIchihashi