Marine Corps sells nearly $2 million in small-arms ammunition to Brunei for first time
---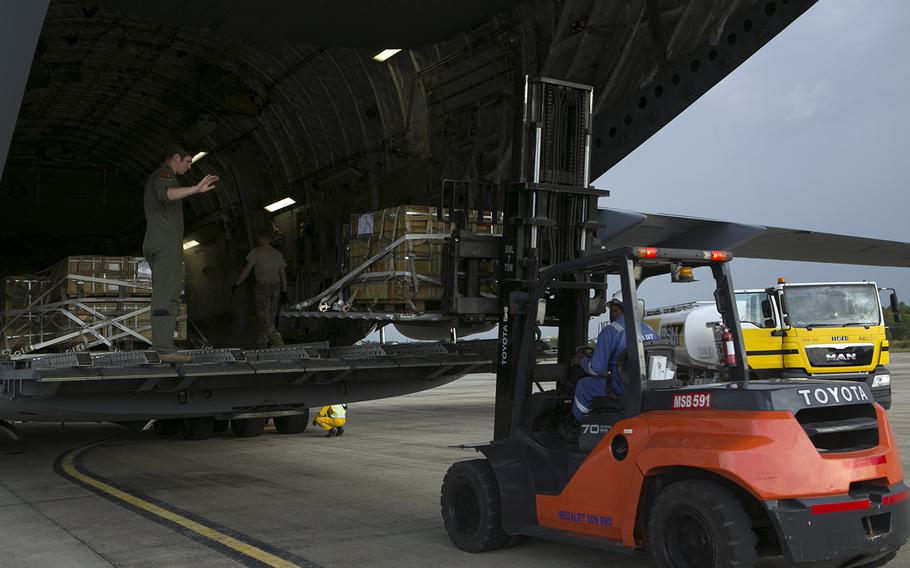 Marine Corps Forces Pacific has sold Brunei $1.9 million in small-arms ammunition, the first such sale the service has ever made to the tiny Southeast Asian nation nestled on the northern coast of Borneo.
The 5.6- and 9-mm ammo was delivered on two Air Force C-17 flights, the first arriving Oct. 4, followed by a second load on Oct. 10, the Marine Corps said in a statement Thursday.
The sale was conducted under terms set by the Acquisition and Cross-Serving Agreement between Brunei and the United States, which allows U.S. armed forces to conduct the military-to-military exchange of logistics and supply services with that nation, the statement said.
"This is a tangible demonstration of the close relationship the United States and the Marine Corps have with Brunei, a relationship that grows stronger as we work together toward a more stable and secure Indo-Pacific," Marine Corps Col. Boyd Miller, who conducted the arms transaction, said in the statement.
While Brunei is tiny — just slightly smaller than the state of Delaware — its coastline lies on the contentious South China Sea. Brunei, China, Vietnam, Philippines, Indonesia and Malaysia maintain varying claims of sovereignty over islets and unsubmerged coral reefs in the sea.
While taking no official stance on ownership of the disputed areas, the U.S. in recent years has pushed back on China's claims of sovereignty over virtually the entire sea and militarization of certain islands.
The Navy routinely sails near disputed islands in what it calls freedom-of-navigation operations to maintain "a free and open Indo-Pacific."
China intermittently woos with financial assistance and intimidates with naval shows of force the other claimant countries.
Chinese President Xi Jinping visited Brunei last year, after which the two nations announced greater economic cooperation.
America, however, has deep military-to-military ties with the country, at its core being the annual Cooperation Afloat Readiness and Training exercise, or CARAT. The country's military personnel routinely attend U.S. armed forces academies.
Brunei participated in the first maritime exercise involving the Association of Southeast Asian Nations and U.S. forces last month in the South China Sea. Brunei in past years sent ships to Hawaii for the biennial Rim of the Pacific maritime exercise.
olson.wyatt@stripes.com Twitter: @WyattWOlson
---
---
---
---