Marine Corps Ospreys fly to Hawaii after completing six-month rotation in Australia
by
Wyatt Olson
September 21, 2019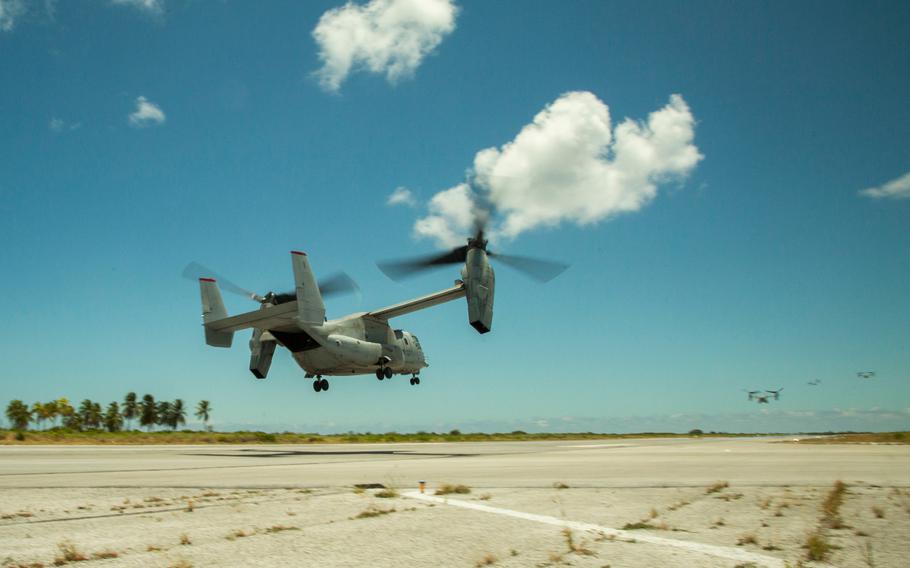 FORT SHAFTER, Hawaii — Four MV-22 Ospreys arrived in Hawaii on Thursday from Australia, the fourth trans-Pacific flight the tilt-rotor aircraft have made.
The Ospreys were part of the Marine Rotational Force-Darwin aviation combat element, the Marine Corps said in a statement Friday.
The Ospreys had spent the past six months in Australia training in more than a dozen exercises across the country, the statement said.
Accompanying the Ospreys, which are part of Marine Medium Tiltrotor Squadron 363, Reinforced, were two KC-130J Hercules cargo planes.
"Being able to fly our aircraft from Australia to Hawaii is a great example of the flexibility and options that the Ospreys create for a commander," Maj. Kyle Ladwig, operations officer for Squadron 363, said in the statement.
The Ospreys and Hercules stopped at islands on the route so that aircrews could rest and refuel the aircraft.
"On this trip, we pioneered a southerly island-hopping route with plentiful diverts to safely employ the MV-22s to or from [Darwin] and Hawaii," Capt. Anthony Walters, the KC-130J strategic area refueling commander for the trans-Pacific mission, said in the statement.
Ospreys — which are capable of landing and taking off like helicopters but can fly at fixed-wing speeds — made their first trans-Pacific flight between the Hawaii and Australia in April 2017, departing from Marine Corps Base Hawaii for the roughly 6,000-mile trip.
In May, four Ospreys flew to Hawaii from Okinawa, Japan.
olson.wyatt@stripes.com Twitter: @WyattWOlson