Korean Service Corps rededicates monument to little known heroes who support troops on peninsula
---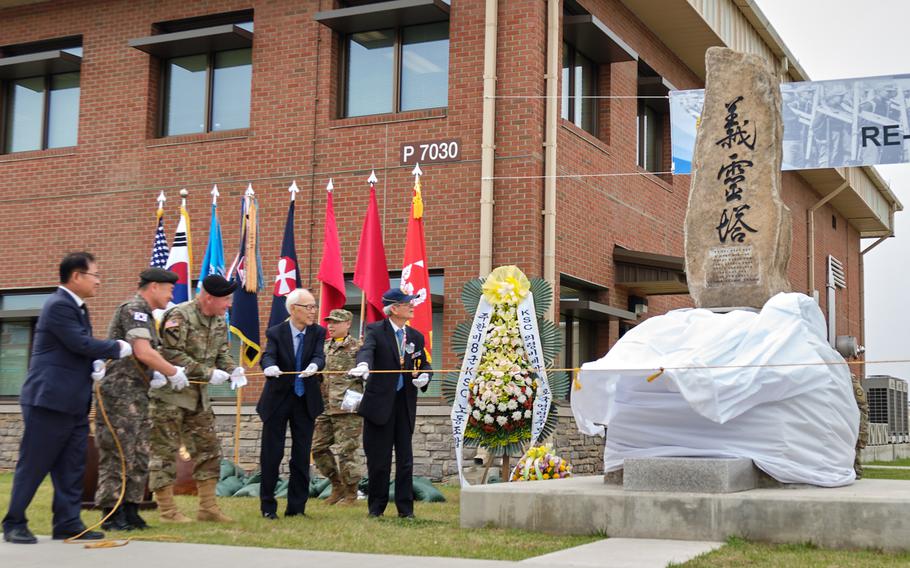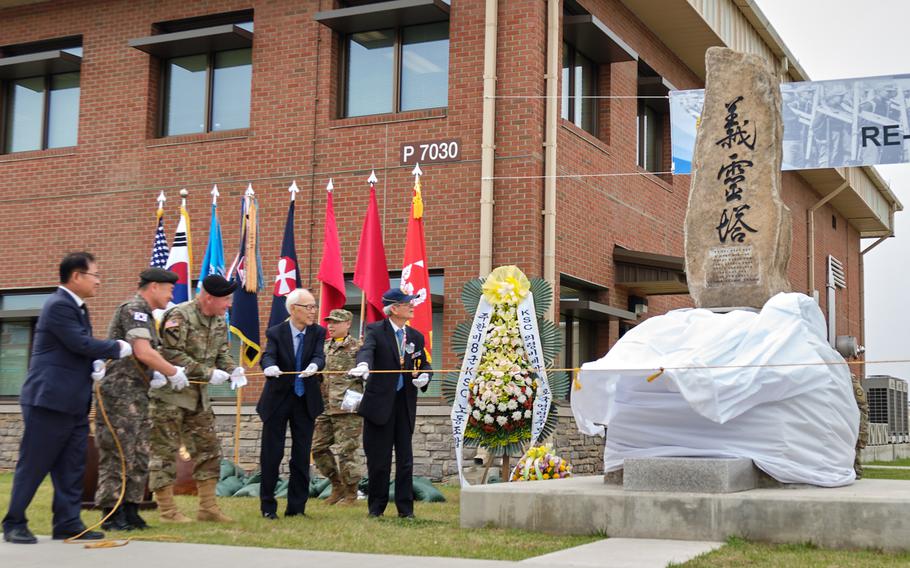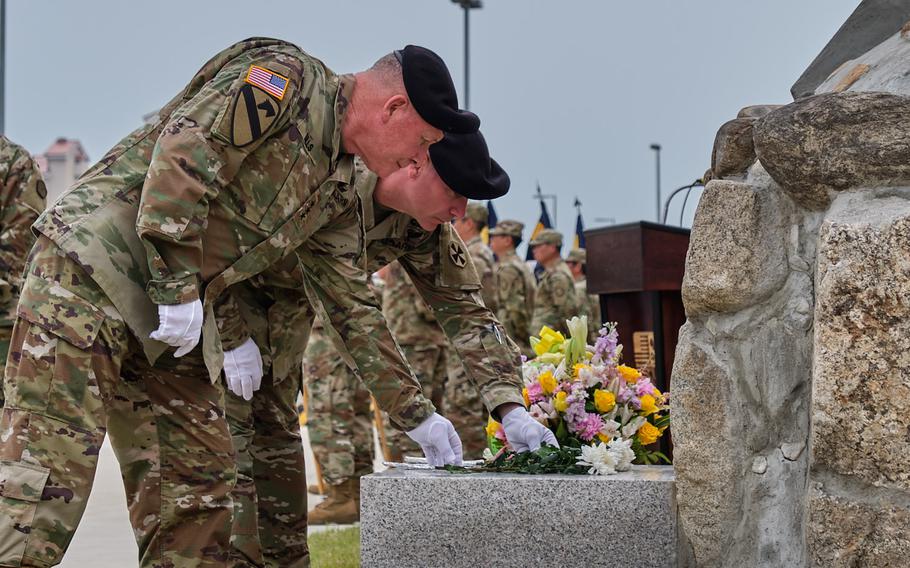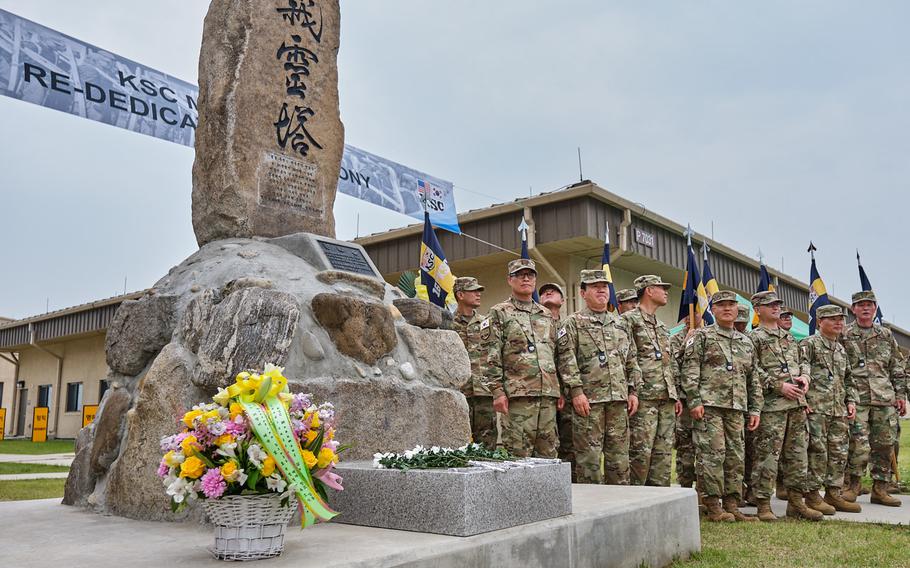 CAMP HUMPHREYS, South Korea — The Korean Service Corps Battalion recently unveiled its memorial monument at a rededication ceremony after relocating the solid stone tribute south to its new headquarters at Camp Humphreys.
In 1985, the monument was established on Camp Kim, a small base just outside the gates of Yongsan Garrison in Seoul. Camp Kim closed in 2018 and was converted into a center for visitors to learn about base history at the new Yongsan Park Gallery.
"Not long after the Korean War broke out, Lt. Gen. Walton A. Walker quickly reached the conclusion that combat troops needed help in critical areas of logistics," Eighth Army commander Lt. Gen. Michael Bills said in his dedication speech Sunday.
On July 25, 1950, South Korean President Syngman Rhee established what would become the Korean Service Corps to provide critically needed support to the beleaguered U.S. forces in Korea, Bills said. Four U.S. divisions, driven south by North Korean troops, were holding a perimeter that month around the port city known today as Busan.
"This monument was a labor of love by the KSC to honor the sacrifices of their fellow members," Bills said. "The monument was not purchased or donated; it took over seven years of dedicated service to complete. The stone itself was mined from Baegun Mountain to symbolize the loss of KSC lives at that very mountain during the Chinese spring offensive of 1951."
The mountain in Pocheon was the scene of a bloody battle where many corps members were wounded or lost their lives while hauling ammunition to troops and evacuating casualties."
Under the command of Lt. Col. John Cooper, the Korean Service Corps is the largest battalion in the U.S. Army with 2,188 mission-essential Korean nationals whose ranks, if given the order, can swell to more than 21,000 personnel to provide logistical support to forces throughout the peninsula.
Members of the paramilitary unit operate under the "Fight Tonight" umbrella, a phrase frequently heard from command teams to instill discipline and readiness in servicemembers operating in the fragile region. All corps members are issued a set of chemical, biological, radiological and nuclear protective equipment, which includes an M50 protective mask.
Corps members regularly train according to Army Warrior Tasks standards, including first aid, Cooper said. Each of the battalion's 18 companies also strive to maintain 20 percent of its ranks as certified combat lifesavers.
That training proved useful in June 2013, when service corps mechanics Yi Won Chik and Kwak Myong Chin heard a soldier, Pfc. Kimberly Garland, collapse near a restroom at Camp Stanley. Both men quickly reacted and Kwak performed CPR after determining that Garland was not breathing, while Yi ordered a Korean soldier with the U.S. Army to call 911.
Yi credited his annual CPR training for his knowing how to react and handle the situation.
"Many people don't know what a KSC is or does," Cooper said during his speech. "Korean Service Corps contributions aren't taught in schools. To the public, KSCs faded into history. But not anymore, today we honor the unsung heroes of the Korean War because we owe them.
"We must never forget the contributions of the Korean Service Corps," he added.
keeler.matthew@stripes.com
---
---
---
---