VIDEO
Kim Jong Un: ICBM test a 'stern warning' that N. Korean missiles can reach US mainland
---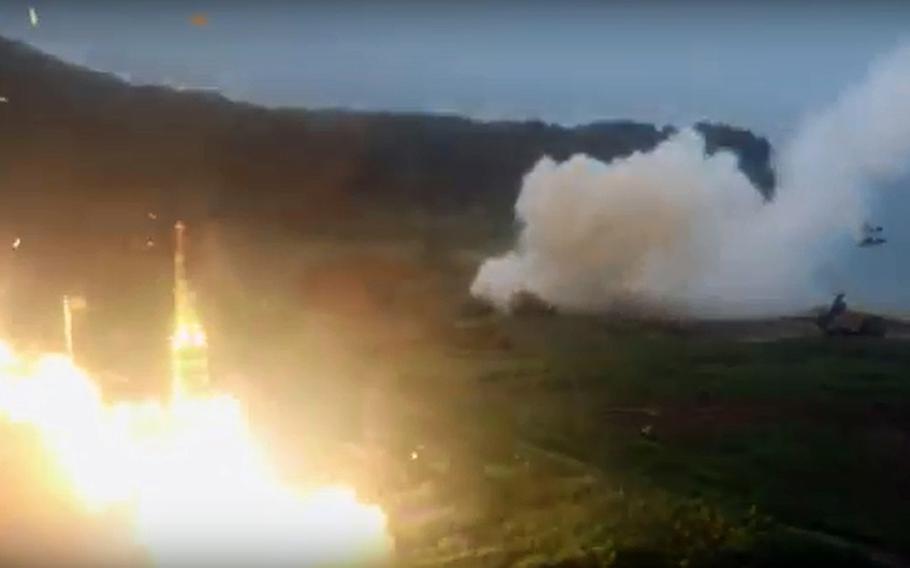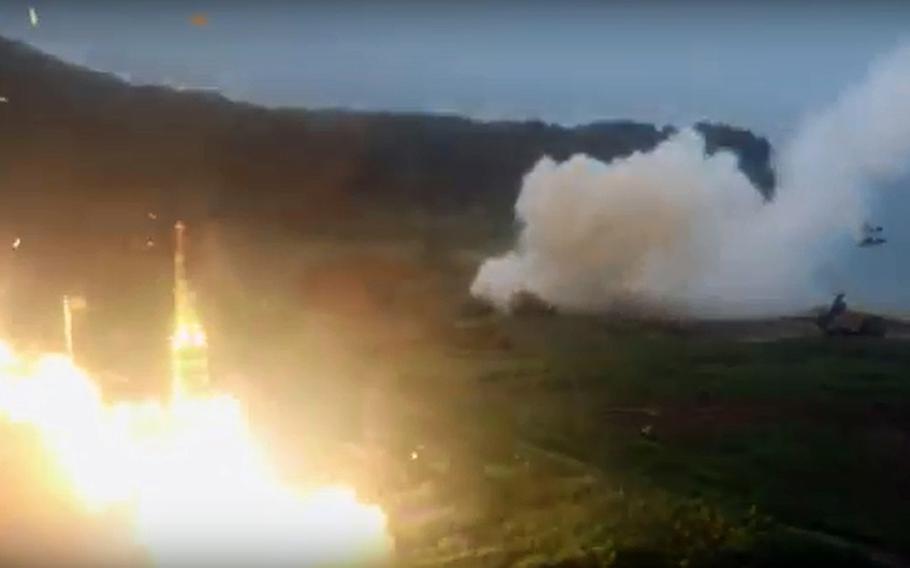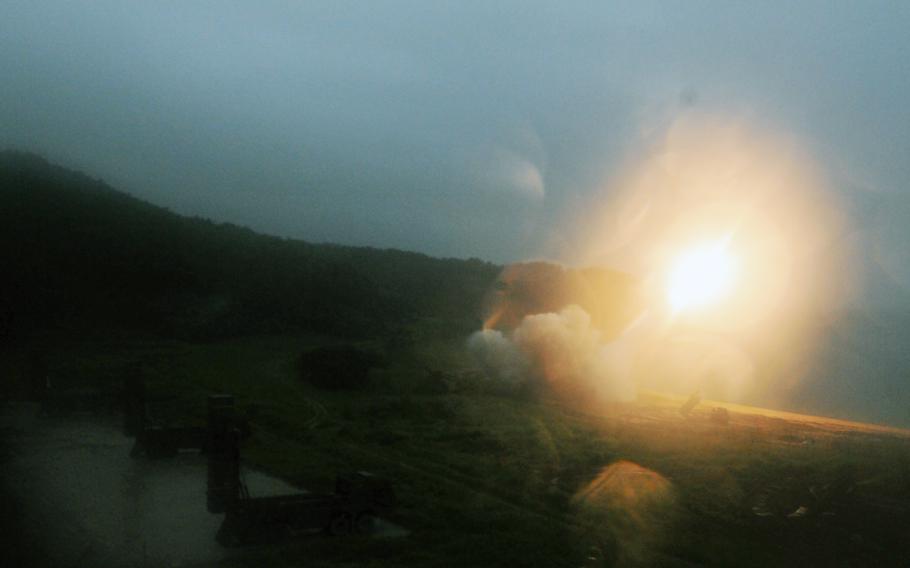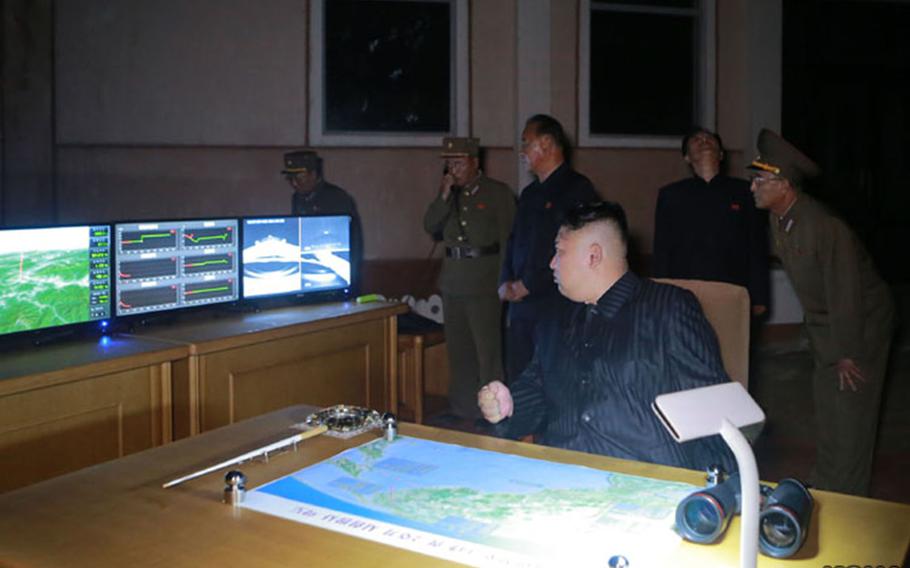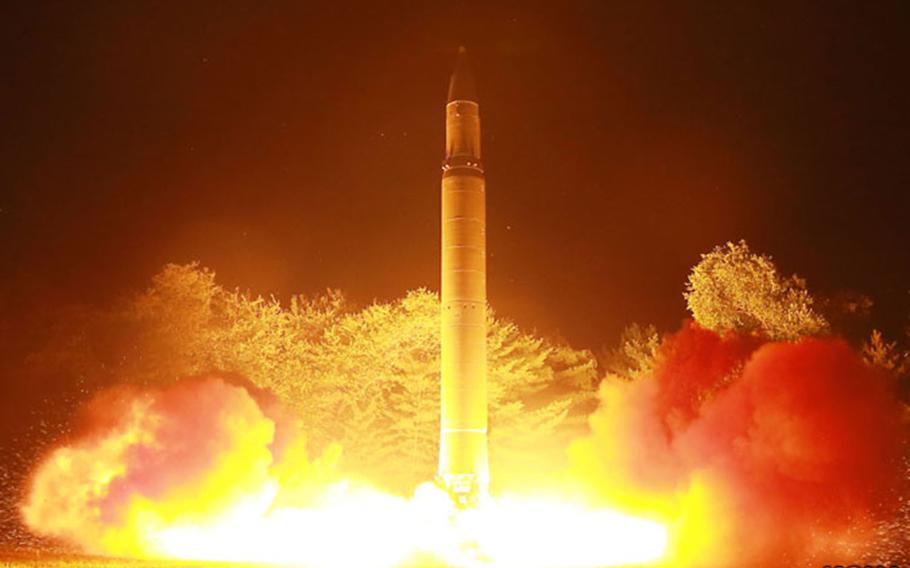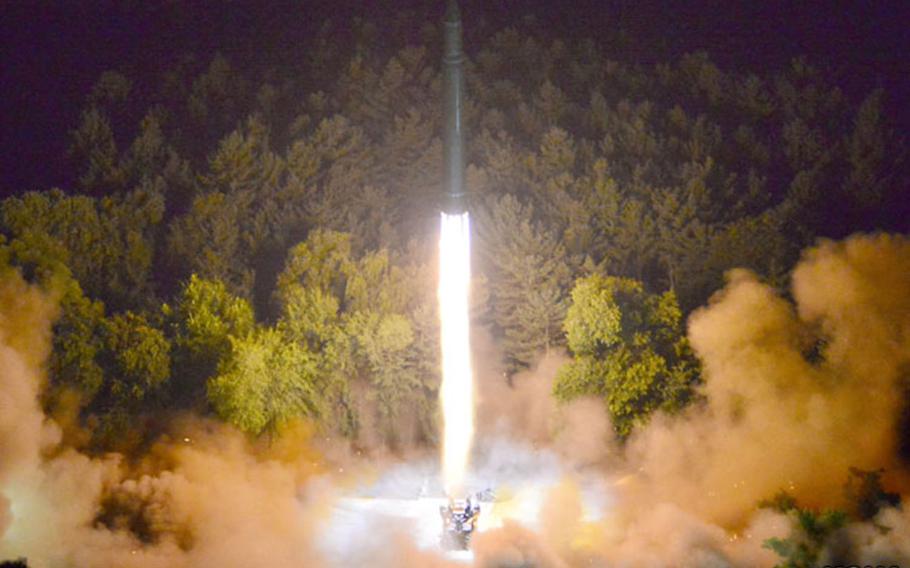 TOKYO — North Korean leader Kim Jong Un boasted Saturday that the communist regime's latest intercontinental ballistic missile launch proves that the U.S. mainland is now in reach of its long-range weapons.
The suspected Hwasong-14 missile — the second ICBM North Korea has tested successfully so far this month — was fired late Friday from Mupyong-ni in the country's far northwest and splashed down into the Sea of Japan about 620 miles east of the launch site, a Pentagon statement said.
The U.S. military, which detected and tracked the missile throughout its flight, determined it posed no threat to North America.
North Korean leader Kim Jong Un expressed "great satisfaction" after the ICBM reached its maximum height of 2,314 miles before splashing down accurately off Hokkaido, Japan, according to a statement released Saturday by the Korean Central News Agency.
Kim, who was reportedly present at the launch site, said the successful test demonstrated Pyongyang's ability to launch a surprise ICBM attack from any place and at any time and proved that the regime's missiles can now reach "all across the continental U.S."
The launch sends a "stern warning" to the U.S., which "loses its mind and makes uncalled-for remarks," Kim said in the statement.
'Reckless and dangerous'
President Donald Trump condemned the launch as "reckless and dangerous," while Secretary of State Rex Tillerson suggested China and Russia should do more to rein in their communist ally.
"As principal economic enablers of North Korea's nuclear weapon and ballistic missile development program, China and Russia bear unique and special responsibility for this growing threat to regional and global security," Tillerson said in a statement issued after the launch.
The secretary of state also said the U.S. "will never accept a nuclear-armed North Korea nor abandon our commitment to our allies in the region."
Trump said the U.S. will take all necessary steps to protect itself and its allies in the region.
"The United States condemns this test and rejects the regime's claim that these tests — and these weapons — ensure North Korea's security," he said in a statement. "In reality, they have the opposite effect. By threatening the world, these weapons and tests further isolate North Korea, weaken its economy and deprive its people."
Boosting pressure
Marine Gen. Joseph Dunford, the chairman of the Joint Chiefs of Staff, and Navy Adm. Harry Harris, the chief of U.S. Pacific Command, spoke by phone with South Korea's top military officer, Gen. Lee Sun Jin, after the missile's launch, said Navy Capt. Greg Hicks, a spokesman for Dunford.
Dunford and Harris expressed their commitment to South Korea's defense and "also discussed military response options," Hicks said in a statement.
The U.S. and South Korea then moved to boost pressure on the North by launching their own missiles into the sea on Saturday morning.
In what an 8th Army statement called a "combined training event," the allies fired the barrage into South Korean territorial waters off the east coast using the surface-to-surface Army Tactical Missile System and South Korea's Huynmoo Missile II.
"The ATACMS can be rapidly deployed and engaged and provides deep-strike precision capability, enabling the [U.S. and South Korea] to engage a full array of time-critical targets under all weather conditions," the statement said.
While the U.S. military usually says joint exercises are defensive in nature and refrains from mentioning specific events, the 8th Army statement linked Saturday's drill directly with North Korea's ICBM launch.
THAAD deployment
In a statement issued Saturday, South Korea's defense ministry called the ICBM launch "an act of grave provocation threatening the security of the Korean Peninsula and world peace."
It also said it planned to push for the expansion of an advanced U.S. missile-defense system, known as THAAD, on the peninsula that had been delayed after new South Korean leader Moon Jae-in ordered an environmental assessment shortly after taking office.
"Our military will talk with [the U.S.] as soon as possible in a bid to deploy additional THAAD launchers temporarily … and build our own response system against [North Korea's] nuclear missiles in the near future," the statement said.
To counter the growing threat from North Korea, Washington and Seoul agreed last year to place a THAAD battery in the remote southeastern area of Seongju. Residents — fearing possible negative health and economic effects — have protested the system.
THAAD has also strained Seoul's relationship with Beijing, which suspects the radar could be used against its military.
Last week, former U.S. presidential candidate Jill Stein and other high-profile activists visiting Seoul called for a halt to THAAD's deployment, saying it's more likely to stoke a conflict than protect people against the North.
"THAAD does not provide protection to the 25 million people in Seoul," Stein said at a Tuesday news conference. "It will, however, inflame already dangerous tensions between South Korea and the United States against North Korea, China and Russia."
U.S. military officials say THAAD is designed to work as part of a layered defense system in conjunction with Patriot missiles already placed to protect the Seoul metropolitan area.
Mainland within range
Analysts had estimated that the North's first ICBM -- launched July 4 -- could have reached Alaska, and said the latest missile appeared to extend that range significantly, according to The Associated Press.
David Wright, a physicist and co-director of the global security program at the Union of Concerned Scientists, said in Washington that if reports of the missile's maximum altitude and flight time are correct, it would have a theoretical range of at least 6,500 miles, the AP reported. That means it could have reached Los Angeles, Denver or Chicago, depending on variables such as the size and weight of the warhead that would be carried atop such a missile in an actual attack.
Bruce Klingner, a Korean and Japanese affairs specialist at the Heritage Foundation think tank in Washington, told the AP that "it now appears that a significant portion of the continental United States is within range" of North Korean missiles.
North Korea was expected to test a missile in connection with commemorations planned Thursday for the armistice agreement signed in Panmunjom on July 27, 1953. Pyongyang marks the occasion as a day of victory.
The truce ended fighting that pitted the U.S.-backed South against the Soviet and Chinese-backed North, but the sides remained technically at war after failing to reach a peace treaty.
Stars and Stripes reporters Yoo Kyong Chang and Corey Dickstein contributed to this report.
kidd.aaron@stripes.com Twitter: @kiddaaron
---
---
---
---