Kadena used restricted chemical found in local waterways, say officials
by
Matthew M. Burke Chiyomi Sumida
February 22, 2016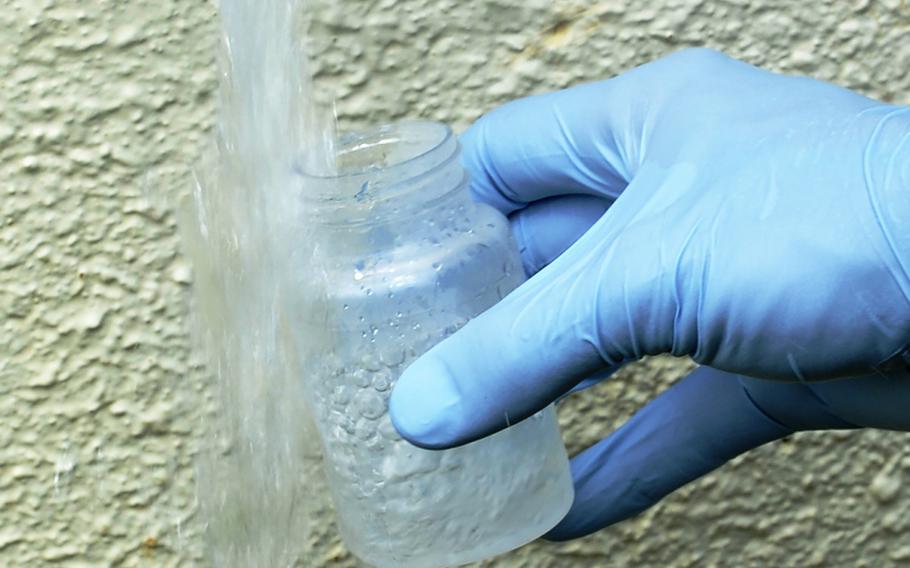 CAMP FOSTER, Okinawa — Kadena Air Base officials have acknowledged using a restricted contaminant found in firefighting foam after high levels of the hazardous organic compound were detected in streams running through the base and in adjacent groundwater wells.
In a letter dated Feb. 17, Col. Dwayne Robison, commander of the 18th Civil Engineer Group, told Okinawa prefectural officials the base is in the process of replacing fire extinguishing foam containing perfluorooctane sulfonate, known as PFOS, with products free of the substance.
PFOS was restricted under Japanese law in 2010 to special circumstances, such as etching agents, resists for semiconductors and in the manufacture of photographic film. Its use is also restricted in the United States.
The purchase of fire extinguishing foam containing PFOS was banned in both the U.S. and Japan as of 2014, according to Okinawan officials and the U.S. Environmental Protection Agency's website.
"As with all major airports in the world, to include those in Japan, Kadena Air Base has procured products in the past containing PFOS, such as aqueous film forming foam," Robison wrote to the Okinawa Defense Bureau.
The base has replaced most foams containing the banned chemical and will continue to do so, Robison said in his letter.
Air Force officials did not respond to requests for further comment.
Robison said Kadena uses the foam according to standard industry practices and that local officials could continue to monitor the base's wells.
Okinawa officials told Stars and Stripes they were not satisfied with that response. They met with Robison at Kadena Air Base on Monday and requested a joint working group be formed to investigate the source of the pollution, including tests of the base's river and drain outlets. They had previously called for an immediate suspension of PFOS' use.
"We don't yet know if there are any other chemicals containing PFOS that are still in use on the base," said Minoru Ishiara, chief of the water supply section of the Okinawa enterprise bureau. "The compound continues to be detected in pretreatment water collected from streams that run through the air base."
Okinawa and base officials have previously said there is little risk of human exposure because local drinking water is adequately treated.
PFOS was detected in water samples taken in the past couple of years from the Dakujaku River, local officials said in January. The river runs through the base and flows into the Hija River, the Nagata Pumping Station and wells on the base.
Bureau surveys between February 2014 and November 2015 found PFOS levels ranging from one to 543 nanograms per liter, with the highest levels discovered at pump stations for the Hija and Nagata rivers. In the U.S., a provisional health advisory is issued at 200 nanograms per liter. Japan has been studying the compound's safety since 2009, but no guidelines on how much is safe have been issued.
There is little data on the effects of PFOS exposure to humans. However, perfluorinated compounds are an emerging contaminant that have been known to cause death, tumors and increases in body and organ weight in animals, according to the EPA.
The Japan Times cited U.S. government documents obtained under the Freedom of Information Act earlier this month when it reported numerous spills, including 21,000 liters (5,500 gallons) of fire extinguishing agents, over the past 15 years at Kadena. Some spills were not cleaned up and allowed to reach local waterways and the ocean, and others were not reported to Japanese officials, according to the paper.
burke.matt@stripes.comsumida.chiyomi@stripes.com
---
---
---