Kadena airman helps save 4-year-old boy who nearly drowned on Okinawa
by
Aya Ichihashi Carlos M. Vazquez II
August 22, 2019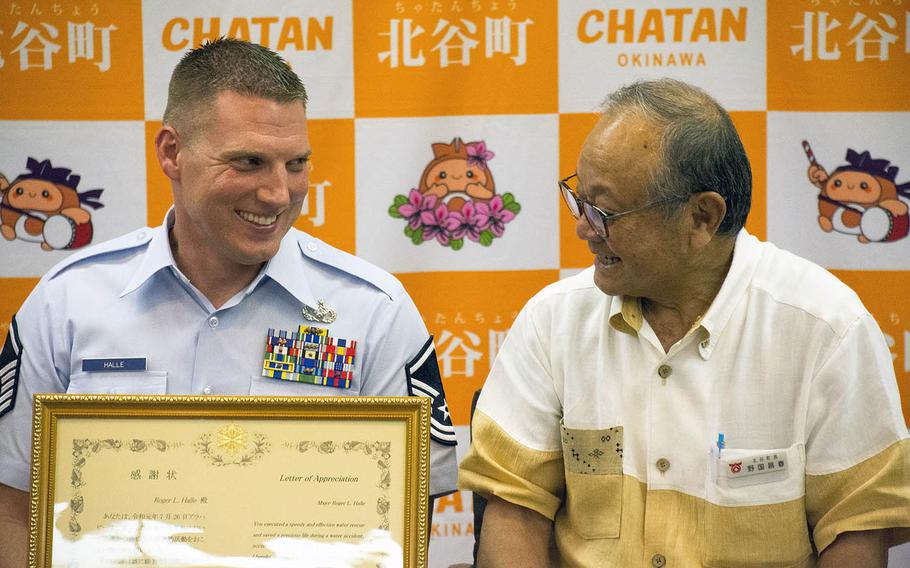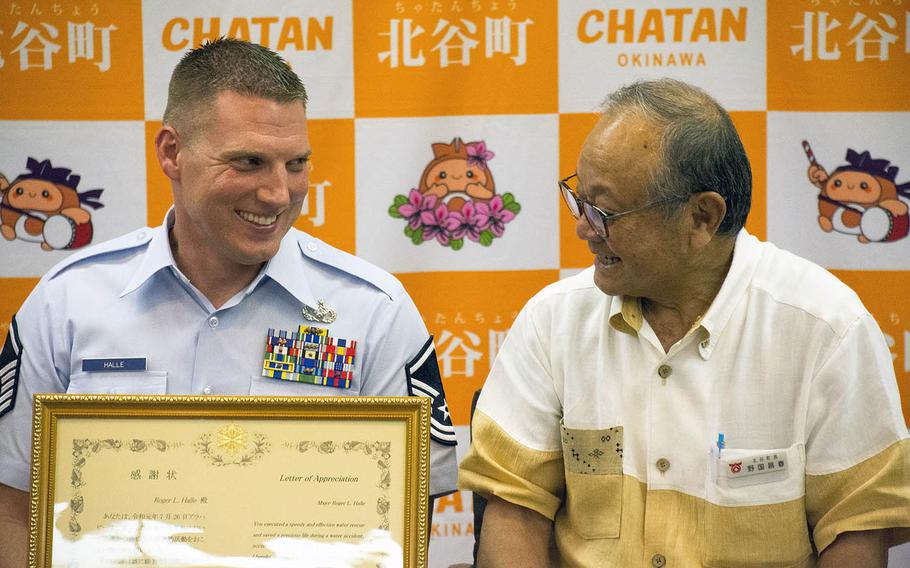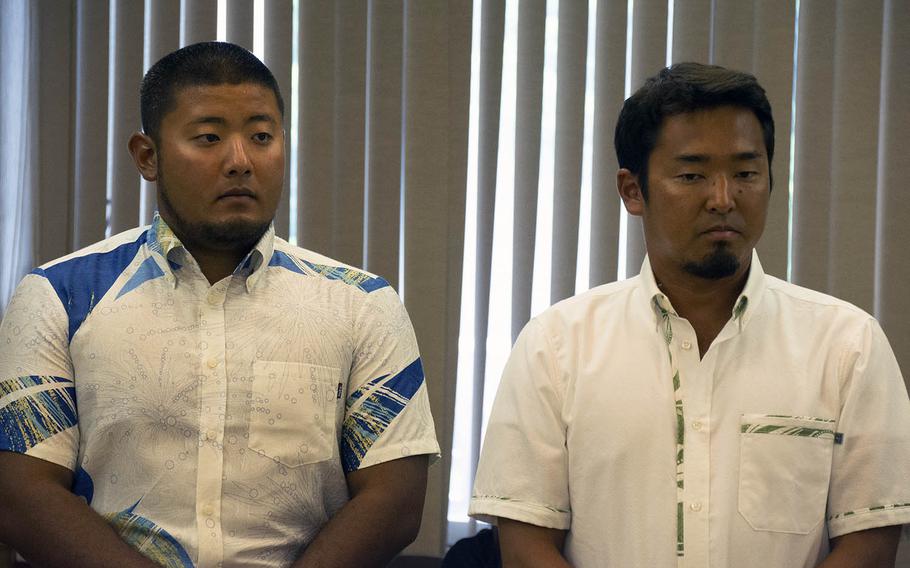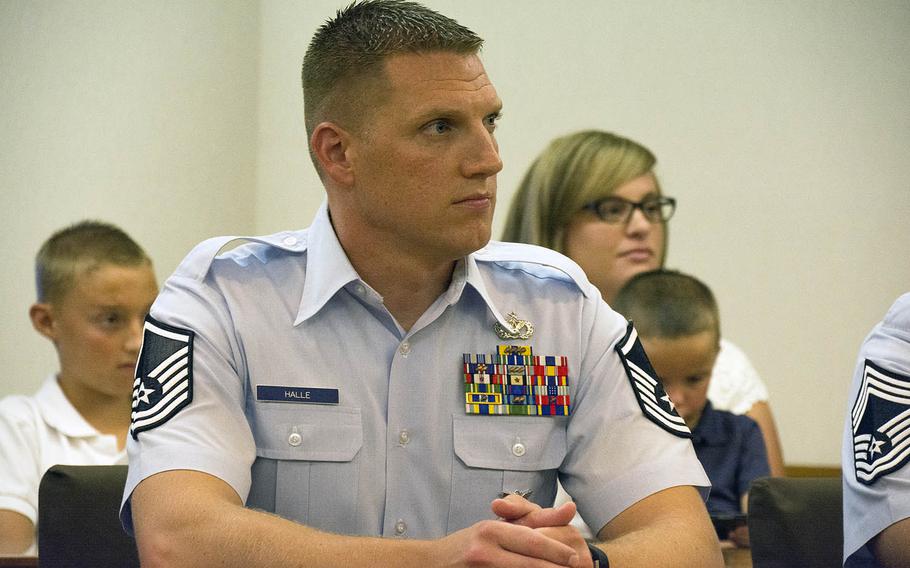 CHATAN, Okinawa — Two months after arriving in Okinawa, Air Force Master Sgt. Roger Halle found himself resuscitating a 4-year-old boy who nearly drowned at Araha Beach.
Halle, stationed at Kadena Air Base with the 18th Civil Engineer Squadron as the assistant chief of operations, was recognized along with three local lifeguards Monday by Chatan Mayor Masaharu Noguni for their efforts July 26 to revive the boy who was visiting from Hong Kong.
Noguni praised Halle's rapid response to the emergency and credited all first responders' efforts to saving the young boy's life.
"Mr. Halle used his professional skills to save a life with speedy techniques and tremendous courage," Noguni said through an interpreter during a ceremony Monday to present Halle with a letter of appreciation. "I thank you for your daily work and using the skills to save a life quickly."
Halle, of Willard, Mo., received the letter at the Chatan Town Hall in front of his family and fellow airmen, and gave credit to the other lifeguards who were on the scene with him.
"It's not [only] me, I was there to help and assist, but in my opinion, they were the ones who saved his life," he said.
Halle, who works at the air base fire station, said his 13 years as a first responder and his Air Force training kicked in that day at Araha Beach.
Halle, his wife, Stephanie Halle, and their five sons headed for their first trip to the local beach at around 3 p.m., he said. About three hours later the announcement played over the loudspeakers that the lifeguards were going off-duty for the day.
According to Halle, his family and other beachgoers stayed around and remained in the shallow and netted areas of the ocean. Posted signs at the entrance and scattered throughout the beach state that visitors swimming outside of the netted areas after the lifeguards depart do so at their own risk.
While Halle was talking with another beachgoer, "I heard screaming," he told Stars and Stripes Aug. 8.
He turned to see a man carrying a child to the shore from the netted area of the water.
"I believe it was the father that was pulling him up," Halle said, "and once I saw him, I knew it was not good.
"He was very blue, bloated – it looked like he had been in the water for a while," he said.
With a language barrier between the family of the nonresponsive boy and the team of first responders — which included Halle and three off-duty lifeguards — they attended to the child laid on the beach.
"They started doing CPR and giving mouth-to-mouth," Halle said. "Water was pumping out of his lungs, he wasn't breathing, I checked for a pulse and he didn't have a pulse."
Using gear provided by the lifeguards, Halle provided rescue breaths using a pocket mask attached to an oxygen tank in between the lifeguard's chest compressions.
The city fire department and emergency personnel arrived within 10 minutes to evacuate the child to higher medical care.
"Once they loaded him into the ambulance, he was breathing on his own and he was responding to pain," Halle said. "He was unconscious, but he was moaning, so we knew he was responding."
The child was taken to the intensive care unit of a local hospital, he said.
"We have a 4-year-old kid and it definitely hit home," Halle said. "We are keeping the little boy in our prayers and we hope that everything works out for the family."
Two of the three city lifeguards were at the ceremony and said through an interpreter that they try to mitigate these incidents, and hope that learning from situations like these encourage visitors to swim during regulated hours and follow posted rules.
"Only thing I was thinking about was to save the child's life," Haruki Suematsu, lifeguard at Araha Beach, said to Stars and Stripes on Monday. "We cannot force people from not swimming after-hours and off-season, but I want people to understand that the ocean could be very dangerous."
vazquez.carlos@stripes.com Twitter: @StripesCarlos
ichihashi.aya@stripes.com Twitter: @AyaIchihashi