Japanese helicopter breaks in half after forced landing at base in western Tokyo
---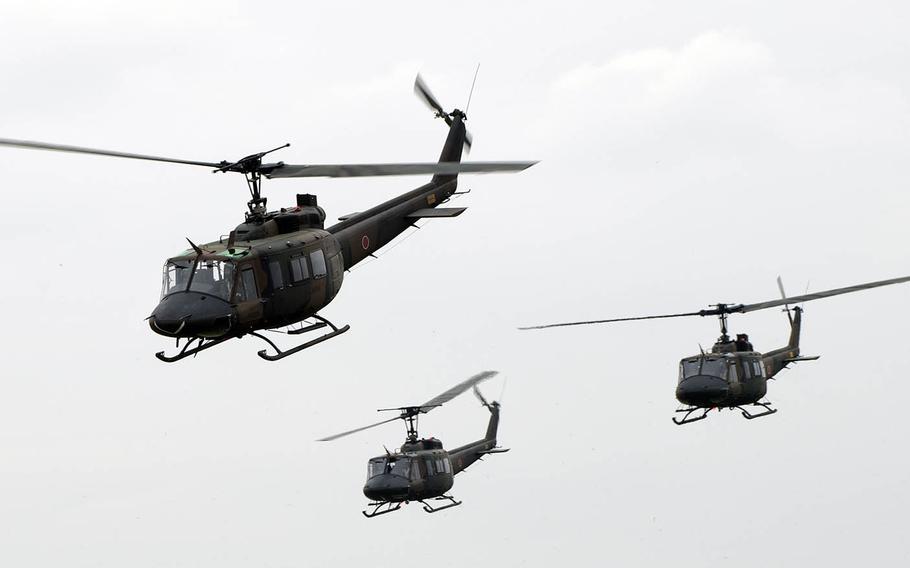 TOKYO — A Japan Ground Self-Defense Force helicopter was heavily damaged during landing practice Friday near the home of U.S. Forces Japan in western Tokyo, according to a Japanese military spokesman.
The UH-1 Iroquois, assigned to the Eastern Army Aviation Group, made a hard landing at 9:57 a.m. during training at Camp Tachikawa, the spokesman said. The rules of his job do not allow him to be named.
The two crew members of the downed helicopter were not injured in the accident, which broke the aircraft in half, the spokesman said.
The incident happened while they were practicing landing in case of an emergency in which the tail rotor had broken down, the spokesman said. The helicopter lost its balance and landed on its tail due to pilot error.
An aerial photograph of the crash site published by the Yomiuri Shimbun shows the helicopter's tail separated from its cabin.
Japan's military is investigating the accident, the spokesman said.
The former U.S. facility, which was known as Tachikawa Air Base before it was returned to the government of Japan in 1977, is just over a mile away from Yokota Air Base, home of USFJ, 5th Air Force and the 374th Airlift Wing, which also operates the UH-1, known as the Huey.
kusumoto.hana@stripes.com Twitter: @HanaKusumoto
---
---
---
---