Japanese destroyer is damaged in collision with Chinese fishing vessel in East China Sea
By
Aya Ichihashi Matthew M. Burke
March 31, 2020
---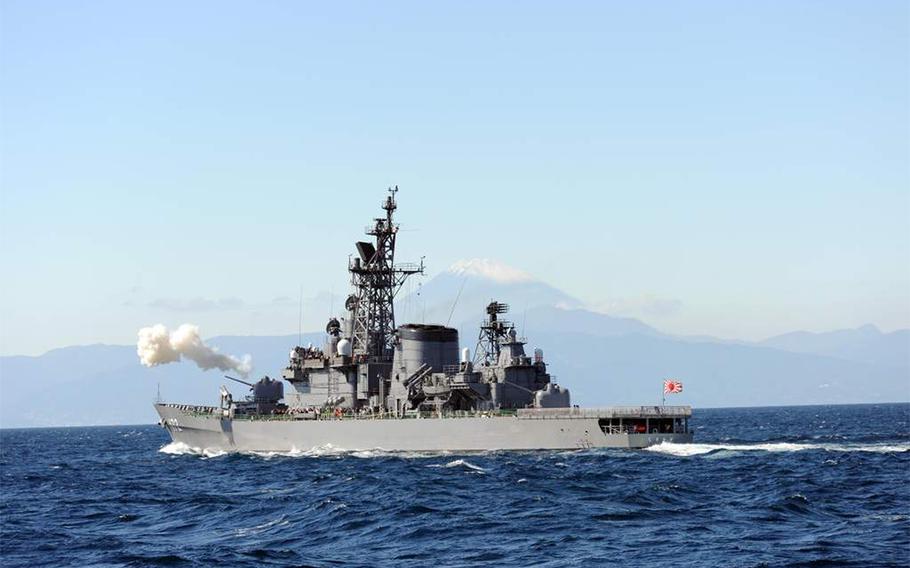 CAMP FOSTER, Okinawa — A Japan Maritime Self-Defense Force destroyer, the JS Shimakaze, was damaged Monday after colliding with a Chinese fishing vessel in the East China Sea.
The incident occurred at 8:28 p.m. approximately 400 miles west of Yakushima Island, a Joint Staff spokesman said Tuesday. Yakushima is part of Kagoshima prefecture, and is about 40 miles south of Kyushu.
Japanese officials declined to release details on what caused the incident pending a joint investigation with its coast guard.
One of the 13 Chinese sailors aboard the fishing boat complained of minor back pain after the incident; none of the Shimakaze's 260 sailors were injured, the spokesman said.
Some government spokespersons in Japan customarily speak to reporters under the condition of anonymity.
The collision left a 3-foot by 6-inch hole in the Shimakaze's port side, but the vessel was still operable, the spokesman said. Damage to the fishing vessel is unknown, but it was left operable as well.
The Shimakaze is homeported at Sasebo Naval Base in Kyushu, which is also home to a sizable U.S. Navy contingent.
China has taken a more aggressive maritime posture in recent years as it seeks resources to fuel its rise as a global economic and military power.
burke.matt@stripes.com Twitter: @MatthewMBurke1
ichihashi.aya@stripes.com Twitter: @AyaIchihashi
---
---
---
---