Japan weighs sending troops to the Middle East to protect commercial vessels
---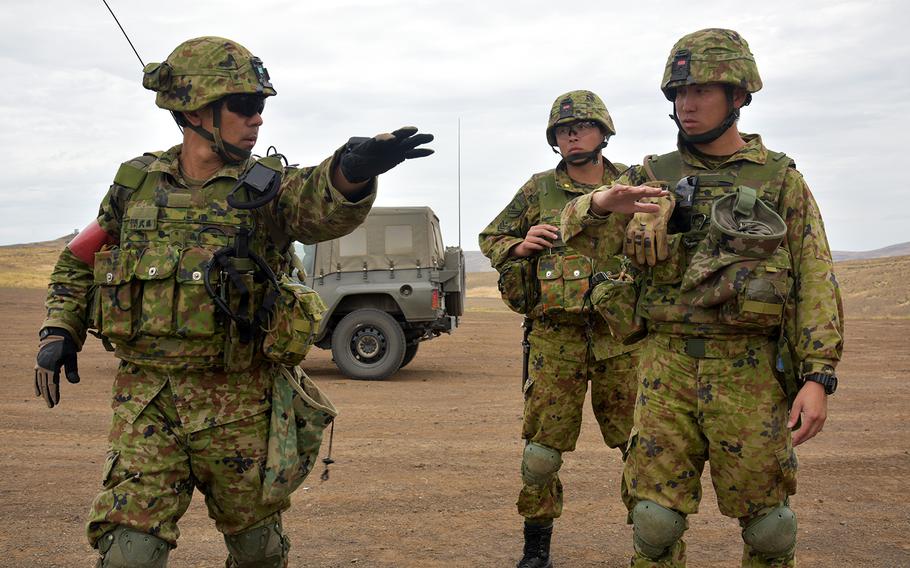 TOKYO — Japan won't join a U.S.-led maritime coalition in the Middle East, but the longtime U.S. ally is looking at sending forces to the region to protect Japanese merchant ships, according to local media.
The nation's foreign minister, Toshimitsu Motegi, told Secretary of State Mike Pompeo about the plans in a phone call Tuesday, the Asahi Shimbun reported.
Japanese Prime Minister Shinzo Abe instructed his ministers, during a National Security Council meeting Friday, to look into sending the Japan Self-Defense Forces to the Middle East, Chief Cabinet Secretary Yoshihide Suga told reporters after the meeting.
The country may assign a pair of Japan Maritime Self-Defense Force vessels to the region, the Kyodo News agency reported Monday. They would be allowed to use force to defend Japanese merchant ships under attack.
Japan is considering dispatching troops to the Gulf of Oman, the northern Arabian Sea and eastern Bab el-Mandeb Strait to gather information, Suga said.
"It is extremely important to ensure safety of navigation in the Middle East as it is a valuable source of energy," he said.
However, the country won't join the maritime coalition that the U.S. has built following attacks on oil tankers near the Strait of Hormuz, the mouth of the Persian Gulf through which 20% of all oil passes.
Since May, there have been several attacks that the U.S. Navy says involved Iranians placing magnetic mines on vessels.
"We will adequately conduct our own efforts without participating in The Maritime Security Initiative proposed by the U.S.," Suga said. But, he added, "we will continue to cooperate closely with the U.S."
Japan has conducted diplomatic efforts to ease tension and build stability in the Middle East, including Abe's visit to Iran in June and the Japan-Iran summit meeting in September, Suga said.
Japanese officials will study how the Self-Defense Forces might be employed in the region. They might, for example, dispatch ships and antipiracy units, Suga said.
"We will consider additional necessary measures to ensure safely of the ships related to our country," he added.
Exactly when forces might be sent to the region is also under consideration, Suga said.
kusumoto.hana@stripes.com Twitter: @HanaKusumoto
---
---
---
---