Japan, US military officials continue to take precautions as they eye spread of new coronavirus
---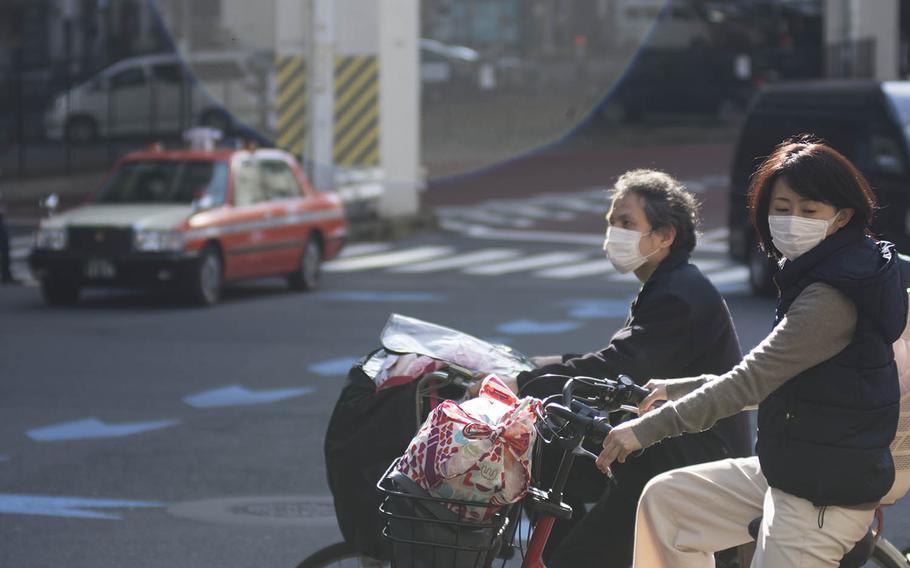 YOKOSUKA NAVAL BASE, Japan — As the number of coronavirus patients continues to climb in Japan, both U.S. and Japanese officials are developing further precautions to minimize its spread across the country.
As of Monday, there were 254 confirmed cases and six deaths reported in Japan, making it the country with the fifth-highest number of COVID-19 patients behind China, South Korea, Italy and Iran, according to the World Health Organization.
As of Tuesday, only one person affiliated with USFJ, who had been quarantined on the Diamond Princess cruise ship in Yokohama Bay, has tested positive for COVID-19. That person has since recovered, White told Stars and Stripes last week.
In total, USFJ consists of about 54,000 military personnel, 42,000 dependents, 8,000 Defense Department civilian employees and 25,000 Japanese workers, according to its website.
About 18 countries have restricted travelers from Japan, including Mongolia, Israel, Iraq, Kuwait, the Marshall Islands, Bahrain and Saudi Arabia, according to the Japanese Ministry of Foreign Affairs' website. Others, including Vietnam and Taiwan, have added conditions, such as quarantines before travelers from Japan may cross their borders.
Scaling back With events and large gatherings being canceled across Japan because of the virus, Tokyo is considering changes to the 2020 Summer Olympics set to begin July 24.
Olympic minister Seiko Hashimoto told Japan's parliament on Tuesday the games could be postponed if necessary, "as long as they are held during the calendar year," according to a Wednesday report by The Associated Press. But for now, the games will move forward as scheduled.
The Olympic torch ceremony will be scaled back, however, in response to the coronavirus outbreak, according to national broadcaster NHK. There will be fewer participants in the relay, and receptions and dinners have been canceled.
The U.S. State Department and Centers for Disease Control and Prevention have kept Japan at travel advisory Level 2 — "practice enhanced precautions" — since Feb. 22. While travel to Japan is not restricted, at-risk populations such as older adults and the chronically ill "should consider postponing nonessential travel," according to the CDC.
United Airlines on Saturday announced it would suspend some service to Tokyo and Osaka through April 30 because of coronavirus concerns. However, officials from U.S. Forces Japan in a virtual townhall broadcast Wednesday on Facebook said the outbreak would not impact regular permanent change of station moves.
USFJ on Feb. 26 elevated its health protection condition to Bravo, which encourages "strict hygiene" and canceling large gatherings such as meetings, formations and training sessions. The definition of "large" varies from command to command, USFJ spokeswoman Maj. Genieve White told Stars and Stripes last week.
The 18th Wing at Kadena Air Base, Okinawa, announced Wednesday it had canceled this year's AmericaFest, an open-base event slated for April 25 that attracts more than 50,000 people.
Department of Defense personnel are restricted from traveling to South Korea, China and Mongolia to prevent contracting COVID-19, according to a Naval Forces Japan factsheet provided Tuesday.
Preparing for the worst As coronavirus continues to spread, U.S. military leaders are watching its progression "very closely and certainly with an eye toward preparing for the worst" and are developing processes to reduce the risk of exposure on installations, Yokota Air Base public health emergency officer Maj. Andrew Fisher said during the USFJ townhall.
Efforts to reduce that risk differ from installation to installation and each has plans should base residents, personnel or dependents suspect they have COVID-19.
For example, home quarantine is allowed at Yokosuka Naval Base, base spokesman Randall Baucom told Stars and Stripes on Tuesday. At Camp Zama, a local fire department will bring patients for testing to an off-base hospital, where they will stay until they receive their results or they are cleared by a doctor, according to a slide presented at Zama's townhall Feb. 26.
Installations in Japan will notify the public if someone on base tests positive for the virus, Fisher said.
"In public health circles we want people to be informed if there is a case," Fisher said. "The public health process is to trace close contacts."
Some USFJ personnel have not tested positive but were placed on 14-day quarantines if they had possible exposure to the virus, such as in China or on the Diamond Princess. In a Tuesday statement, Naval Forces Japan said that "many who were at an increased risk of exposure have successfully completed or will soon complete their quarantine period."
At townhalls at U.S. bases across Japan over the past week, military leaders briefly reviewed that process thus far.
"At Yokota, there were some who had traveled to China and we quarantined them at home. Their direct supervisor was in contact every day, and they had people bringing food and supplies to them," Fisher said. "We take care of each other in the military."
Though the public's anxiety has surfaced in the form of sold-out supplies of hand-sanitizer and doomsday-type questions posed at townhalls, USFJ officials on Tuesday encouraged the community not to panic.
For the "large majority of people, [COVID-19] is a mild illness" and "most people recover without any problems, Fisher said at the virtual townhall.
He added that the 1-2% mortality rate is "likely an overestimate because there are a lot of cases that will be very mild that we just won't catch."
"[Some COVID-19 patients] will assume they have the common cold," Fisher said.
---
---
---
---