Japan stalled in hunt to replace Iwo Jima as site for US carrier-landing practice
by
James Bolinger
May 24, 2019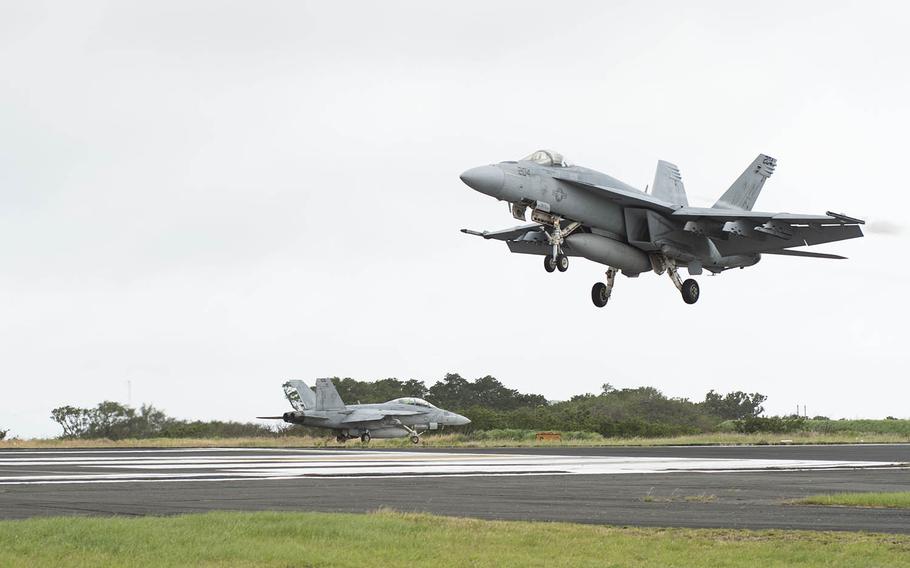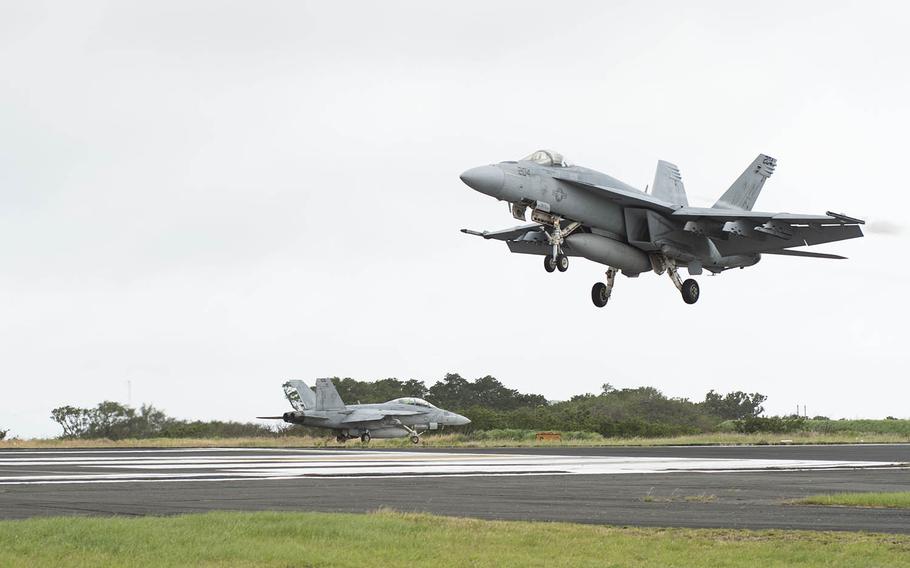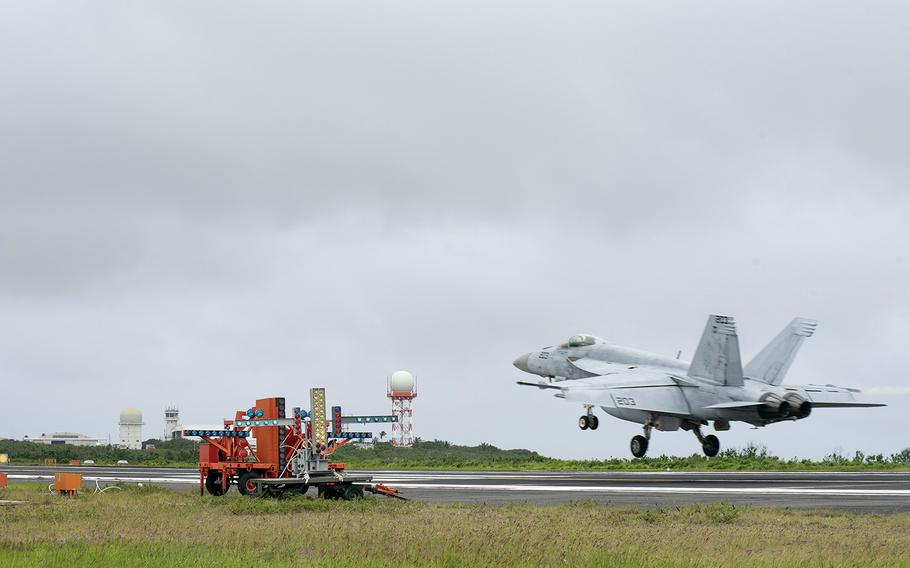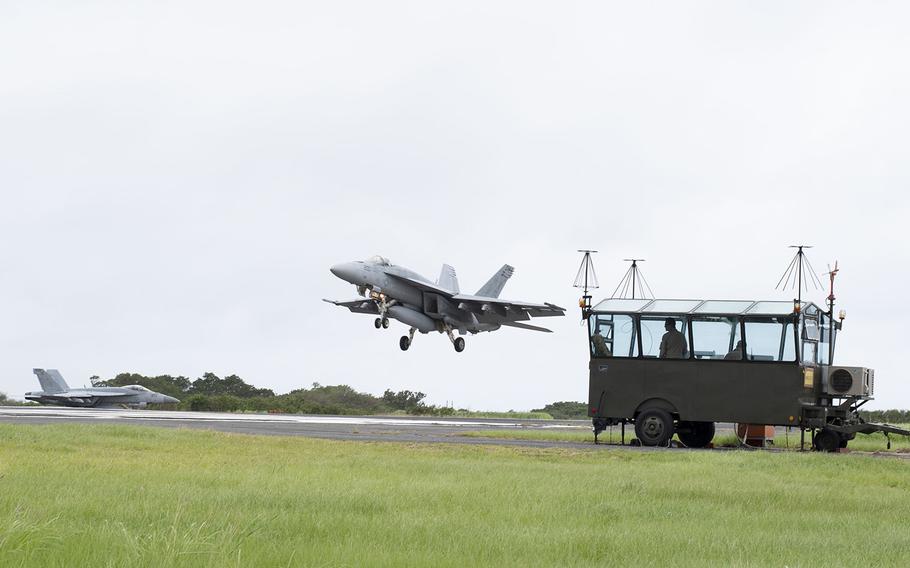 IWO JIMA, Japan — Six Navy F/A-18 Super Hornets soared in a tight loop, 600 feet high, on May 17 over this island, scene of one of the bloodiest conflicts of World War II.
Their pilots were practicing their ability to put their fast-moving, multimillion-dollar, 32,000-pound fighters onto an aircraft carrier flight deck – an area about the size of a baseball field.
One by one, they take turns aiming for a space as wide as the distance between home plate and first base. On a carrier, the jets, traveling at speeds as fast as 125 mph, must come to a complete stop in the distance between home plate and the centerfield wall.
The perilous task of landing on a carrier deck, sometimes in pitching seas, sometimes at night, with no other reference than the bobbing lights of the ship itself, takes constant, repetitive practice.
At Iwo Jima, during "field carrier landing practice," most senior pilots will fly at least six sorties — three in the daytime and three at night — and during each sortie complete seven to eight touch-and-goes; junior pilots are expected to complete 12 or more touch-and-goes per sortie, said Navy Capt. Dwight Clemons, the assistant chief of staff for operations, plans and policy for Naval Forces Japan, based at Yokosuka Naval Base.
"As an instructor, I would teach my pilots to get so comfortable it was like driving a car," he said. "Without even thinking you just kind of know where your foot needs to go, to get to a certain speed or slow down and hit the brake. That's the reaction that has to happen for a pilot."
Since 1989, U.S. naval aviators have used the airstrip at Iwo Jima — known in Japan since 2007 as Iwo To — to simulate carrier landings. Conditions there are less than ideal, however. The runway sometimes needs repair, the weather is capricious, and it's a long way — 745 miles — to the next closest airfield, which means pilots can't divert during an emergency.
Moving to Mageshima? A plan by the Japanese government to purchase Mageshima, an island in Kagoshima prefecture in southeastern Japan and closer to the main islands than Iwo Jima, stalled May 7. That's when the landowner, whose assets were ordered seized by a Tokyo District Court as part of a bankruptcy action, ended sales negotiations with Japan's Ministry of Defense.
Mageshima fits the bill as a potential practice site. It's relatively close to Iwakuni and 90 miles from an alternative airfield, although island residents have already expressed concern over potential aircraft noise.
Carrier-landing practice is noisy business: several aircraft are in the air simultaneously flying at altitudes between 600 feet and 1,200 feet, at all hours of the day, landing 60 seconds apart.
"Obviously the noise and the issues flying around a facility create a burden," Clemons said. "One of the things the U.S. Navy and the U.S. government takes very seriously is to put less burden on the citizens of Japan."
The Ministry of Defense hopes to resume negotiations with Mageshima's owner, the now-defunct Taston Airport development company, Defense Minister Takeshi Iwaya said at a May 10 press conference.
"As we believe that this is a very important security issue, we will make efforts to conclude a sales contract with Taston Airport," he said at the time.
Airfields on the main islands typically prohibit pilots from flying the altitudes and patterns required for carrier landings, another drawback, Clemons said. Carrier-landing practice aims to mimic the real thing.
"We use the same flight patterns and altitudes, and the same optical landing system we use aboard the carrier," he said.
Practice landings are graded with the same criteria used aboard ship to ensure every pilot can repeat with precision the skills required to land safely.
During landing practice, the aircraft wheels briefly touch the tarmac before the pilot kicks the engines into high gear and the jet roars away again. On a carrier, the jet's tailhook catches an arresting cable and the aircraft comes to a stop. If the pilot misses the cable, having the engines at full throttle ensures enough speed to get airborne and try the landing again.
Iwo Jima issues Iwo Jima was designated as a temporary practice location after plans to build a permanent facility at Miyakojima in Okinawa prefecture were derailed in 1988 because of volcanic activity and political issues.
The 10-square-mile Iwo Jima, southeast of Tokyo, is a Japanese military installation closed to the public. More than 25,000 troops, American and Japanese, died here in February-March 1945 during one of the most brutal battles of World War II.
These days, pilots of Carrier Air Wing 5 typically polish their skills here prior to joining the USS Ronald Reagan on its patrols of the Indo-Pacific region. The Ronald Reagan, the Navy's only carrier based outside the U.S., left its homeport, Yokosuka Naval Base, Japan, on Wednesday.
Although Mount Suribachi, the volcano whose height dominates the island, is extinct, the island is riddled with steam vents that can damage the runway.
"The runway, the last time we did [field carrier-landing practice] was in very poor condition," Clemons said. "It created a lot of excessive wear on our landing gear and parts associated with that."
Weather around the island can change quickly. Inclement weather would force the air wing to train at an alternate location, such as Misawa Air Base, Naval Air Facility Atsugi or MCAS Iwakuni. Training has been canceled twice in the past 10 years, most recently in 2017 because of a typhoon.
Some of the senior pilots share stories about taking arrested landings at opposite ends of the 8,700-foot runway, essentially landing nose to nose because of rapidly changing weather, he said.
"During my operations here, I landed at night when the fog rolled in and one of my friends actually landed on the taxiway next to me," Clemons said.
Without a permanent site to practice carrier landings or other training, Clemons said the readiness of U.S. naval forces in Japan suffers, which weakens the U.S.-Japan alliance.
"The U.S. Navy's ability to engage in both the east and south Asian area hinges squarely on the support it receives from the government of Japan, and from its ability to work together with the [Japan Self-Defense Forces]," he said. "The U.S. government continues to work with the Japanese government to find a permanent FCLP facility."
bolinger.james@stripes.com Twitter: @bolingerj2004