Japan seeks more details after Okinawa-based F-15 dropped antenna
by
Hana Kusumoto Matthew M. Burke
March 7, 2018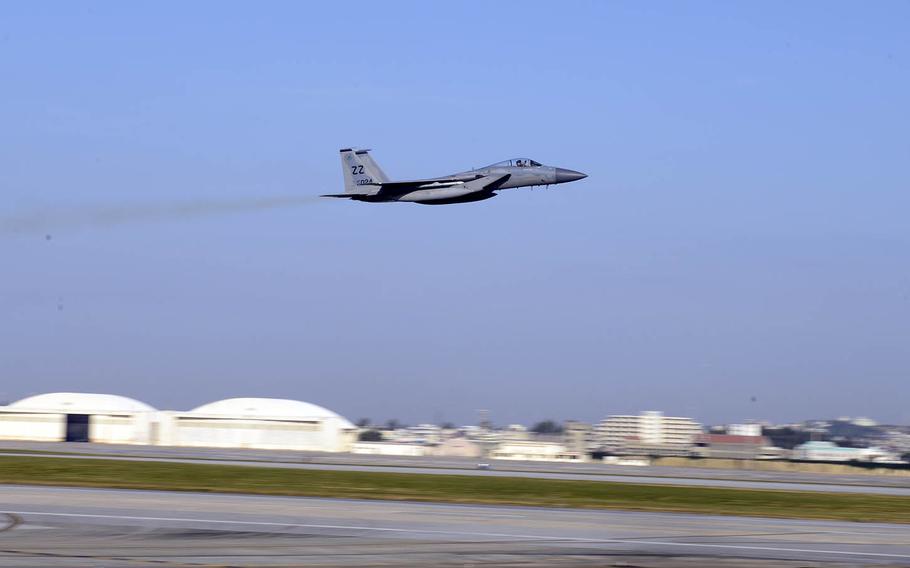 CAMP FOSTER, Okinawa – Japanese officials want the U.S. military to provide information about an antenna that fell from an Okinawa-based fighter jet late last month.
An F-15 from Kadena Air Base lost the part during a flight on Feb. 27, according to a spokesman from Japan's Defense Ministry. The antenna measured approximately 15 inches by 6 inches and weighed about 3 pounds.
When objects fall from Okinawa-based U.S. military aircraft, the U.S. usually informs the Defense Ministry through the prefecture's Defense Bureau, Defense Minister Itsunori Onodera told reporters Wednesday. That did not happen in this case until Monday – nearly a week later.
Japanese officials want to know where the part fell, whether it was recovered and if there were any damages.
"We have told the U.S. side to make sure to notify us," Onodera said, according to his spokesman.
U.S. Forces Japan told Stars and Stripes Wednesday that the part likely landed in the ocean and "posed no threat to people or property on the ground."
"USFJ is working with the unit to determine the reason for the delay in reporting," an emailed statement said. "Once the incident was reported to USFJ, we notified the Government of Japan in a timely manner."
A recent spate of aircraft mishaps, including three emergency landings by Marine helicopters in January, drew a rare rebuke from Tokyo officials, who sent Japan Ground Self-Defense Force aircraft maintenance specialists to Marine Corps Air Station Futenma last month for a briefing on the issues.
On Dec. 13, a CH-53E Super Stallion's window inexplicably became separated from the aircraft and landed on an elementary school sports field adjacent to Futenma's fence line. More than 50 schoolchildren were playing at the time, and a boy was slightly injured from a pebble that flew up during impact.
On Dec. 7, a plastic part thought to belong to a U.S. military helicopter was found on the roof of an Okinawan nursery school.
In October, a Super Stallion made an emergency landing in a farmer's field outside Okinawa's Northern Training Area after an inflight fire. The aircraft was an almost total loss.
In August, an Okinawa-based MV-22 Osprey crashed off the coast of Australia during a training exercise, killing three Marines.
But the U.S. military isn't alone in experiencing aviation-related mishaps in Japan.
A Japan Air Self-Defense Force CH-47J assigned to Okinawa's Naha Air Base dropped a rear cargo door while training Tuesday evening in Kagoshima prefecture, a JASDF statement said. There were no injuries.
Two JGSDF crewmembers were killed last month when an AH-64 Apache helicopter crashed into a home in Saga prefecture.
The JASDF and Maritime Self-Defense Force lost seven crewmembers between two helicopter crashes at sea in August and October.
burke.matt@stripes.com
kusumoto.hana@stripes.com