Japan says F-35A pilot was likely disoriented before fatal crash in April
---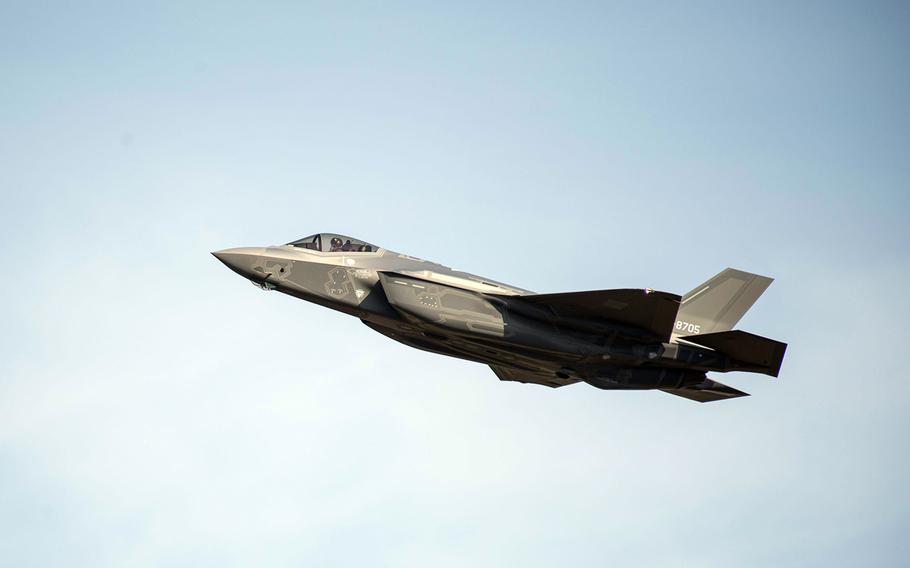 TOKYO — The pilot whose Japan Air Self-Defense Force F-35A Lightning II plunged into the Pacific Ocean in April probably experienced spatial disorientation, which led to the fatal crash, the JASDF said in a statement Monday.
"It is assumed that the pilot most likely was in a state of 'spatial disorientation' (in a state of losing a sense of equilibrium) and did not realize it," the statement said.
The remains of Maj. Akinori Hosomi were recovered Wednesday, two months after his fighter went down about 85 miles east of Misawa Air Base, its home field in northeastern Japan, just before 7:30 p.m. April 9, Defense Minister Takeshi Iwaya said on Friday.
Defense officials believe the advanced stealth fighter was performing normally and Hosomi was conscious up until the crash. The JASDF said the accident investigation is still underway and that its statement Monday represents the most likely cause.
The probable cause statement was based on information from radar, flight controllers, hearings conducted with other pilots and the F-35 multifunction advanced datalink, a system in the aircraft that allows pilots in a four-ship flight group to exchange data, according to the JASDF statement.
The JASDF found no signs the F-35A lost power during the fatal flight, or that Hosomi tried to recover the aircraft when it reached the minimum altitude to do so, according to their statement.
"There was no indication of emergency escape," the statement said. The aircraft was destroyed "and parts and fragments scattered at sea bottom."
The defense ministry reported finding the aircraft's left and right rudders two hours after it disappeared. Sometime after May 3, during a deep-water search, more parts of the fighter were found, including its canopy and flight data recorder, Iwaya said May 7.
However, Iwaya at the time said the flight recorder memory and storage medium were not recovered.
According to the JASDF statement Monday:
• Ground controllers at 7:26 p.m. instructed Hosomi — who was taking part in an exercise with three other JASDF F-35As — to descend from 31,500 feet altitude to avoid U.S. military aircraft approaching at 37,500 feet
• Hosomi acknowledged — "Yes, understood" — then turned left and descended 16,000 feet in about 20 seconds, indicating a speed of 486 knots, or 900 kph
• Fifteen seconds after the first command, controllers instructed Hosomi to turn left. The aircraft continued to descend left. In a "calm voice," Hosomi said, "Yes, knock it off," a response JASDF interpreted to mean Hosomi was quitting the exercise.
• He descended another 14,500 feet in 15 seconds, indicating a speed of about 1,100 kph or nearly 600 knots
• The aircraft went missing from radar at less than 1,000 feet above the ocean surface.
The JASDF said it's not likely that Hosomi lost consciousness due to low oxygen in the 15 seconds between communications with controllers. It's also unlikely he blacked out due to excessive g-forces, or gravity-induced loss of consciousness, according to the statement.
The JASDF tentatively ruled out failure of the engine, electrical system or control surfaces, since the airplane appeared to maneuver normally and Hosomi was able to communicate and he did not indicate any abnormalities during the flight, according to the statement.
All JASDF F-35As remained grounded as of Monday afternoon, according to a JASDF spokesman. Iwaya said last week the fighters will resume flight operations after investigators determine the accident cause and steps are taken to ensure flight safety.
Those steps include re-educating F-35A pilots on spatial disorientation and putting them through training in simulators, according to the statement.
All F-35As will be scrutinized and pilots re-trained on gravity-induced loss of consciousness, or G-LOC, since neither can be definitively ruled out as factors in the crash, although the probability either occurred is low, according to the statement.
"It is truly regrettable that we lost such an excellent pilot," Iwaya said during a press conference Friday. "We truly respect Maj. Hosomi, who was lost while devotedly performing his duty and we extend our heartfelt condolences and offer our deepest sympathies to the family."
kusumoto.hana@stripes.com Twitter: @HanaKusumoto
---
---
---
---