Japan's lower house OKs broadened defense options
by
Erik Slavin
July 16, 2015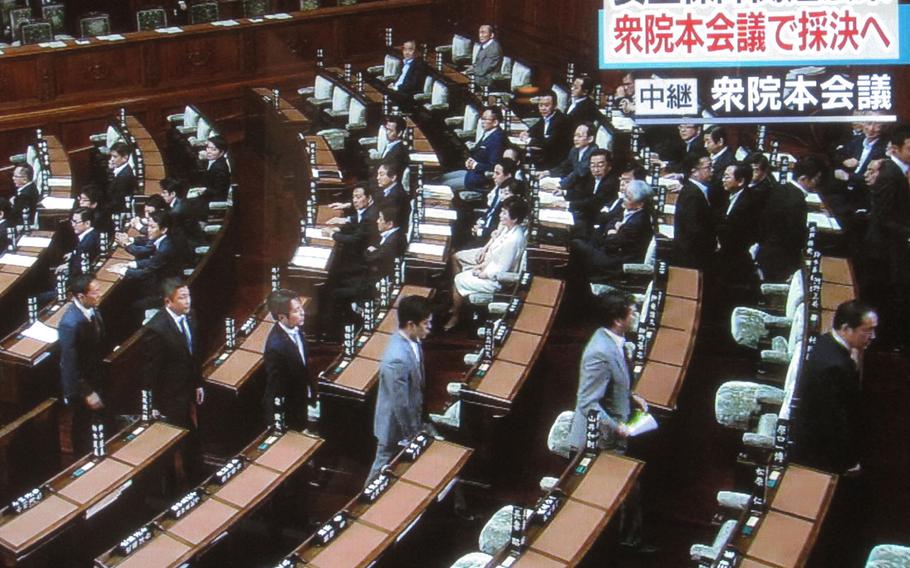 TOKYO — The Japan Diet's lower house passed a series of bills broadening the nation's defense options Thursday, but heavy popular opposition could complicate U.S. efforts to bring its ally into a larger regional security role.
Opposition lawmakers walked off the floor ahead of the vote, which gave Japan authority to defend close allies in combat for the first time in the nation's post-World War II history.
The legislation is supported by the United States, which views its alliance with Japan as a bulwark against North Korea's nuclear program, as well as a check on China's growing assertiveness in the East and South China seas.
However, Japanese public polls have consistently shown majorities against the changes, with many citing concerns that the laws could involve Japan in wars that do not directly threaten the country.
Last month, multiple scholars testified before the Diet that the bills contradict the nation's constitution, which states that "the Japanese people forever renounce war as a sovereign right of the nation and the threat or use of force as means of settling international disputes."
Prime Minister Shinzo Abe's ruling government has argued that the changes are constitutional because the people's rights to pursuit of "life, liberty and happiness" supersede the war clause, and those rights would be threatened if Japan could not maintain its defense alliances.
On Thursday, shouts and a few jeers filled the background at the normally reserved Diet as lawmakers from both the ruling Liberal Democratic Party/Komeito majority and the opposition groups made their cases.
Once it became clear that the vote would occur, the outcome was never in doubt. Abe's coalition holds a commanding majority in the lower house, which he gained in 2014 elections out of support for his economic policies and a lack of coherent opposition among the nation's myriad political parties.
Even if the LDP/Komeito-majority upper house fails to pass the measure in the next 60 days, Abe should have the two-thirds majority in the lower house needed to pass the legislation into law.
"This is a necessary bill to prevent wars," Abe told reporters immediately after the vote. "The LDP will work toward gaining a better understanding from the Japanese people."
Polling suggests that Abe has a long way to go to gain that understanding. His cabinet approval ratings have fallen steadily in recent weeks, with approval and disapproval now both reaching the 40 percent range. Meanwhile, a large crowd showed up at a protest against the legislation near the Diet on Wednesday night. Police would not estimate how many people turned out, but organizers said there were more than 25,000, and other estimates went as high as 100,000.
"[Abe] will please Washington, but in doing so he's undermining his own political support and squandering his own political capital," said Jeff Kingston, an Asian studies professor at Temple University's Japan campus. "The public seems more anxious about giving Abe his way on security than it is about the threat of a rising China."
Regional security concerns remain The U.S. revised its bilateral defense guidelines with Japan in April, emphasizing for the first time "the global nature of the alliance." It did so with an eye on Thursday's measures passing.
Without the new laws, if a North Korean nuclear missile was headed toward Hawaii, it's highly questionable whether Japan could legally help the U.S. destroy it.
Polls suggest that Japanese might support allowing that particular circumstance. Instead, the government sets few limits on scenarios, though it does restrict action to minimal force and only when it deems that no other options exist.
Washington is also at loggerheads with Beijing over freedom of navigation in the East and South China seas, where trillions of dollars in global trade transit annually. In recent months, China has constructed fortified, artificial islands on reefs claimed by several other countries.
Disputes over some of those reefs and small islands have led to low-level standoffs among ships from claimant nations. Japan has its own territorial dispute with China over the Senkaku Islands.
In light of the simmering tensions, Abe wants Japan to play a larger role in preserving the region's stability. Popular opposition may constrain such attempts, said Sheila Smith, senior fellow at the Council on Foreign Relations.
"This limits Japan's ability to engage in that conversation," Smith said. "As long as this is going on back at home, the Abe camp is going to have to be quite cautious about how to proceed on regional issues."
Even as Abe takes a political hit for the bill's passage, the parliamentary system doesn't require his government to call an election for years. Other domestic issues may capture the public's attention in the meantime.
As in most nations, an improved economy is the prime mover of polls, so Abe will have time to gain his popularity back, barring turmoil within his own party.
Japan's popular opposition to the security bills is unlikely to change the U.S. security calculus in the region for now, Smith said. However, if opposition continues to grow against the defense measures, future cooperation within the U.S.-Japan alliance could become more difficult.
"I suspect the Japanese government is trying to reassure [the U.S.] government that, 'Don't worry, our government has got this,'" Smith said. "But I think even many in the Japanese government are watching this and thinking 'This is not what we wanted.' "
Stars and Stripes staffer Elena Sugiyama contributed to this report.
slavin.erik@stripes.com Twitter: @eslavin_stripes