Japan considers missiles to deter N. Korea, strengthen US alliance
by
Hana Kusumoto Erik Slavin
March 31, 2017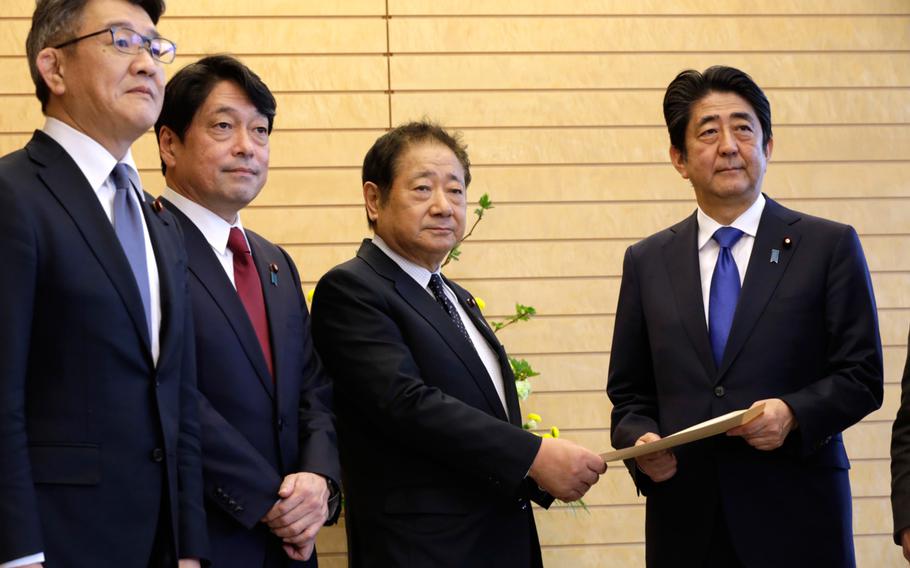 Japan's ruling party is considering for the first time a missile counterstrike capability that could complement U.S. efforts to deter North Korea, despite opposition concerns over the proposal's legality under Japan's pacifist constitution.
A Liberal Democratic Party defense panel said Wednesday that Japan should consider purchasing cruise missiles, along with stronger missile-defense measures, "to further improve deterrence and response as part of the Japan-U.S. alliance."
Missiles could not legally be used in a pre-emptive or first strike, the panel said.
They would be used only after a foreign attack, which would keep their deployment within the bounds of the nation's defense-oriented policy, the panel said.
However, cruise missiles are typically viewed as offensive weapons, which Japan has avoided purchasing since its U.S.-approved, post-World War II constitution barred "the threat or use of force as means of settling international disputes."
"This fundamentally changes the course of our commitment to the defense-only policy, so I am against it," Jun Azumi, deputy president of the opposition Democratic Party in Japan, told reporters on Wednesday.
Prime Minister Shinzo Abe's coalition maintains a commanding majority in both of Japan's legislative houses, meaning the opposition may have to depend on popular protest to stop any near- to mid-term legislation that would expand Japan's capabilities.
In 2015, the Abe government reinterpreted the constitution to allow Japan to defend its close allies even if it is not directly attacked. The move drew heavy public protest, but the popularity of Abe's economic policy and weak political opposition has left the government firmly in power since that time.
Defense analysts supportive of the government's efforts disputed contentions that purchasing missiles would be unconstitutional.
The constitution allows for self-defense, which is necessary given North Korea's advances in missile and nuclear technology, said Masashi Nishihara, former president of the National Defense Academy and president of the Research Institute for Peace and Security in Tokyo.
If the government builds a counterstrike capability, "Japan will become a stronger partner and it will make it easier for [the U.S.] to plan its strategy," Nishihara said.
The defense panel also said the United States would remain the primary counterstrike force in the event of an attack by North Korea. Besides cruise missiles, the panel recommended consideration of a shore-based Aegis ballistic missile defense system. The setup would resemble Aegis ship-based systems on Navy ships, such as those homeported at Yokosuka Naval Base, south of Tokyo.
The panel also suggested considering deployment of the Terminal High Altitude Area Defense, or THAAD. The system is designed to strike incoming ballistic missiles before they reach their target.
The U.S. recently began deploying THAAD this month in South Korea, a move China immediately condemned. Although the system is defensive and covers a roughly 125-mile radius, some Chinese have argued that its accompanying radar could give Beijing a disadvantage in a hypothetical long-range war with the U.S. or its allies.
China, which has rebuked Japan in recent years over defense measures, did so again on Thursday.
"China is opposed to any actions by other countries to take the [North Korean] nuclear issue as an excuse to compromise the security of other countries," defense ministry spokesman Wu Qian told a monthly press briefing, according to The Associated Press.
slavin.erik@stripes.comkusumoto.hana@stripes.com