Japan calls for inspections, maintenance after Marine Corps helicopter loses window off Okinawa
by
Aya Ichihashi Matthew M. Burke
August 30, 2019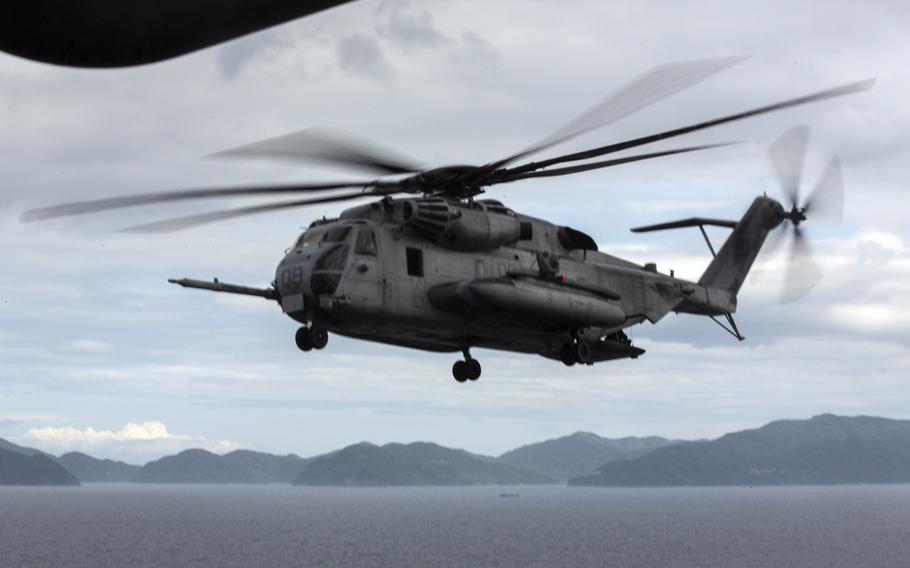 CAMP FOSTER, Okinawa — Japan's Ministry of Defense is asking U.S. military officials for inspections and maintenance on Marine Corps CH-53E helicopters on Okinawa after a Super Stallion lost a cabin window during a routine flight.
The incident occurred Tuesday at approximately 5:30 p.m., about five miles east of Okinawa's main island, when a Super Stallion based at Marine Corps Air Station Futenma reportedly lost a 23-by-19-inch Plexiglas window, according to spokesmen from Okinawa Defense Bureau and the Marine Corps.
The 2-pound window was reportedly last seen while crew members from Marine Heavy Helicopter Squadron 462 were flying over water.
No one was hurt and no property damage has been reported, 1st Marine Aircraft Wing spokeswoman Capt. Brianna French wrote in an email Friday to Stars and Stripes.
The window was surrounded by a rubberized seal to provide for emergency exit. The cause of the incident is under investigation by Marine officials, she said.
"We remain committed to the airworthiness of our aircraft and to the safety of our surrounding communities," French wrote in the statement.
A spokesman for the Okinawa Defense Bureau said Friday that the incident will worry island residents. "We are very disappointed," he said.
The bureau represents Japan's Ministry of Defense on the island. It is customary in Japan for government spokespeople to speak on condition that their names not be used in press reports.
"We asked the U.S. officials to conduct thorough inspections and maintenance on the aircraft and take all the necessary measures not to let this happen again," the spokesman said.
Bureau officials did not request a halt to Super Stallion operations.
Okinawa Prefectural government officials could not be reached for comment Friday.
In December 2017, a 3-foot-by-3-foot window fell from another Futenma-based Super Stallion and landed on an elementary school sports field adjacent to the base fence line. More than 50 schoolchildren were playing at the time, and a boy was slightly injured from a pebble that flew up during impact.
The Navy instituted new maintenance procedures after a window fell out of a MH-53E Sea Dragon in July 2018 at Naval Air Facility Atsugi, about 30 miles southwest of central Tokyo.
burke.matt@stripes.com Twitter: @MatthewMBurke1
ichihashi.aya@stripes.com Twitter: @AyaIchihashi