Japan allows F-35A fighters to fly again after deadly April crash halted operations
by
Hana Kusumoto
August 1, 2019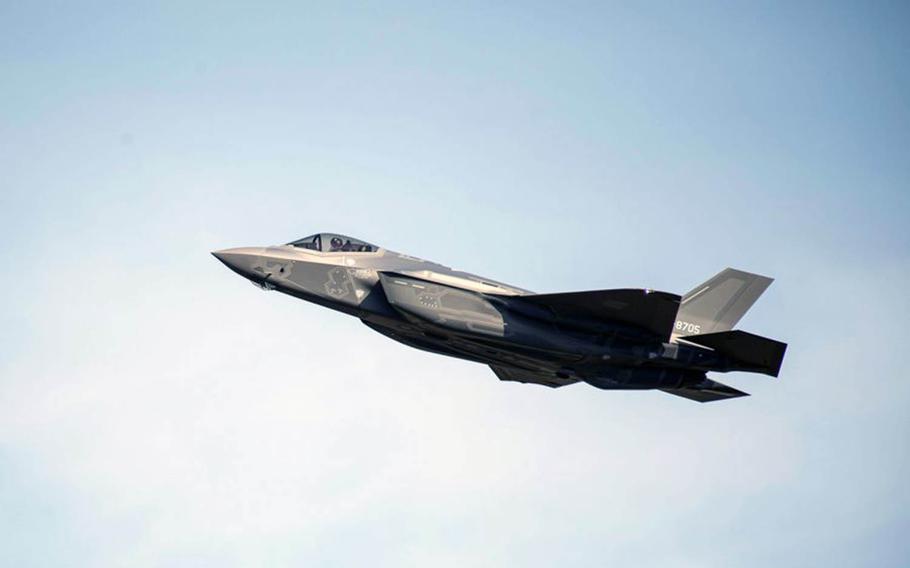 TOKYO — The Japan Air Self-Defense Force on Thursday resumed flights of its F-35A Lightning II fighters, which were grounded after one crashed into the Pacific Ocean in April, defense officials said.
"The Ministry of Defense and Self-Defense Forces have conducted thorough training and education on spatial disorientation and conducted special inspections of the aircraft," Japan's Defense Minister, Takeshi Iwaya, told reporters Thursday morning.
Two F-35A fighters took off at about 2:40 p.m. Thursday from Misawa Air Base, where all Japanese F-35As are based, a JASDF spokesman said.
A JASDF F-35A and its pilot, Maj. Akinori Hosomi, went down April 9 about 85 miles east of Misawa in northeastern Japan. Hosomi's remains were recovered June 5, nearly two months after the crash and two days after the Defense Ministry curtailed its search.
The aircraft's left and right rudders were found two hours after it disappeared, the ministry said at the time. Sometime after May 3, during a deep-water search, more parts of the fighter were found, including its canopy and flight data recorder, Iwaya said May 7.
However, the flight recorder memory and storage medium were not recovered, he said at the time.
Also in June, the JASDF said the pilot most likely experienced spatial disorientation that led to the fatal crash. An official report by the accident investigation committee is yet to be completed.
The ministry in June saidF-35A pilots would be retrained on spatial disorientation, including time in flight simulators. All F-35A pilots also would be retrained on gravity-induced loss of consciousness, or G-LOC, since it was not definitively ruled out as a factor in the crash, although the probability that it occurred is low, according to the statement in June.
Iwaya on Thursday said all F-35 pilots have conducted night flight training on simulators and reviewed their previous training to respond to requests made by local governments.
The ministry and JASDF took measures to ensure flight operations are as safe as they can be, Iwaya said.
He said pilots are reviewing basic maneuvers before moving into more advanced training.
However, he said F-35s will not fly at night until pilots complete their daylight training.
"We will resume night flight training after confirming basic maneuvering skills and completing basic combat training during the day and will refrain from conducting flight training at night for the time being," he said.
kusumoto.hana@stripes.com Twitter: @hanakusumoto