Iwakuni-based Marines praised for helping Japanese man impaled by fishing spear
by
James Bolinger
August 6, 2019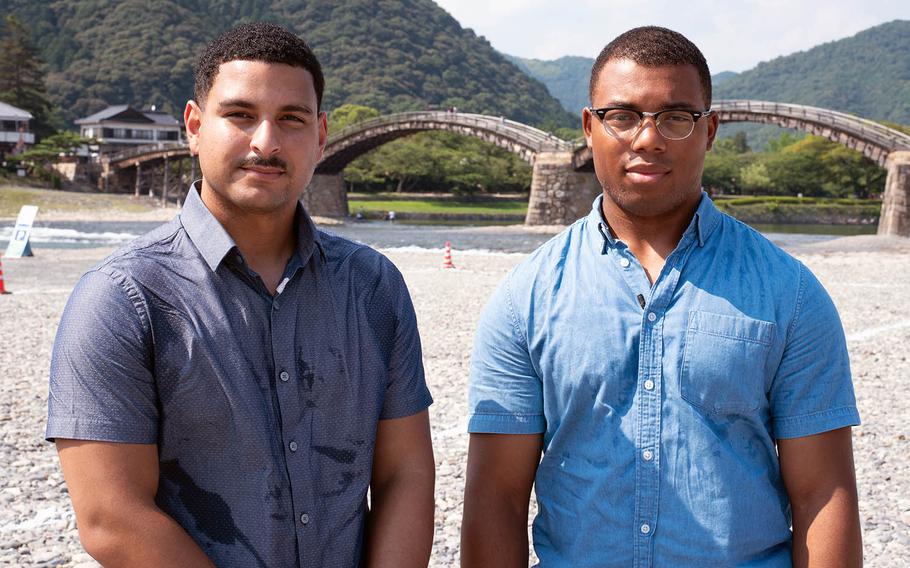 MARINE CORPS AIR STATION IWAKUNI, Japan — Two Iwakuni-based Marines were lauded Tuesday for aiding a Japanese man who was injured while spear fishing near the air station on July 27.
Cpls. Jose Castrobaez and Raekwon Johnson — C-130J engine mechanics from Marine Aerial Refueler Transport Squadron 152 — were flying drones on the bank of the Nishiki River near the Kintaikyo Bridge when a friend of the injured man asked the Marines for help, the pair told Stars and Stripes on July 31.
"We met these guys who were having their own barbecue," Castrobaez said. "They invited me to go swimming with them. I believe they were practicing how to spear fish, and the next thing you know I was doing my own thing and they told me, 'Hey our buddy needs help.'"
Castrobaez walked over to investigate and saw a spear sticking out of the man's torso.
"We didn't get taught anything in boot camp about what to do when someone stabs themselves with a spear. Maybe a bullet, but not a spear," he said.
Castrobaez then called Johnson, who had been flying a drone, over to help.
"I asked him, 'If you ever got stabbed by a spear what would you do?" Castrobaez said.
His question came across as totally theoretical, said Johnson, adding that Castrobaez was so calm that he didn't realize someone was hurt.
"I told him that 'I wouldn't pull it out, and I would try to get some help,'" Johnson said.
Johnson – surprised by the sight of blood and a spear sticking out of the man's rib cage – said he thought the victim was going into shock. He sat behind him and supported his weight while directing another man to hold the spear still.
Another person called for help, Johnson said.
"We just sat there with him, trying to keep him awake until [first responders] got there," said Johnson, who added that the most important thing he thought he could do at the time was to keep everyone, including himself, calm.
The injured man was treated at a nearby hospital for a minor injury that was not life threating, an Iwakuni Police spokesman told Stars and Stripes. He added that the incident is under investigation.
"These Marines displayed exemplary character by helping a person in need," Staff Sgt. Vitaliy Rusavskiy, a spokesman for Marine Aircraft Group 12, said Tuesday in an email to Stars and Stripes. "We are thankful to the local community for allowing us to be part of Iwakuni, where we continue to make friendships and provide assistance to each other whenever needed."
Stars and Stripes reporter Hana Kusumoto contributed to this report.
bolinger.james@stripes.com Twitter: @bolingerj2004