'It's a lot more strict here': US troops in South Korea adjust to new round of coronavirus restrictions
by
Kim Gamel Matthew Keeler
August 18, 2020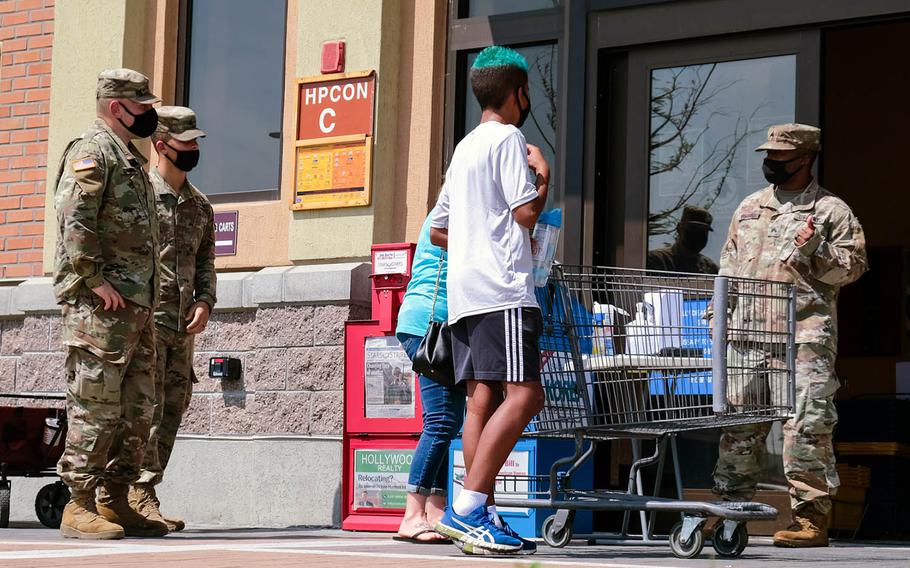 Stars and Stripes is making stories on the coronavirus pandemic available free of charge. See other free reports here. Sign up for our daily coronavirus newsletter here. Please support our journalism with a subscription.
CAMP HUMPHREYS, South Korea — Hopes of exploring their surroundings were quashed for service members and their families when U.S. Forces Korea re-imposed travel restrictions following a fresh outbreak of coronavirus in South Korea.
The capital city, Seoul, for example, was largely off-limits for months until Aug. 10, when USFK permitted troops and their families to visit there again.
That window remained open barely five days. A triple-digit surge in the number of new cases reported daily in South Korea prompted the command to rescind that order and on Monday raise the coronavirus risk level to substantial, in military terms Health Protection Condition-Charlie.
"I was hoping to travel, get the Korean experience," said Pfc. Jacob Young, who said he has never traveled outside the U.S. "This weekend I was just going to go explore Seoul. I want to do some shopping there, pick up a few things for my family."
The 19-year-old native of Charleston, Ark., is in South Korea on a nine-month rotation with the 101st Combat Aviation Brigade out of Fort Campbell, Ky., where coronavirus precautions are lighter. 
"It's definitely different here," Young said. "Everywhere you go you have to wear masks, it's a lot more strict here."
U.S. Forces Korea has mandated that masks be worn at all times off-base in a nod to local community requirements.
Gyeonggi Province, which includes Camp Humphreys and some smaller bases, has issued an executive order saying that anybody caught not wearing a mask may be fined as much as $100, the command said Tuesday.
On the installations, face coverings must be worn in stores and anywhere it's not possible to maintain a safe distance from other people.
South Korea's Centers for Disease Control and Prevention reported 279 new coronavirus cases on Sunday, the highest daily increase since early March. The agency also reported 197 new cases on Monday and 246 on Tuesday.
More than 300 of the newly reported cases are linked with the Sarang Jeil Church in Seoul where health officials confirmed on Monday that the pastor, Jun Kwang-hoon, tested positive, which added to growing concerns as church members spread throughout the country, according to South Korean broadcasting news TBS eFM.
The rapid spread was a blow to the relative normalcy that had been enjoyed in South Korea, which was an early epicenter of the pandemic but has been praised for curbing the virus with aggressive testing and tracing policies.
USFK quickly reverted to protective measures that had been developed during the initial phase of the pandemic but eased as the daily toll dropped below 50 for a protracted period.
Non-official, off-installation travel was banned, including recreational activities such as dining in at restaurants, although take-out was allowed.
After much confusion, USFK issued an infographic on Tuesday spelling out activities and services allowed for "life, health and safety."
Those included law enforcement, emergency services, hospitals, grocery stores and religious services as long as the congregation has fewer than 50 people.
While many individuals are stationed in Korea for their first time, some have returned for an additional tour, looking to pick up where they left off. The newly imposed restrictions, however, come with no end in sight.
"This is our second tour in Korea, so I know what I am missing," said Bethany Overstreet, a military spouse stationed at Humphreys.
"I see this affecting families as it limits the experience and probably puts a damper on what otherwise could have been a really good tour and has maybe put a negative spin on it for a lot of people," she added.
Along with her husband and their children, she was released from the required two-week quarantine on Monday and must postpone a trip to Gwangjang Market in Seoul, a destination she saw featured on Netflix. 
"We just adjust, it's what Army families do, and we do it well," said Overstreet. "It's just the mission but at the same time we want to keep our fighting force at prime level and protect families."
In late February, when South Korea was hit by its first wave of the coronavirus, the epidemic was primarily centered around the Shincheonji Church of Jesus in the city of Daegu, about 150 miles southeast of Seoul.
Some 28,500 U.S. service members are stationed in South Korea, which remains technically at war with the North since their 1950-53 conflict ended in an armistice instead of a peace treaty.
keeler.matthew@stripes.com Twitter: @MattKeeler1231
gamel.kim@stripes.com Twitter: @kimgamel