'It hits hard with me': Troops hear actors Terry Crews and Rebecca King-Crews talk about sexual assault
---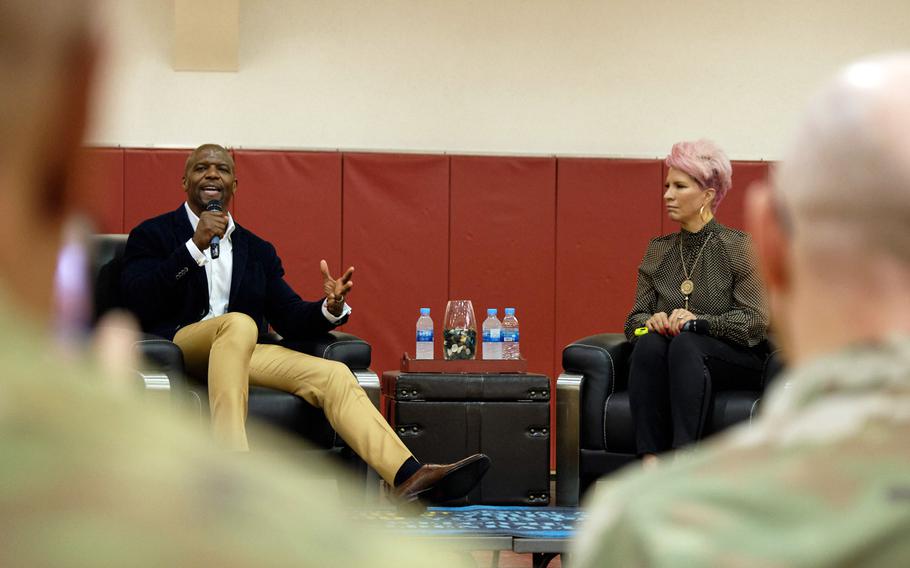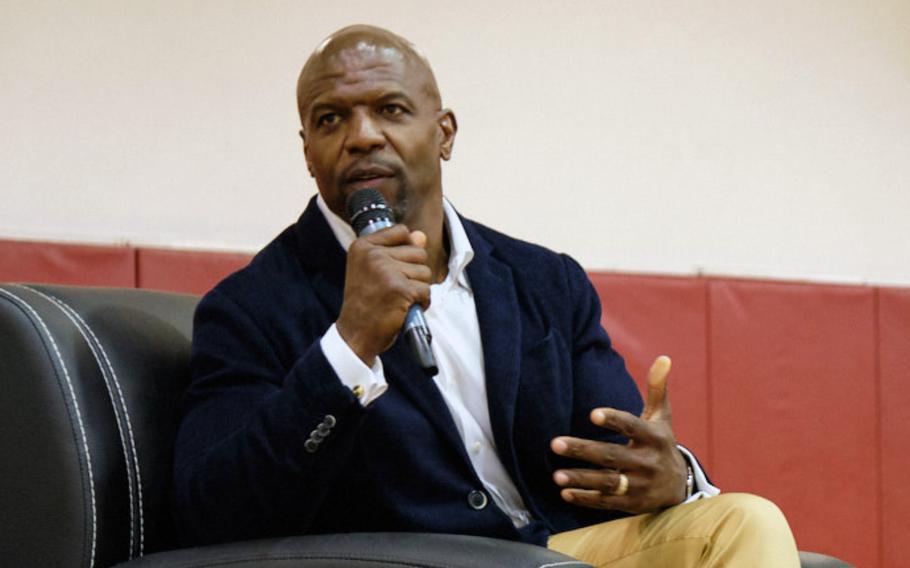 CAMP HUMPHREYS, South Korea — Television and film actors Terry Crews and Rebecca King-Crews recently shared their personal experiences with sexual assault with servicemembers and their families in support of Eighth Army's Sexual Harassment/Assault Response and Prevention Program.
The husband-and-wife team brought their message of support for victims of sexual assault and harassment to military installations across South Korea, including Camps Humphreys, Casey, Carroll and Henry, Osan Air Base, and Yongsan Garrison.
"I am shocked and amazed at how progressive the military is and impressed that they would bring us here to talk about a sensitive subject," Crews told a crowd Thursday at Humphreys, home of the Eighth Army, 2nd Infantry Division and U.S. Forces Korea.
The couple entered the base's Collier Community Fitness Center gymnasium, packed full of hundreds of the actors' fans, as the Spartan Brass of the Eighth Army Band played the theme song from the NBC show "Brooklyn Nine-Nine." Crews is a member of the popular TV sitcom's ensemble cast, and he and his wife had a reality show called "The Family Crews."
On stage, he talked about the toxic days of his career in the NFL. He recalled how normal it was for players to get off a plane and head for the popular strip clubs. The women would entertain on stages, but eventually came to the players to discuss their problems.
"They would come down and want to talk about kids and bills," Crews told the audience, "and it was like: Stop! Stop! Stop! You're ruining it."
"One thing I learned, years later after therapy and counseling, is that the woman was becoming a human being before my eyes," he said. "Before that she was an object."
For about an hour, the couple took turns sharing the microphone, detailing moments from their 30-year marriage and earlier incidents that brought them to the stage as activists and survivors of sexual assault.
Crews said he was assaulted three years ago by a man during a party hosted by movie star Adam Sandler. Crews said he waited a long time before coming forward, fearing he would destroy his Hollywood career by speaking out.
"We want to give a different perspective, and the issue is there are a lot of men that have experienced sexual assault, harassment and violence," he said. "We want to take something that is normally looked at as a two-dimensional issue and make it a three-dimensional issue."
In testimony before the Senate Judiciary Committee in June 2018, Crews said he was grabbed by the genitals in February 2016 by a Hollywood agent, who told him at the time "that he was in control," according to a Time magazine report.
King-Crews also shared her experience of being assaulted as a minor, by a teacher, while spending the night with a friend.
"My hopes as a victim of sexual assault are that perpetrators are named, victims gain the courage to go forward, and then, sincerely, people that might not consider their behavior predatory will stop and rethink their actions," she said.
According to the Army, soldiers are required to get a minimum of three hours of Sexual Harassment/Assault Response and Prevention Program, or SHARP, training each year, which is often broken up into quarterly sessions.
"Army training is known for death by PowerPoint, it's a fact," Pfc. Weslie Reich, an operations assistant with the 501st Military Intelligence Brigade, told Stars and Stripes after Thursday's event. "We are flooded with the same SHARP information constantly, so it is good to introduce the same topic through a different medium and that's exactly what they did today."
Reich said when he discovered Crews was coming to the area, he instantly planned to attend and hear the star's message, regardless of the subject matter.
"After hearing Terry's story, it hits hard with me, Reich said. "There were moments I could relate to in many ways."
Crews, 50, is viewed by millions on television and in movies as a dominant figure in nearly every role in which he is cast. In another role, however, he was cast by Time as one of several "silence breakers," celebrities who spoke publicly about sexual assault they experienced and whom the magazine collectively named Person of the Year in 2017.
"It is very important that people see me as a real person," Crews told Stars and Stripes Thursday. "Fame is nothing without honor."
Hai-Wen Chu, the Eighth Army's SHARP manager, said sponsoring the celebrities allowed the program to share the couple's message with the troops.
"We want to bring them here to help attack a popular stigma," Chu said.
"Terry is a very large male," she said. "If harassment or assault can happen to him, it can happen to anyone regardless of age, gender or position."
Chu stressed that victims should care for themselves first, then possibly pursue further actions when the time is right for them, both physically and mentally.
Isolation is a fact of military life, King-Crews said; servicemembers spend a lot of time away from family.
"My mother used to say an idle mind is a devil's workshop. Sometimes people do things away from home, away from family and support systems that they wouldn't otherwise do," she said.
"Certainly not every male is a rapist," King-Crews said, "but I can guarantee you that there are some good guys that have crossed the line, that have done things that the person on the receiving end of their actions would have considered harassment."
---
---
---
---