Intruder shot, security forces member stabbed at Andersen Air Force Base on Guam
by
Matthew M. Burke
August 15, 2019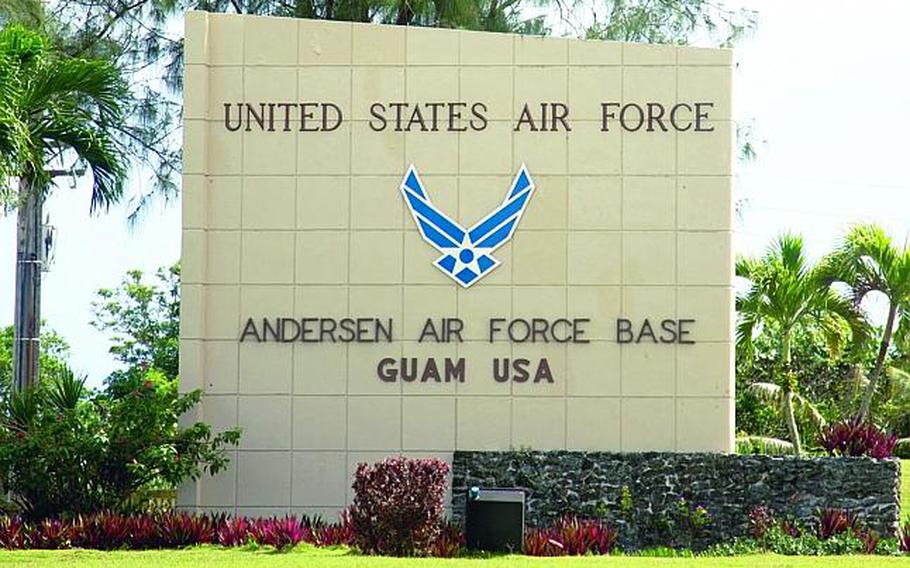 A Defense Department civilian security forces member was stabbed Thursday morning at Andersen Air Force Base while attempting to apprehend an intruder fleeing from Guam police.
Information on the unnamed security forces member's condition was not immediately available. Air Force officials said the intruder — who was also not named — was shot during the incident.
The fugitive was treated at a civilian hospital, Air Force officials said Thursday in a statement. Information on his condition was not available.
The incident began at approximately 7:35 p.m. Wednesday when a civilian attempted to enter the base's main gate while fleeing from Guam Police, Air Force officials wrote on Andersen's Facebook page several hours after the incident began. The intruder crashed his vehicle into emergency defensive barriers deployed by members of the 36th Security Forces Squadron following a high-speed chase. He then fled on foot.
The base was placed on lockdown "as a safety precaution," the Facebook post said. Security forces and local law enforcement secured the area. The "all clear" was issued sometime before 2 a.m. and normal base operations resumed.
The base's main gate was closed again Thursday morning after the fugitive was discovered at about 6:35 a.m. by security forces, the Air Force statement said. Officials did not say where he was found.
"During apprehension, the suspect responded aggressively and stabbed a Department of Defense civilian security forces member," the Air Force statement said. "The suspect was subsequently shot by base security during the altercation."
Air Force officials declined to comment further. Guam Police's public information officer did not answer several calls seeking further information Thursday.
Andersen's main gate will remain closed except for emergency personnel until further notice, a Facebook post Thursday morning said. Other gates remain open.
"Our top priority is to ensure the safety of Team Andersen, our service members and families," 36th Wing commander Air Force Brig. Gen. Gentry Boswell said in the statement. "We are proud of our partnerships in place and for the swift actions taken by our security forces members in conjunction with local law enforcement."
The incident remains under investigation by the Air Force Office of Special Investigation, Andersen security forces and Guam Police, the statement said.
burke.matt@stripes.com Twitter: @MatthewMBurke1