INDOPACOM: Military flights over East China Sea frequently targeted by lasers
by
Wyatt Olson
June 23, 2018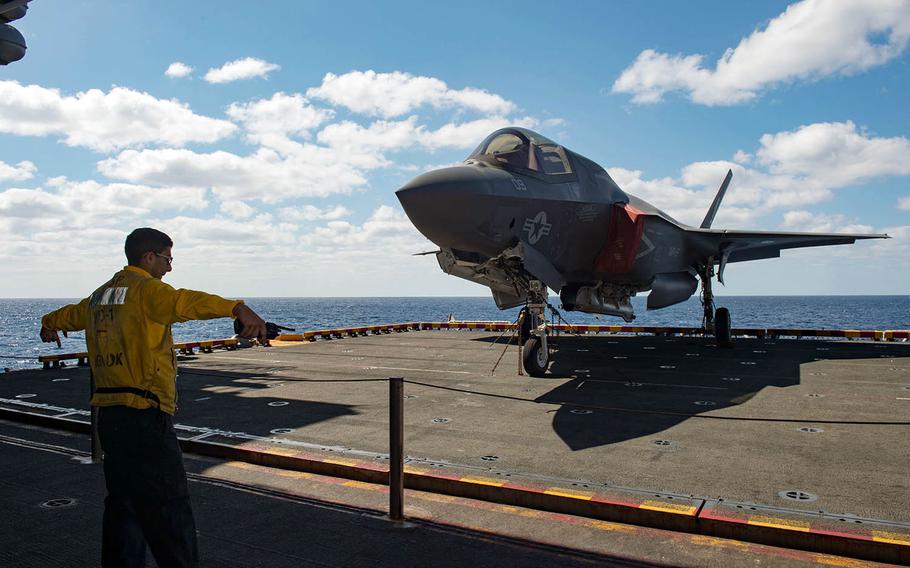 FORT SHAFTER, Hawaii – U.S. Indo-Pacific Command is confirming that its aviators are employing required eye protection after aircraft flying over the East China Sea have been targeted by high-powered lasers multiple times since last summer.
"The units fly with laser eye protection," said Maj. Cassandra Gesecki, a spokesperson for INDOPACOM in Honolulu. "So right now, we're just doing an assessment that they have all the equipment they need to protect themselves."
Gesecki confirmed crews have been targeted over 20 times in the region by lasers.
The laser beams have originated from both shore and fishing vessels — but exactly who is responsible for the actions, which can temporarily blind aviators and endanger flights, has not been conclusively determined, she said.
Gesecki confirmed the Navy, Air Force, Marine Corps and Army all operate aircraft in the East China Sea, but declined to specify what types of aircraft were targeted.
Standard operating procedures for flying in the vicinity of the sea have not been altered as a result of the laser incidents, she added.
Recent media reports citing unnamed U.S. sources indicate the lasers were controlled by the Chinese.
In early May, the Pentagon issued a formal complaint to the Chinese government, asking the country to investigate repeated instances in which American military aircraft were targeted by high-powered lasers near a Chinese military base in Djibouti.
In those incidents, the pilots suffered minor eye injuries.
China's Foreign Ministry called the allegations "untrue."
On Friday, China Foreign Ministry spokesman Geng Shuang told reporters that media stories claiming China was behind laser incidents in the East China Sea "are groundless and sheer fabrications."
Gesecki said she was not aware of any injuries to aviators targeted by lasers over the East China Sea, but could not confirm with certainty that there were none.
China and Japan dispute sovereignty of the Senkaku Islands in the East China Sea.
In 2013, China set up an air defense identification zone over part of the East China Sea that included the Senkakus, which China calls the Diaoyu Islands.
While the United States takes no position on which country has sovereignty over the islands, America's military alliance with Japan makes INDOPACOM's aircraft a target of Chinese criticism and, at times, harassment by Chinese military aircraft.
olson.wyatt@stripes.com Twitter: @WyattWOlson