In surprise tweet, Trump invites North Korean leader to DMZ meet-and-greet
---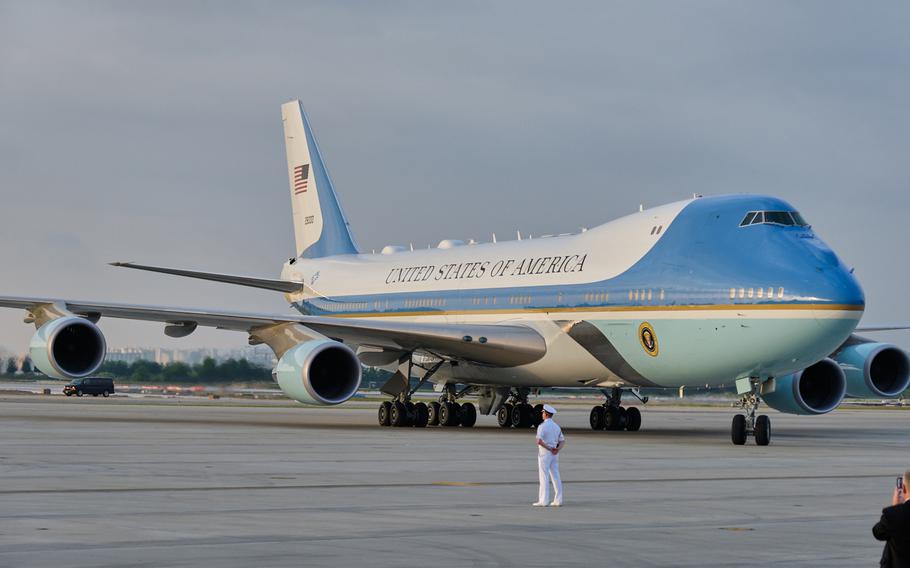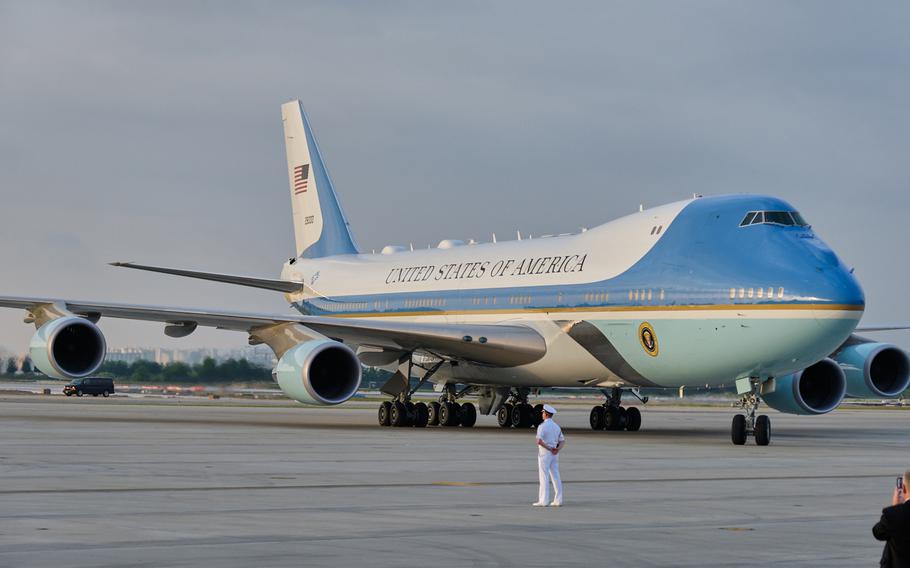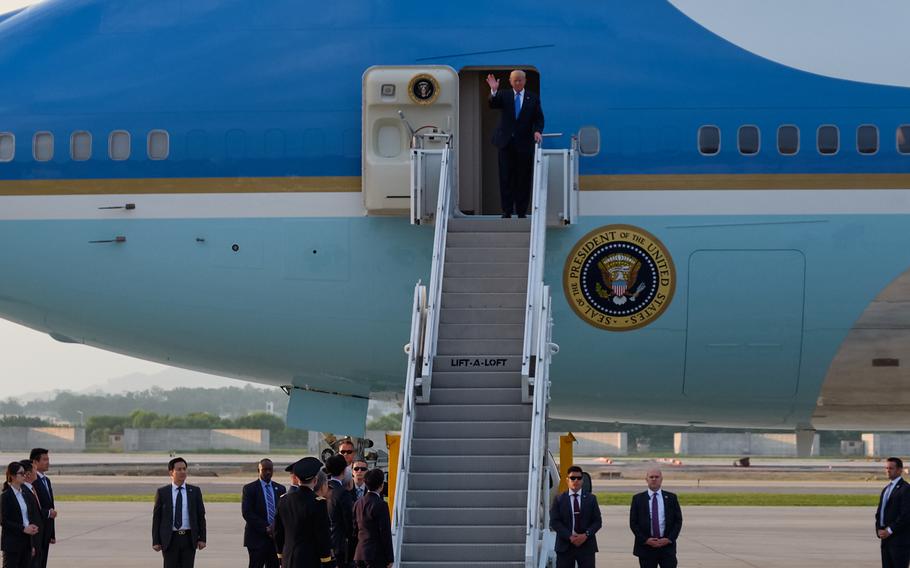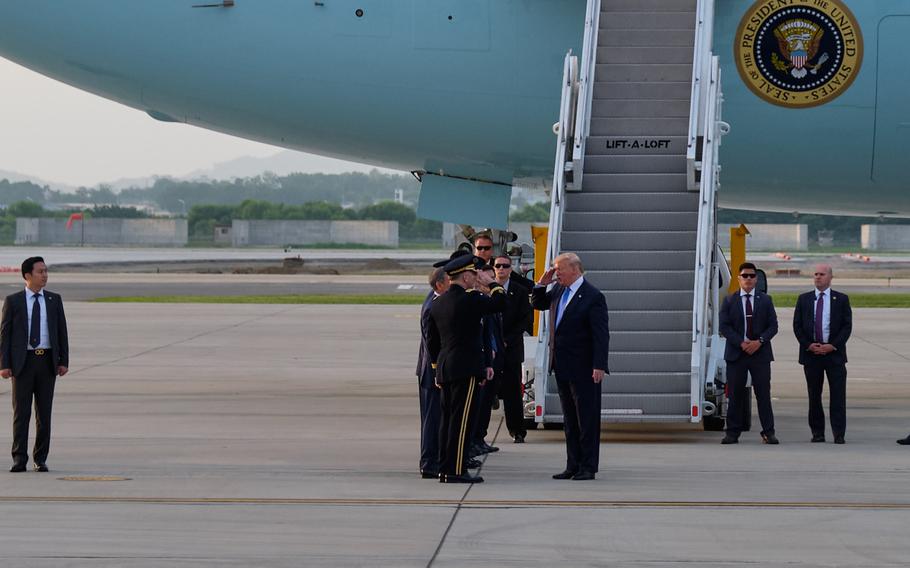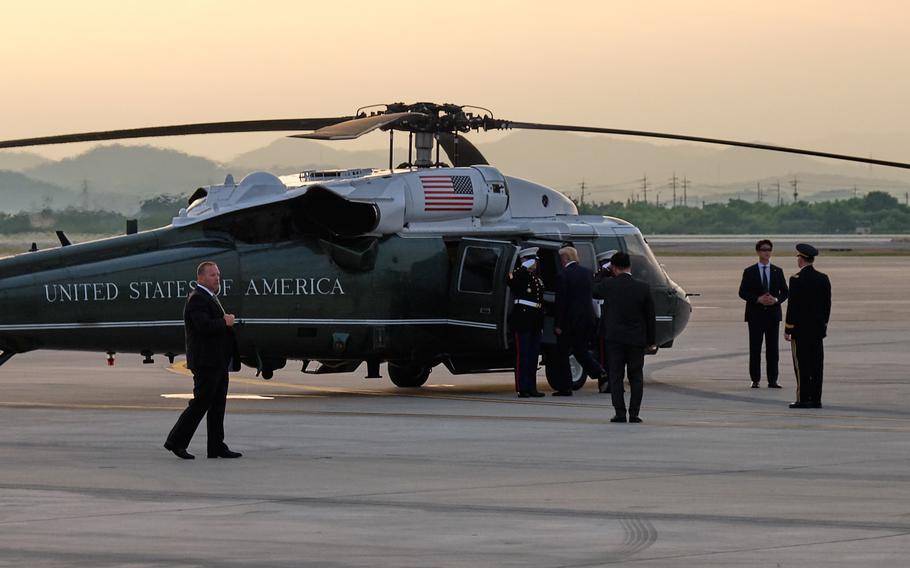 SEOUL, South Korea — President Donald Trump has offered to meet and shake hands with North Korean leader Kim Jong Un during a planned visit to the Demilitarized Zone on Sunday afternoon.
Trump tweeted the comment Saturday morning from Osaka, Japan, where he attended the Group of 20 summit before traveling that afternoon to South Korea.
He landed at Osan Air Base before heading to Seoul for a dinner with President Moon Jae-in to begin his second visit to South Korea as president.
The two leaders are to hold a summit Sunday to discuss stalled efforts to persuade North Korea to abandon its nuclear weapons.
Trump is then expected to travel to the heavily fortified border that divides the peninsula, although it remained unclear if Kim planned to be there, too.
"After some very important meetings, including my meeting with President Xi of China, I will be leaving Japan for South Korea (with President Moon)," the tweet said.
"While there, if Chairman Kim of North Korea sees this, I would meet him at the Border/DMZ just to shake his hand and say Hello (?)!"
North Korea issued a fast response that appeared positive but made no immediate commitment.
"We see it as a very interesting suggestion, but we have not received an official proposal in this regard," Choe Son Hui, the North's first vice foreign minister, was quoted as saying by the state-run Korean Central News Agency.
She said that such a meeting, if it takes place, "would serve as another meaningful occasion in further deepening the personal relations between the two leaders and advancing the bilateral relations."
The meet-and-greet would come just over a year after Trump and Kim first met in a historic summit on June 12, 2018, in Singapore, where they agreed to the general principle of working toward the total denuclearization of the Korean Peninsula.
Talks have stalled over the details of how to do that and their second summit in late February in Hanoi, Vietnam, ended early without agreement after the United States refused to meet North Korean demands over easing sanctions for interim steps.
Many experts on North Korea were skeptical that any meeting at the border would be more than a photo opportunity.
"President Trump has a keen sense for the theatrical. Such symbolic moves are necessary to overcome decades of distrust on the Korean Peninsula," said Leif-Eric Easley, a professor of international studies at Ewha University in Seoul.
"But symbolism is not sufficient for peace. Reconciliation requires a sustainable political foundation," he added, stressing the need for denuclearization and improvements in human rights.
Trump elaborated on the invitation in later remarks to reporters, saying he would "feel very comfortable" crossing the border into North Korea if Kim shows up.
"All I did is put out a feeler," he said, claiming he had "just thought of it this morning."
Trump tried to go to the DMZ during his previous visit to South Korea in November 2017 but his helicopter had to turn around because of bad weather.
Moon told reporters Tuesday that the U.S. and North Korea were holding "behind-the-scenes talks" on the possibility of a third summit.
Responding to Trump's latest tweet, Moon's office said Saturday that "nothing has been decided."
"There's no change in our position that we want North Korean-U.S. dialogue to resume," presidential spokeswoman Ko Min-jung said.
The Yonhap News Agency reported that Trump asked Moon on the sidelines of the G-20 meetings Saturday if the South Korean president had seen the tweet.
Moon replied "yes" and "let's try together," while Trump gave him a thumbs-up, Yonhap said, citing the presidential office.
The Trump administration insists it will maintain sanctions, which include unilateral measures as well as those imposed by the United Nations Security Council, until denuclearization is achieved. The North wants a reciprocal approach in which it is rewarded for steps already taken.
The two leaders insist they maintain a good personal relationship and recently exchanged letters that raised optimism they could kickstart the stalled negotiations.
Some 28,500 U.S. servicemembers are stationed in South Korea, which remains technically at war with the North since their 1950-53 conflict ended in an armistice instead of a peace treaty.
Stars and Stripes reporter Matthew Keeler contributed to this report.
gamel.kim@stripes.com Twitter: @kimgamel
kidd.aaron@stripes.com Twitter: @kiddaaron
---
---
---
---