In show of force, Carl Vinson strike group returns to Korean peninsula
by
Erik Slavin
April 9, 2017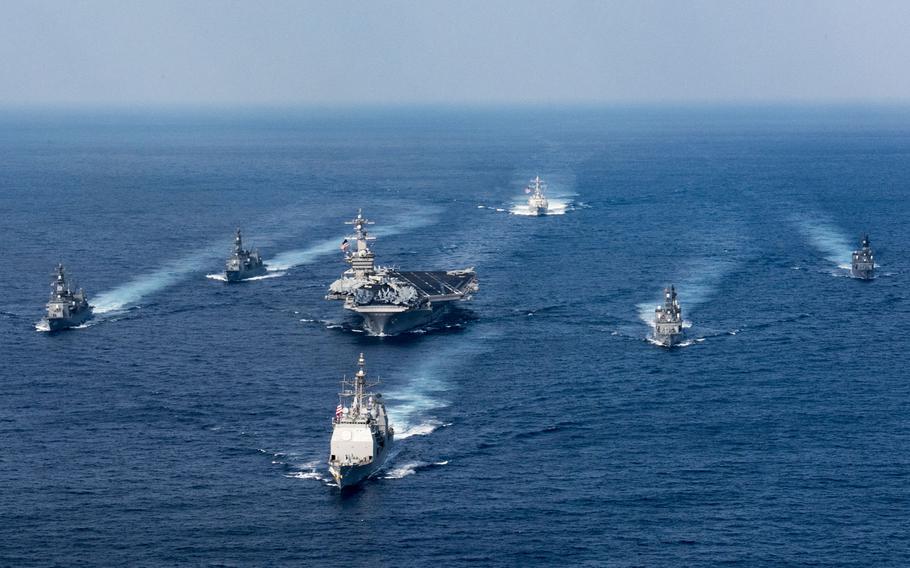 YOKOSUKA NAVAL BASE, Japan – The Carl Vinson strike group is moving toward the Korean peninsula amid heightened concerns that North Korea could soon conduct a major weapons test.
Adm. Harry Harris, head of U.S. Pacific Command, directed the aircraft carrier USS Carl Vinson and its accompanying ships to sail north from Singapore on Saturday instead of heading for planned port visits in Australia, a PACOM statement said.
A U.S. official told Reuters on Saturday the increased presence was necessary given North Korea's recent provocative behavior.
The strike group includes the destroyers USS Wayne E. Meyer and USS Michael Murphy and the cruiser USS Lake Champlain, along with the carrier and its embarked air wing. An unannounced submarine presence often transits with carrier strike groups as well.
North Korea has continued work on its nuclear program while advancing its short-, medium- and long-range missile capabilities, Pacific Fleet commander Adm. Scott Swift told reporters Thursday in Tokyo.
"Both of those are very troubling in their own right, but when you combine the two of them, the potential to weaponize from a nuclear perspective … that's what I hear and see as being the most consequential concern from virtually every country in the region," Swift said.
North Korea has conducted five atomic tests — one in 2006, 2009 and 2013 and two last year. It also has stepped up its weapons program with the stated goal of developing a nuclear-tipped missile that could target the U.S. mainland.
The communist state has attempted four missile launches this year, including a medium-range missile test on Wednesday, shortly before President Donald Trump and Chinese leader Xi Jinping met for a summit.
A South Korean official in March said the North is likely to conduct "high-intensity strategic provocations such as a nuclear test" or an intercontinental ballistic missile on key dates for the nation.
Those might include the North Korean Supreme People's Assembly on April 12, the birthday of the country's late founder, Kim Il Sung, on April 15 and the anniversary of the founding of the army on April 25.
The San Diego-based Vinson group left for a scheduled Asia-Pacific patrol on Jan. 5. The Japan-based aircraft carrier USS Ronald Reagan, the only U.S. carrier homeported overseas, has been undergoing maintenance in recent months.
Carl Vinson's patrol is part of a recently employed concept that keeps ships originating from the U.S. Pacific coast under operational control of the 3rd Fleet. Previously, ships that crossed into the Western Pacific came under the Japan-based 7th Fleet's command.
slavin.erik@stripes.com Twitter: @eslavin_stripes
---
---
---