In his first interview in new role, Chief of Naval Operations talks goals, China threat
by
Caitlin Doornbos
September 24, 2019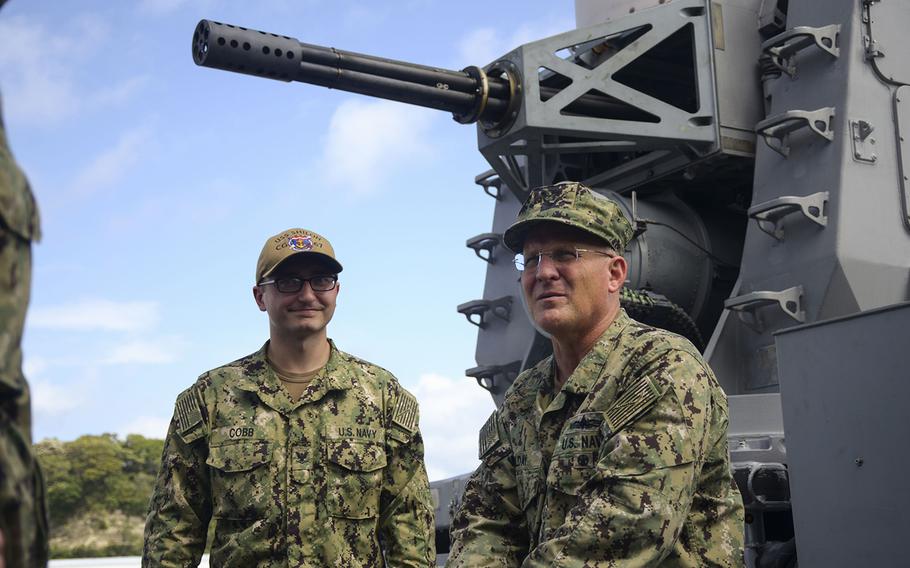 YOKOSUKA NAVAL BASE, Japan — Nervous chatter and the sound of shifting boots filled the mess hall aboard the USS Shiloh on Monday as a group of junior sailors waited to meet the newly appointed Chief of Naval Operations.
On his first overseas trip since becoming the Navy's top officer Aug. 22, Adm. Mike Gilday made a point to speak to as many sailors as he could. His friendly manner appeared to put sailors at ease enough to share their stories.
"I'm getting some great feedback and a sense of what their challenges are, what's motivating them, what we can improve on and what we need to sustain as far as what we're doing well," Gilday told Stars and Stripes. "This is a priority area of operations for the U.S. Navy, so we came to see some frontline ships and some frontline sailors."
Just a month into his tenure, Gilday said he's excited to lead the Navy through an era "focused on great power competition, and competition with China specifically as the leading threat for us."
The 2018 National Defense Strategy listed the Indo-Pacific as a priority area as China seeks "regional hegemony in the near-term" and to displace the U.S. "to achieve global preeminence in the future."
Before becoming Chief of Naval Operations, the service's No. 1 officer and a member of the Joint Chiefs of Staff, Gilday served as director of the Joint Staff assisting the Joint Chiefs.
"I am interested with a sense of urgency in closing gaps that we have to either keep us in a position of advantage against the Chinese or to close gaps quickly where we can in order to put ourselves in a better position against them," he said.
Gilday declined to comment on the details of those gaps.
Since 2010, China has been beefing up its presence in the Indo-Pacific, militarizing islands and reefs in the South China Sea over which it has no internationally recognized claim.
Beijing has devoted more money to defense each year for two decades, becoming "the second-largest military spender in the world" behind the U.S., according to the Defense Intelligence Agency's 2019 annual report to Congress on China military power.
On the listening tour in Yokosuka, Gilday asked sailors what issues they think are most pressing in their jobs and what he can do to help them. He said he will take the comments back to the Pentagon.
"Some of their challenges have to do with sustaining our ships," Gilday said. "The ship that we're on right now is 27 years old, so she's been around for a while and historically we have decommissioned ships of this type well before this age, but these crews have done a good job of keeping these ships going."
Gilday did not specify everything sailors told him; his interactions with crews were kept confidential.
"They have given me some good feedback on things we need to do better to sustain these frontline ships because we are operating them at a fairly high tempo," he added.
The Yokosuka-based strike group based around the aircraft carrier USS Ronald Reagan — up to 12 ships and 75 aircraft — has a "higher operational tempo than other Navy vessels" in a region growing in strategic importance, according to the 7th Fleet website.
That operational tempo was partly to blame for the 2017 fatal collisions of the fleet's USS John S. McCain and USS Fitzgerald. The Navy has since implemented about 100 changes, including improved sleep schedules, maintenance and certification standards to prevent future tragedies.
"As I told the [Shiloh chief petty officers] today, people are my No. 1 priority and I believe that people are an advantage against any adversary," Gilday said. "That's why I want the best-trained, the best-skilled, the best-motivated force that our Navy can produce."
He said he encouraged the chiefs to "remain focused" and "to be ready" in the effort against China "as our No. 1 concern and really our pacing threat."
"Our focus for these ships is on their current state of readiness and that's everything from how we man them to how well we train these crews to keep them to a high degree of proficiency in terms of their material condition, as well," Gilday said.
As he toured the Shiloh on Monday, Gilday made a point to make eye contact and shake the hand of each sailor he met, from seaman apprentices to the ship's commander. As he spoke with each group, he asked the sailors about their morale, why they joined the Navy and where they were from.
"From these trips, you minimize the amount of filters you get on the information you're receiving — there's no filters on this two-way give-and-take," he said. "There's nothing like hearing directly from sailors on giving me honest feedback, and they have today, in terms of what's really going well, and what stuff we need to put the heat on — what's not going well."
The admiral said he hopes to focus his time as Chief of Naval Operations on two timelines: making sure the Navy of the present is the one "the nation expects and deserves," but also is building toward a tech-savvy future.
"I need to balance resources, so we have a Navy that's ready to fight tonight and that we have a Navy that's going to be competitive in the future," he said. "It's really exciting just based on the rapid turn of technology and what we can leverage from industry right now."
Gilday said it is "the honor of [his] career" to serve as the Navy's top officer.
"It's my hope that I can fulfill expectations of not only the leadership above me, but also the sailors across the Navy that I'm providing them what they need to do the mission that we expect them to do," he said.
After Japan, Gilday will visit sailors in South Korea and California, he said. He is also meeting with military leaders of both Japan and South Korea during his tour.
doornbos.caitlin@stripes.com Twitter: @CaitlinDoornbos