III MEF Marine honored for bravery following water rescue on Okinawa
by
Aya Ichihashi Matthew M. Burke
January 23, 2019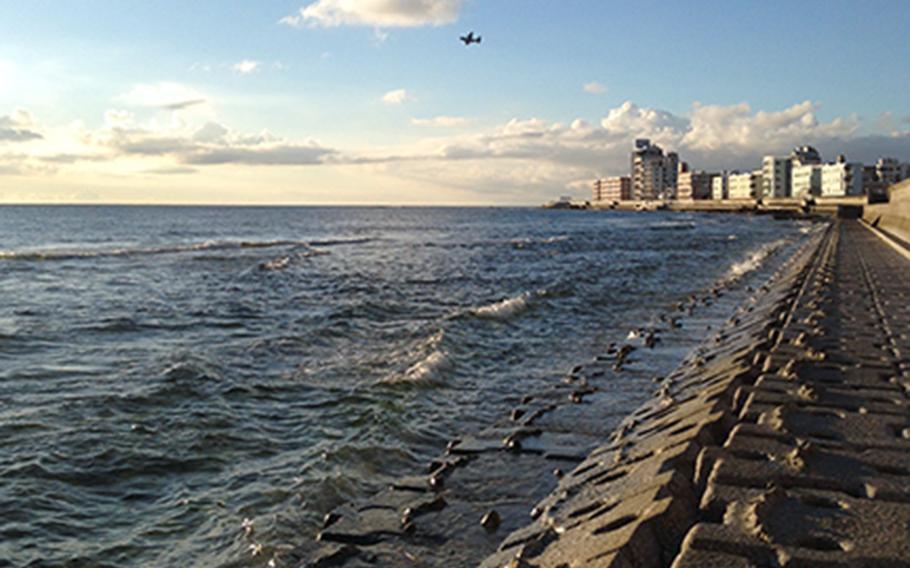 CAMP FOSTER, Okinawa — Marine Maj. William Easter was preparing for a run on the Okinawa seawall near American Village on the afternoon of Dec. 8 when he heard cries for help coming from the shore.
Looking closer, Easter saw an exhausted man who had made it to shore after a swim, but whose pregnant wife was in distress roughly a quarter-mile out.
Easter, the theatre security cooperation officer with the III Marine Expeditionary Force at Camp Courtney, acted quickly. With a life preserver in one hand, he swam 300 yards to the woman and waited with her until help arrived, probably saving her life.
He was recognized Tuesday for his heroism by Chatan Mayor Masaharu Noguni, who presented Easter with a letter of appreciation.
"We appreciate your brave action," Noguni said.
For Easter, Dec. 8 started out as a "fairly routine day." The 39-year-old from Beaufort, S.C., had just left the base gym and was about to jog the seawall, he told Stars and Stripes after the ceremony. At about 2:40 p.m., just as he put his ear buds in, he heard the cries for help.
The couple had been snorkeling and when they tried to head in, only the husband was able to make it out of the choppy water, Nirai fire chief Morikatsu Sakihara said during Tuesday's ceremony.
The husband began calling for help to rescue his wife, who was described as an American in her 20s. The distraught man told Easter he was too exhausted to make the swim.
"I could see her in the distance, a little head bobbing there in the water," Easter said. "I looked at it and I said, 'Wow, that is not a short swim.' You're not going to do that very easily."
Two other men happened by. Thinking quickly, Easter told one to call Japan's equivalent to 911; he told the other to get him a flotation device from one of the dive shops along the seawall.
The man came back with an orange, circular life-preserver, Easter said. The Marine then swam about 1,000 feet out to the woman, Sakihara said. He got her up on the life-preserver and then treaded water for approximately 30 minutes while he waited for emergency services to arrive.
"I had heard sirens in the distance, so I knew something was happening," Easter said.
Chatan fire officials arrived on a jet ski and plucked Easter and the exhausted woman out of the sea.
"She could have drowned," Sakihara said.
Easter's supervisor, Marine Col. Bob Castro, assistant chief of staff for III MEF G-5, said he wasn't surprised by Easter's actions that day, but was shocked by the conditions he swam into.
"He's very kind-hearted, very loyal; he's a good Marine," Castro said. "Being an infantry officer, he understood being a difficult situation and how to put the situation in perspective, gain control of it and then react. He followed the basic infantry leadership traits and he did this very well."
The Marines plan to honor Easter with an award later, Castro said.
It's "something that kind of comes with being a Marine," Easter told Noguni prior to the ceremony. "When you see that someone needs help, you go out and you do it. You don't think about it."