House votes to make Pearl Harbor a stand-alone memorial site
by
Wyatt Olson
November 16, 2018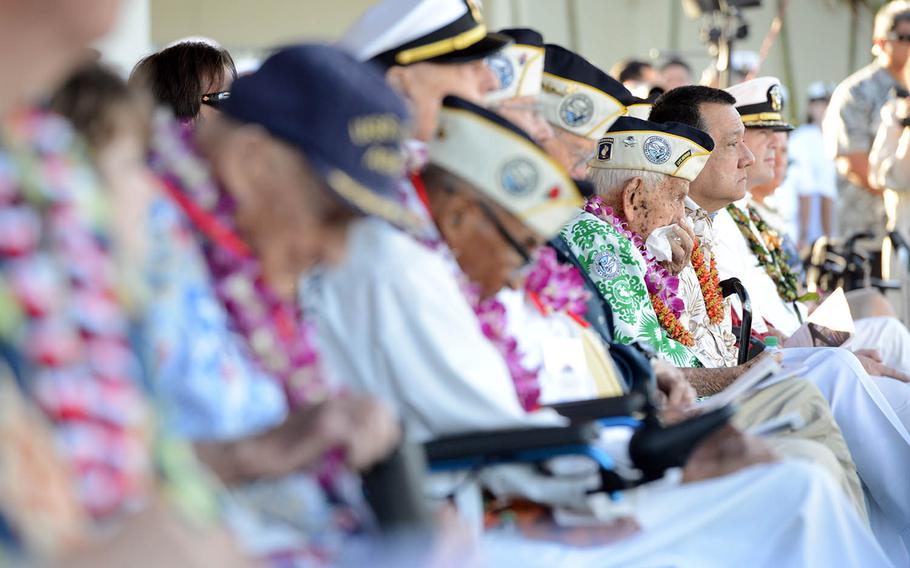 FORT SHAFTER, Hawaii — The U.S. House has voted to establish an independent Pearl Harbor National Memorial, separating it from a sprawling monument that includes sites in Alaska and California.
"This historic site deserves a name to match its separate identity and significance from the rest of the monument," Rep. Colleen Hanabusa, the Hawaii Democrat who introduced the bill this spring, said on the House floor shortly before passage.
The World War II Valor in the Pacific National Monument was established in 2008, bringing together the Alaska and California sites with five in Pearl Harbor: the USS Arizona Memorial, USS Oklahoma Memorial, USS Utah Memorial, Battleship Row and Ford Island.
Rep. Paul Gosar, R-Ariz., said on the House floor that the establishment of the Pearl Harbor National Memorial through H.R. 5760 is "giving it the full recognition that hallowed site deserves."
The Pearl Harbor site receives about a million visitors each year.
Pearl Harbor was the primary target of the Japanese surprise attack on Dec. 7, 1941, although aircraft also targeted other military installations around Oahu.
More than 2,300 sailors, soldiers, Marines and civilians died in the attack, with 20 Pacific Fleet ships sunk or destroyed, many moored along Battleship Row.
The USS Arizona sank, entombing about 900 men aboard. Visitors view the sunken hulk from the memorial hall built above it. The wreck of the USS Utah also remains on the harbor floor.
The change in designation — which still requires passage by the Senate and the signature of the president to become law — would not affect the management of the WWII Valor in the Pacific National Memorial.
The National Park Service manages the Pearl Harbor location, while the U.S. Fish and Wildlife Service manages the three Alaskan sites on the Aleutian Islands. The two services jointly manage Tule Lake War Relocation Center in northeastern California, where Japanese-Americans were interned during World War II as the result of President Franklin Roosevelt's Executive Order 9066.
The House bill also establishes the Honouliuli National Historic Site, the location of Hawaii's biggest and longest-operating WWII prison camp for Japanese-Americans. Just east of Honolulu, it held at its peak 320 Japanese-Americans, who dubbed the camp "hell valley" for its location in a gulch.
By war's end it also held several thousand of prisoners of war. It was closed in 1946, and its location was largely forgotten until it was rediscovered by a local civic group in the late 1990s.
President Barack Obama issued a proclamation in 2015 designating the site as "Honouliuli National Monument."
The House bill re-designates it from monument to national historic site. Its boundaries and management by the National Park Service would not change.
"It means a great deal to me," said Hanabusa said of the designation, noting that two of her grandparents were among the Japanese-Americans imprisoned during the war.
The mass imprisonment of Americans of Japanese descent is now regarded as a dark chapter of American history. In 1976, President Gerald Ford issued a formal apology to those imprisoned, saying what was done to them was a "setback to fundamental American principles."
olson.wyatt@stripes.com Twitter: @WyattWOlson