Home of the 7th Fleet in Japan eases coronavirus risk level and some restrictions
by
Aya Ichihashi Joseph Ditzler
September 14, 2020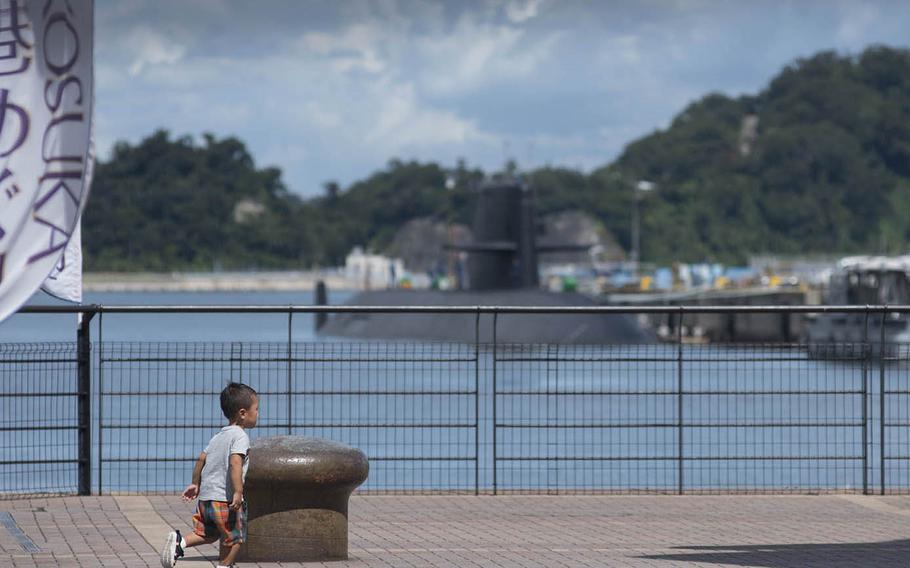 Stars and Stripes is making stories on the coronavirus pandemic available free of charge. See other free reports here. Sign up for our daily coronavirus newsletter here. Please support our journalism with a subscription.
TOKYO — The commander of the largest U.S. naval base in Japan lowered the installation's health-alert level Monday and lifted some travel and activity restrictions on its personnel.
Yokosuka Naval Base moved to a "moderate" risk of coronavirus infections spreading, or Health Protection Condition-Bravo, according to an order by Capt. Rich Jarrett. The base had been at a higher, "substantial" risk since Aug. 10.
Yokosuka is the fourth U.S. military command in Japan to lower its risk level in the past week.
U.S. bases in Japan, including Yokosuka, have reported three new coronavirus cases since Friday. Sasebo Naval Base announced one new patient on Monday, a new arrival to Japan who tested positive Saturday during a mandated 14-day quarantine. Sasebo's last coronavirus report was three new patients on Aug. 16.
U.S. Army Japan reported one new patient Friday evening, a person who tested positive at Narita International Airport after returning to Japan on Sept. 11.
Yokosuka also reported one new patient on Friday, a new arrival who tested positive in quarantine. The base has 11 active cases.
Starting Monday, anyone associated with Yokosuka, which is home to the Navy's 7th Fleet, may travel on mass transit within a permitted area. Jarrett has limited off-base travel to Kanagawa prefecture, except for the cities of Yokohama and Kawasaki.
The restrictions apply to service members and civilians, including Defense Department employees and family members.
Jarrett's order also allows overnight stays in off-base hotels, visits to off-base barber shops and beauty salons and trips to other U.S. military installations. The limit on the number of people permitted at gatherings has been increased to 10 or two households together.
Still prohibited are dining indoors at off-base restaurants and trips to beaches, bars, clubs and Chu-Hai stands. Other off-limit sites are listed in the order.
As of Sunday, Kanagawa prefecture had reported just under 6,000 coronavirus infections during the pandemic and 127 deaths, according to Nippon.com.
Nearby Tokyo on Monday reported 80 new cases, down sharply from daily totals the previous week that ranged from 100-276, according to public broadcaster NHK. However, Monday totals typically drop significantly before they rise again later in the week, according to data from the Tokyo Metropolitan Government.
Over the weekend, the metro government reported 226 new cases Saturday and 146 on Sunday. Tokyo is generally off-limits to most U.S. military personnel.
The New Sanno, a downtown Tokyo hotel operated by the U.S. Naval Joint Services Authority, and a popular destination for weekends in Tokyo, remains closed to normal business, according to an announcement on its website.
The hotel is designated a "restriction of movement" facility, a place for service members newly arrived in Japan or returning from overseas travel to stay during the mandated 14-day quarantine period. That mission ends on Feb. 28, 2021, according to the hotel.
The New Sanno will take reservations again starting March 12, 2021, "pending mission requirements and updates," according to the post.
At Yokota Air Base, headquarters in western Tokyo for U.S. Forces Japan, the base will not allow children from the surrounding Japanese communities onto the base for Halloween trick-or-treating this year, the base commander said during an American Forces Network radio call-in program Monday. Trick-or-treating for local children is a tradition on base.
However, Halloween with trick-or-treating will go on as planned for dependent children of base personnel, Col. Andrew Campbell said.
"It's a degree of normalcy I really want to see us have," he said.
On Okinawa, the coronavirus appears to be waning for the Marine Corps, which credited that success on preventative measures it imposed in the wake of viral clusters at three bases in July and August. The Marines reported three patients had recovered from coronavirus infections, leaving the Corps with one active case on Okinawa, according to a Facebook post Monday by Marine Corps Installations Pacific.
The Marines last reported one new patient on Friday at Camp Schwab. Prior to that, they reported a new case on Okinawa on Aug. 31.
Okinawa prefecture reported four new coronavirus patients on Monday, a public health official told Stars and Stripes by phone. Government officials in Japan typically speak on condition of anonymity. Monday's report is the lowest number of new cases since July 22.
Over the weekend, the prefecture reported 21 new cases, according to its website.
ditzler.joseph@stripes.com Twitter: @JosephDitzler
ichihashi.aya@stripes.com Twitter: @AyaIchihashi