High turnout for flu shots at US Navy base in Japan a precursor to coronavirus campaign
by
Caitlin Doornbos
December 18, 2020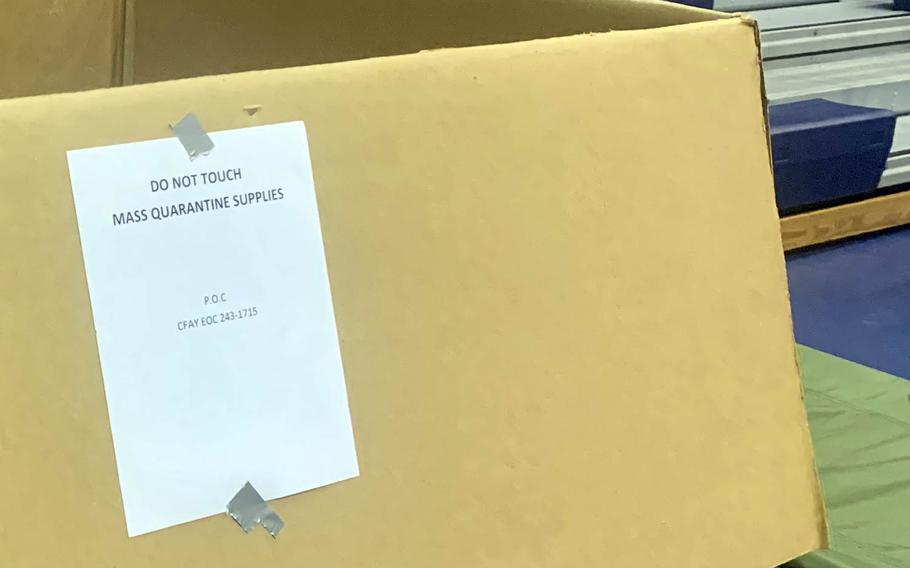 Stars and Stripes is making stories on the coronavirus pandemic available free of charge. See other free reports here. Sign up for our daily coronavirus newsletter here. Please support our journalism with a subscription.
YOKOSUKA NAVAL BASE, Japan — The annual flu-shot campaign, SHOTEX, at the naval hospital here provided a mass-immunization dry run for the corpsmen preparing to inoculate thousands of personnel with the coming coronavirus vaccine.
The Nov. 16-Dec. 11 campaign provided Navy corpsmen real-world experience that could come in handy once the coronavirus vaccine is available for the general public, Naval Medical Forces Pacific spokeswoman Regena Kowitz said in an email Friday.
"Across Navy Medicine, we have a lot of experience providing mass immunizations, whether it's to vaccinate large numbers of new recruits in basic training or the annual influenza SHOTEX," she said. "Any vaccine that would need to be administered on a large scale would likely be done in a similar way."
For now, only medical workers, residents and staff of Defense Department care homes, high-risk beneficiaries, emergency responders and security personnel are receiving the vaccine until supplies grow, according to the Pentagon.
In the Pacific, the vaccine has been sent to hospitals at Camp Humphreys in South Korea and Kadena Air Base on Okinawa, as well as Tripler Army Medical Center in Honolulu, Hawaii, as part of a pilot program to ensure the distribution process works, the Pentagon said last week.
Over the course of the campaign, corpsmen brushed up on skills specific to mass immunization events, such as how to document the immunizations in patient records; properly administer shots; handle and transport vaccines, Kowitz said. They also ensured their basic life support certifications were up to date "in case of an emergency or adverse reaction."
"Any opportunity to administer vaccines on a large scale, such as the annual flu shot exercise, is an opportunity for our corpsmen to build their skills for future exercises like this," Kowitz said in the email.
In a little less than a month, Yokosuka Naval Hospital staff vaccinated nearly 8,800 service members, military personnel and dependents, Kowitz said. That's about 86 percent of the 10,173 flu shots given throughout last year's flu season.
Though avoiding sickness has been top-of-mind throughout the pandemic, Kowitz said she could not speculate why the turnout was much higher this year than in previous flu-shot campaigns.
At Yokosuka, the vaccine was distributed for the first time at the base's Purdy Gym. In years past, it was given at Sullivans Elementary School, but the need for social distancing required a larger space this year, according to Kowitz. It was also made available at the Ikego housing area, about 6.5 miles from the main base, for residents there.
With everyone standing six feet apart, the line into Purdy Gym for the shot extended outside and wrapped around the building throughout the first weeks of the campaign. Several patients reported waiting for more than two hours. Later, people were told to come on specific days in accordance with their last names to even out the turnout.
While Kowitz said the coronavirus vaccine could be distributed in a similar manner, it also "would depend on the specific vaccine and any unique requirements, such as storage and handling."
For example, current coronavirus vaccines have temperature requirements, which would require freezing capabilities. The Pfizer-BioNTech vaccine must be kept at minus 94 degrees F, while the Moderna vaccine must be stored at minus 4 degrees F.
Though the flu shot campaign has since ended, immunizations remain available at the hospital.
doornbos.caitlin@stripes.com Twitter: @CaitlinDoornbos