High-ranking North Korean defector says 'Kim Jong Un's days are numbered'
by
Kim Gamel
January 25, 2017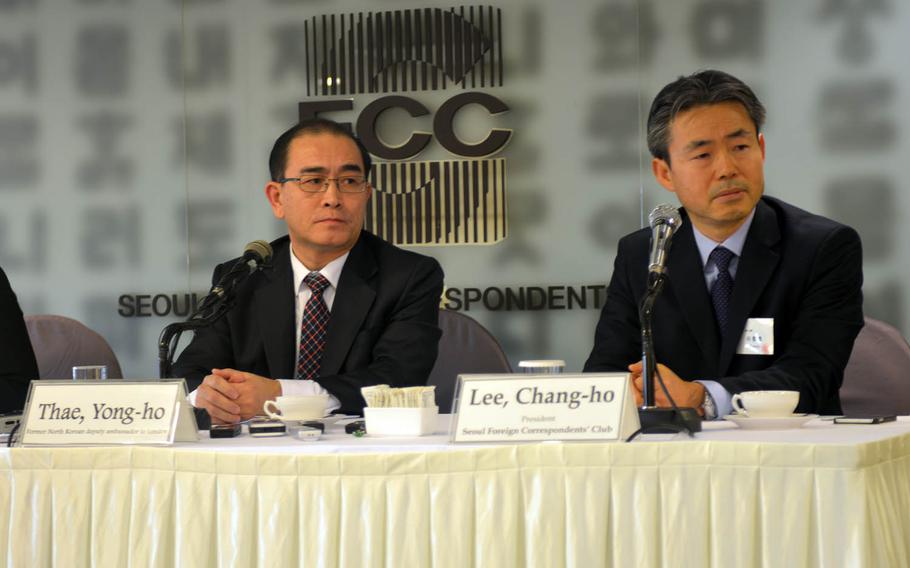 SEOUL, South Korea — One of the highest-ranking North Korean defectors said leader "Kim Jong Un's days are numbered" as corruption and an influx of information from the outside world whittles away at the regime's control over its people.
Thae Jong Ho, who was the No. 2 diplomat at North Korea's embassy in London when he defected to South Korea with his family last summer, said people also are frustrated by increased demands for labor and cash in an economy hit hard by international sanctions over its nuclear weapons program.
"North Korean people these days are forced to contribute more than ever in terms of forced labor and cash to keep the regime afloat," Thae told reporters Wednesday in Seoul. "North Koreans are gradually beginning to make their discontent known."
The former diplomat urged the international community to maintain pressure, saying regime change is the only way to resolve the nuclear issue.
"I'm sure and I can say Kim Jong Un's days are numbered," Thae said.
"We should strengthen international cooperation to pressure the North Korean regime with sanctions and accountability for human rights violations."
He noted that the third-generation leader has adopted the dual policy of economic reforms in tandem with nuclear development but said traditional structures are crumbling.
"So-called socialism is still technically in place but is no longer providing (for the people)," he said, adding that despite economic reforms, "those further down the political food chain are finding life much tougher."
Thae has taken on a very public profile with several interviews after finishing weeks of debriefings with South Korean officials. More than 30,000 North Koreans have defected to the South, but it's rare to have somebody at Thae's level who can provide valuable insights into the workings of the reclusive regime.
He said Kim wants to take advantage of the political transitions underway among both of his main enemies – the United States and South Korea.
President Donald Trump has not yet stated his official policy toward Pyongyang, and South Korea may be facing early elections over an influence-peddling scandal involving its leader.
Many experts believe the longstanding U.S. policy of relying on punishing economic measures and diplomatic pressure to force the North to abandon its nuclear weapons program should be changed because it hasn't worked.
On the contrary, North Korea has stepped up development, conducting two underground nuclear explosions and test-firing some two dozen ballistic missiles last year.
Thae warned that the North Korean regime was trying to trick the U.S. and South Korea into recognizing the country as a de-facto nuclear power, similar to the status of India and Pakistan.
"Kim Jong Un really wants to reach compromise with U.S. and South Korean governments. He may agree on temporary ban on nuclear and [intercontinental ballistic missile] test in return for easing the current sanctions and canceling the military exercises," Thae said. "But that is really a trap."
He said the U.S. and South Korea should continue to demand denuclearization before talks, adding that "any kind of deal will only legitimize and recognize North Korea's nuclear status."
Thae also reflected on his decision to defect, saying he had high hopes for reform when Kim, who was educated in Switzerland, took power in 2011 after his father died of a heart attack. But those hopes turned to despair as the young leader began to purge officials in a "reign of terror" to consolidate his hold on power.
Thae said he did not want his two sons, ages 27 and 20, to have to return to their homeland after tasting freedom in Britain. The first thing they asked him after fleeing the embassy was whether they could play internet games, read books and watch movies – simple pleasures that are restricted in North Korea.
He said the final straw was when Kim set a goal of completing nuclear development by the end of this year.
"I'm sure that more defections of my colleagues will take place since North Korea is already on the slippery slope," Thae said. "The elite class which supported North Korean society have turned their backs on Kim Jong Un."
However, Thae warned against any moves toward pre-emptive strikes, an idea that has been circulating since Kim said in his New Year's address that the North was in the "final stages" of development of an ICBM that could target the U.S. mainland.
Trump responded by tweeting "It won't happen!"
"We should avoid this kind of nuclear catastrophe. The only way to solve this problem is to pull down the North Korean regime peacefully" with a popular uprising, Thae said. "I'm sure it is possible."
Many experts have cast doubt on the possibility of an imminent uprising, saying Kim appears to have a firm hold on power after the military and political purges. It's also unclear how much support such an effort would have due to fears that a regime collapse would lead to a flood of North Korean refugees over the border and regional instability.
Thae, however, said there are already signs of resistance, with illegal street vendors who used to run from police increasingly refusing orders to leave out of desperation to sell vegetables and other items to provide for their families.
"That is a very small element but I can see that these kinds of things can be turned in the future to political purpose," he said.
Even the much-vaunted state surveillance system is dented by corruption as officers take bribes to look the other way. The cost of getting caught watching a South Korean movie is about $2,000, he said.
Thae said he defected to South Korea instead of Britain or another country because his ultimate goal was to promote the reunification of the peninsula, which was left divided by the world's most heavily fortified border following the 1950-53 Korean War.
"I think I wasted my first 50 years of my life," he said. "It is a great loss to me as a human being. I want to spend the rest of my life meaningfully."
gamel.kim@stripes.com Twitter: @kimgamel