'He was my heart': Fallen Marine captain lived his dream of flying
by
Corey Dickstein Caitlin M. Kenney
December 8, 2018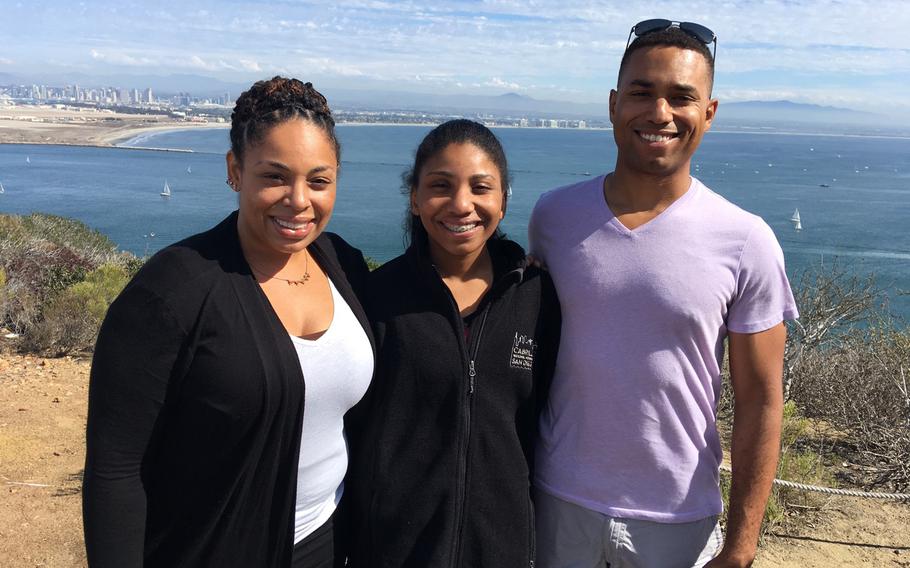 WASHINGTON – All Capt. Jahmar Resilard wanted to be since he was a child was a pilot. He had Lego plane sets and played flight simulation games growing up. His mother even paid for a few flying lessons.
"It's just been amazing that he was able to achieve his dreams and travel the world," said his older sister Janine Horne, a nurse living in Upper Marlboro, Maryland.
His mother, Joni Moore-Resilard of St. Augustine, Florida, said when her son was in elementary school, "he came up to me one day, he said, 'You know mom, I don't want to drive, I don't need a driver's license. I just want to fly.'"
The 28-year-old Marine Corps pilot from south Florida was killed Thursday after his F/A-18 Hornet fighter collided with a KC-130 Hercules aerial tanker during training off the coast of Japan, an accident from which five other Marines remain missing, service officials said.
The collision happened just before 2 a.m. local time, the Marine Corps said. Another unnamed pilot in the fighter jet was rescued alongside Resilard's body in the hours after the crash. That pilot was in stable condition, officials said.
Search and rescue efforts for the five missing Marines – the crew of the KC-130 – were ongoing Friday, according to the Marine Corps. An investigation into the cause of the collision was also ongoing Friday. Marine officials did not say if investigators had determined what led to the midair crash.
Resilard was from Miramar, Florida, just north of Miami, and was stationed at Marine Corps Air Station Iwakuni in Yamaguchi, Japan with the Marine All Weather Fighter Attack Squadron 242.
"He's always been a driven person," said his mother. "He really—once he makes up his mind and he wants to do something, he sticks with it until it is achieved."
His passion for flying led him to join junior ROTC at Miramar High School and then going to Embry-Riddle Aeronautical University in Daytona Beach, Florida, where he took aviation courses, his family said. He graduated in 2012 with a bachelor's degree in homeland security, according to a university spokesperson.
After graduation, he joined the Marines to become a fighter pilot because they are "family oriented and driven," said his mother. "Everyone in the Marines is family."
"[Jahmar] meant so much to my family," said Horne. "We have a very small family and he was the world to my mother and that's what hurts me the most."
Horne said he was also a mentor and like a big brother to her daughter, his niece Anaiyah Williams.
"He's just that person that you always want to be around with," his mother said.
Horne used to joke with her mother that Jahmar was her favorite child.
"And she would get so upset with me, like, 'that's not true.' But she lived for him," Horne said.
"He was my heart," Moore-Resilard said. "I'm just really at loss with this tragedy and the suddenness of it. It's just really taken us all by surprise."
She had just spoken with Jahmar this week about the family's plans to be in Maryland for Christmas to celebrate. Horne, who is pregnant with a son and due on Christmas, said her brother was supposed to be there for the birth.
Horne said she is devastated by the death of her brother, her only sibling, and while she knew his job had risks, she believed he would be OK because he was always the best at what he did.
"And I'm like, Jahmar trained for this for years, I know he'll be OK. He'll pull through and he'll make it," she said. "But it's just reassuring to know that he really, really truly died doing what he loved to do most in this world."
Horne was married at the end of September and the whole family was there, including Resilard who she hadn't seen in a while.
"I just never thought that a couple months later he wouldn't be here anymore," she said. "I'm just glad that my whole family were together for my wedding and he was here and we were all together at least that last time."
Moore-Resilard will be there to receive her son's body at Dover Air Force Base in Delaware, and then he will be buried during a ceremony at Arlington National Cemetery in Virginia in the coming days.kenney.caitlin@stripes.com Twitter: @caitlinmkenney
dickstein.corey@stripes.com Twitter: @CDicksteinDC