Hawaii Guard's $800K warehouse newest upgrade to Big Island live-fire range
by
Wyatt Olson
March 9, 2018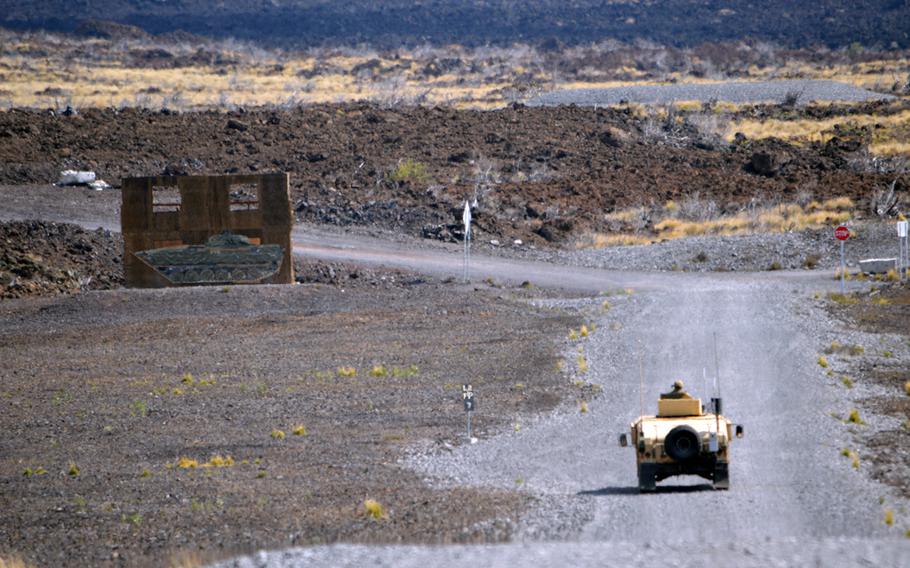 FORT SHAFTER, Hawaii — The Hawaii Army National Guard will build an $800,000 warehouse to store equipment and supplies on a Big Island live-fire training area that has been the focus of local protests for the past decade.
The warehouse to be built at the Pohakuloa Training Area will allow the Guard to house vehicles, artillery equipment and other training supplies on the Big Island, saving time and money in moving gear between islands.
"Although the [Hawaii Guard] conducts training at Schofield Barracks on Oahu and at the PTA, PTA is approximately 133,000 acres, offering a significantly larger area for training," Maj. Gen. Arthur Logan, adjutant general of the Hawaii Guard, wrote in the funding request to the state.
The frequency of the Guard's training at PTA varies year to year, with two battalions and a squadron slated for annual training there this year, Logan said.
Roughly 13,000 soldiers and Marines train at PTA each year. It plays a major role in the biennial Rim of the Pacific exercises.
Some local activists have opposed the continued use of PTA for live-fire training and the Army's plans to modernize and expand it.
The Army, which operates PTA, is in the midst of a seven-year, multimillion dollar upgrade of the cantonment area. Plans include razing more than 100 1950s-era Quonset huts to build modern barracks.
In recent years activists with the local group Malu 'Aina have argued that PTA should be shut down because of possible radioactive contamination by depleted uranium used in weapons training there during the 1960s.
The U.S. Nuclear Regulatory Commission last year declined the activists' request to require more stringent monitoring for contamination by the Army.
The Hawaii Guard's new warehouse will be built on PTA acreage owned by the federal government. Other parts of the training area are leased by the government.
The state is funding construction of the warehouse, and the contract is required to be awarded to a small business owned by a disabled veteran, Logan said.
It is the first phase of a $2.5 million project on two acres of land, he said.
Future phases include a federally funded maintenance facility and a second storage warehouse to be funded by the state.
"The Hawai'i Army National Guard's role in ensuring safety and security for our islands and throughout the Pacific Rim is critically important, particularly during these tenuous political times," state Sen. Lorraine Inouye, who represents Big Island districts, said in a statement issued by the state Senate.
olson.wyatt@stripes.com Twitter: @WyattWOlson
---
---
---
---