Guam extends public health emergency as island reports its 10th coronavirus death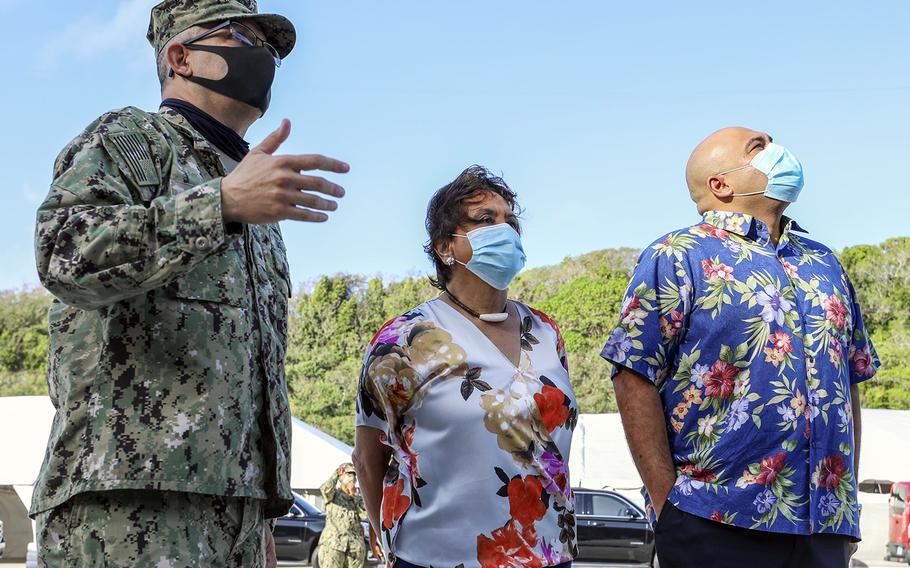 Stars and Stripes is making stories on the coronavirus pandemic available free of charge. See other free reports here. Sign up for our daily coronavirus newsletter here. Please support our journalism with a subscription.
Guam Gov. Lou Leon Guerrero signed an executive order Thursday that gives a 30-day extension to a coronavirus public health emergency set to expire on Sunday.
The order, announced Thursday afternoon by the Guam governor's office, came the same day the island reported its 10th coronavirus-related death, a 96-year-old woman pronounced dead on arrival that morning at Guam Memorial Hospital.
The previous day, the government announced that two people – a man, 61, and a woman, 62 – had died of the virus within minutes of each other. The woman, a nurse, was a longtime employee of Guam Memorial Hospital, where she worked in intensive care and the emergency department.
"In less than 24 hours, we lost three souls to the virus," Guerrero said in a statement. "To the people of Guam, you are our best tool against this virus. If we each do our part, if we each protect one another with social distancing, hygiene, and mask-wearing, we can prevent more days filled with grief.
Guerrero tested positive for the coronavirus on Aug. 8. Just days later, Guam's lieutenant governor, Josh Tenorio, announced that he also had been infected.
The U.S. territory has been under a government-mandated "Pandemic Condition of Readiness 1" since Aug. 15. The updated order, which is now set to expire Sept. 30, shutters nonessential businesses; forces schools to shift to virtual instruction; prohibits most public gatherings; and closes parks and beaches to most visitors.
A stay-at-home order is in effect until at least Sept. 4 that directs "all persons in Guam" to remain in their residences, except for essential activities such as shopping for food, obtaining medical care or commuting to and from work.
As of Thursday evening, Guam had recorded 1,232 cases and 10 deaths, according to the governor's office. Of those, 183 are U.S. service members, not counting the approximately 1,150 infections from the aircraft carrier USS Theodore Roosevelt, which diverted to Naval Base Guam in late March and spent about two months fighting an outbreak onboard.
The U.S. military on Guam, which is under Health Protection Condition-Charlie, signifying a "substantial" risk of infection there, does not regularly publicize new cases.