Guam Coast Guard receives first of three fast-response cutters planned for the island
by
Wyatt Olson
September 25, 2020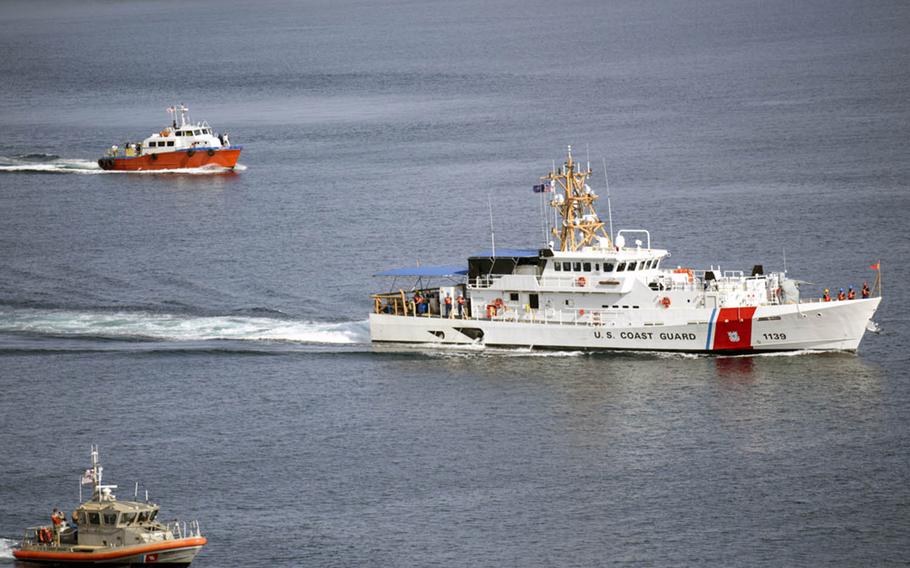 The first of three 154-foot, fast-response Coast Guard cutters arrived Thursday in Guam after completing a two-month, 10,000-nautical-mile journey from the mainland.
The crew of the Myrtle Hazard sailed from Key West, Fla., to the cutter's new homeport in Santa Rita, the Coast Guard said in a statement Thursday.
The three Sentinel-class cutters will eventually replace Guam's 110-foot Island-class patrol boats that the Coast Guard has been using for about three decades, the statement said. The arrival dates of the final two cutters have not been specified.
The Coast Guard has home-ported almost 40 of the 58 fast-response cutters the service is acquiring for a modernization intended to allow greater flexibility in missions. Three have been home-ported already in Honolulu, with two others in Alaska.
The Coast Guard took delivery of the Myrtle Hazard from Louisiana-based Bollinger Shipyards in May, according to news reports.
Fast-response cutters are equipped with advanced systems used for command, communications, intelligence, surveillance and reconnaissance.
They also have superior speed and range, reaching speeds of up to 28 knots and enduring five days out at sea while covering over 2,500 nautical miles, the statement said. They are armed with four .50-caliber machine guns and a remote-controlled 25-millimenter cannon.
The cutters can be used for drug interdiction, defense operations, maritime law enforcement, search and rescue, marine safety and environmental protection, the statement said.
"[Fast-response cutters] in Guam strengthen and affirm the U.S. Coast Guard's operational presence in Oceania," Lt. Tony Seleznick, commander of the Myrtle Hazard, said in the statement. "We increase the fleet's range, endurance, and capabilities to deter illegal behavior, support Search and Rescue, promote maritime stability, and strengthen partnerships."
Fast-response cutters carry a 24-person crew.
A fleet of three fast-response cutters in Guam will mean an additional 70 Coast Guard members and about 100 family members, the statement said.
The cutter's namesake was the first woman to enlist in the Coast Guard. Myrtle Hazard enlisted in January 1918 and became a radio operator during World War I, the statement said. She ended her service in 1919 as an electrician's mate 1st class.
olson.wyatt@stripes.com Twitter: @WyattWOlson