Guam ancestral land no longer top choice for Marine ranges
by
Travis Tritten tritten.travis@stripes.com
September 12, 2013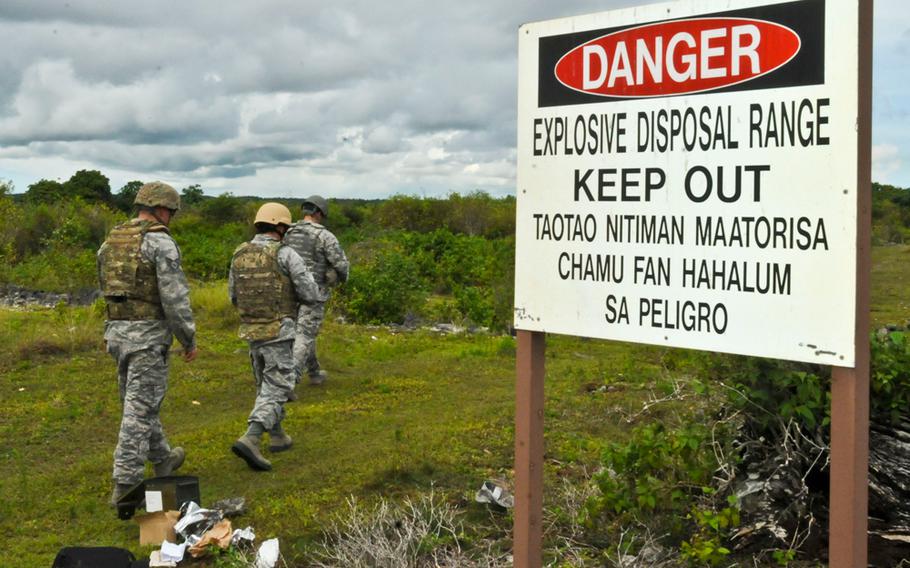 CAMP FOSTER, Okinawa — A stretch of Guam's ancient ancestral land is no longer the Navy's top choice for future military firing ranges on the island, the service's Joint Guam Program Office said Thursday.
After years of studies, the Pagat coastal area has slipped down the list of potential training sites for about 4,700 Okinawa-based Marines who may be relocated to the territory in the coming years, according to JGPO Deputy Director Maj. Darren Alvarez.
The Navy and Guam stuck a deal in 2011 allowing gun and grenade ranges to be built on Pagat – which includes ancient indigenous Chamorro graves and archeological sites – despite public outcry and a lawsuit by citizens groups. Last year, the United States and Japan shifted plans for the Marine redeployment, and the Navy launched a new study that included other potential sites.
Now, an internal draft of that study points to Andersen Air Base as the best location on Guam for the ranges, though a final decision is not expected until 2015, Alvarez said.
Pagat remains on the list of possibilities for the training site, and the preferences in the ongoing study do not limit the Navy's "final decision, nor does it limit the range of alternatives we will consider," Alvarez wrote in an email to Stars and Stripes.
Guam Gov. Eddie Calvo touted the Navy announcement as a victory for the island Thursday, saying it meant Pagat had been "saved" from military development.
"First, we saved Pagat as we promised we would work toward. Second, the military is moving forward in the spirit of its four pillars, one of which was to reduce its footprint and the other to leave Pagat village and caves untouched," Calvo said in a statement.
He also said the decision signaled that the long-discussed U.S. military buildup on Guam was moving forward after years of delays and uncertainty.
The tiny U.S. territory is already home to Naval Base Guam and Andersen Air Force base. Despite some environmental opposition, many on Guam see the transfer of Marines as another opportunity to boost the island's isolated economy and have been waiting eagerly for signs of progress.
The Navy is required by federal law to complete comprehensive environmental evaluations before major development projects such as the training ranges and housing for the new Marines, work that began around 2010 and is slated to take years.
Still, the future of the effort remains in doubt. Congress has frozen nearly all spending on the Marine realignment for the past two years due to concerns over the planning and cost.