Golf and sumo as Trump begins second state visit to Japan
by
Seth Robson robson.seth@stripes.com
May 25, 2019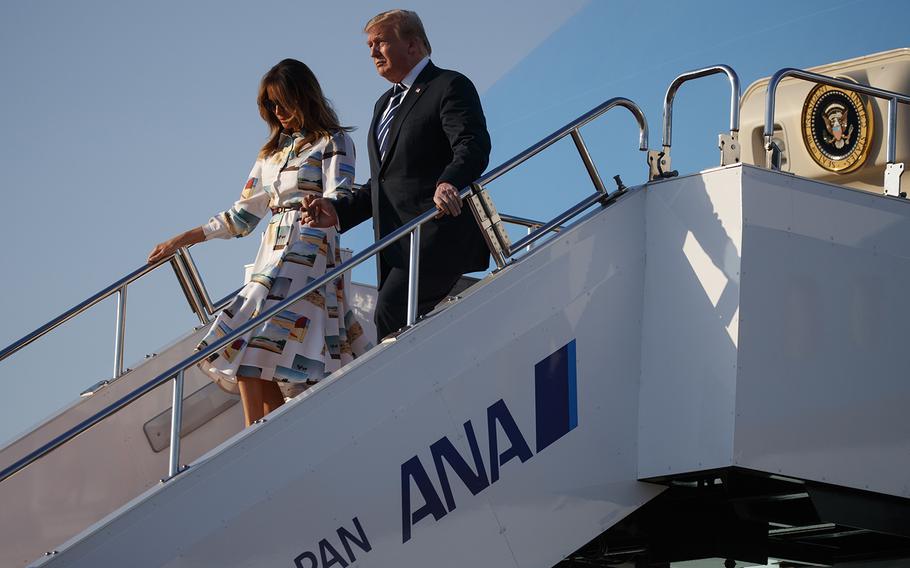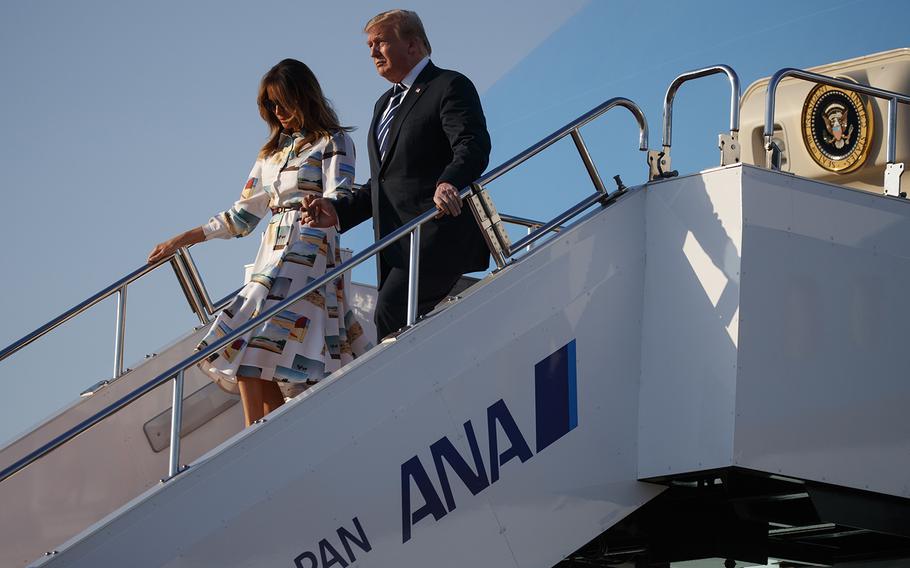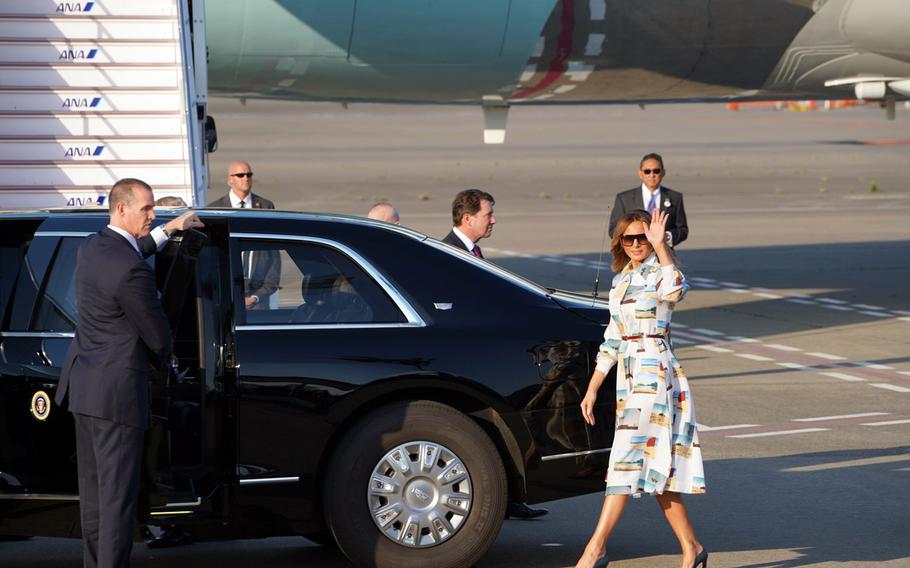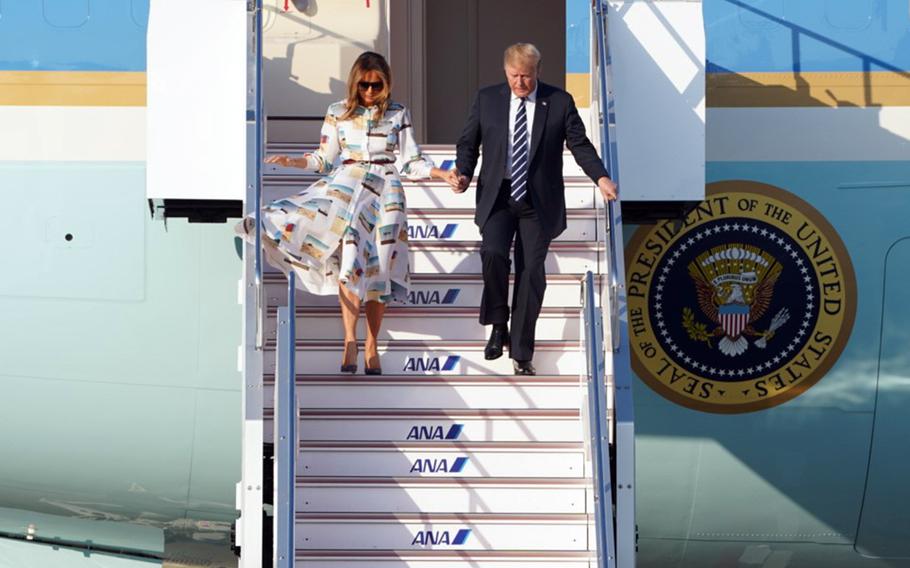 TOKYO – There will be many symbolic moments during President Donald Trump's second state visit to Japan, which kicked off with the arrival of Air Force One at a Tokyo airport Saturday evening and is expected to run through Tuesday.
The Japanese people already watched the American president and their prime minister, Shinzo Abe, attend the final day of a 15-day sumo tournament on Sunday. Trump presented the tournament champion with an enormous eagle-topped trophy that he called "the United States President's Cup." Jiji Press reported that it was more than 4½ feet tall and weighed about 66 pounds.
Trump, on Monday, is slated to become the first world leader to meet with new Japanese Emperor Naruhito since his enthronement on May 1 following the abdication of his 85-year-old father, Akihito.
On Tuesday, Trump and Abe are expected to tour one of Japan's helicopter destroyers – the JS Kaga - near Yokosuka Naval Base, home of the U.S. Navy's 7th Fleet.
Japan's purchases of U.S. military equipment have played a major role in offsetting the massive amount of Japanese goods imported by Americans. In 2018, the U.S. trade deficit with Japan was $67.6 billion, according to the U.S. Census Bureau.
As they stand on the deck of the Kaga – a ship that could, potentially, be turned into an aircraft carrier capable of supporting F-35B short takeoff and vertical landing stealth fighters – it's possible the Japanese and American leaders could cut even more deals.
Japan – already looking to increase its purchase of F-35 fighters to as many as 140 aircraft – is deliberating its next big-ticket defense procurement, which will be replacements for its aging fleet of F-2 fighters.
It's an issue that Trump and Abe might discuss, according to Michael Green, a Japan expert with the Center for Strategic and International Studies in Washington, D.C.
"Donald Trump likes pageantry. He also likes military hardware. And it's a pretty impressive flat top," Green said of the Kaga.
If Japan modifies its four helicopter carriers to launch F-35Bs it will have its first fleet of aircraft carriers since World War II, Green said during a teleconference with reporters Wednesday.
"The Japanese have not decided officially yet whether they'll procure the F-35B, but there's an awful lot of interest," he said. "I'm sure Donald Trump would like to sell them."
Abe has cultivated, perhaps, the closest relationship with Trump of any world leader. The avid golfers teed off together for the fifth time on Sunday morning. The 16-hole outing at Mobara Country Club in Chiba prefecture with professional golfer Isao Aoki included double cheeseburgers made with American beef for lunch, according to the Ministry of Foreign Affairs.
A Pew Research Center poll published in November showed fewer than a third of Japanese had confidence in Trump but that about two-thirds trusted the United States, on par with levels during the Obama administration.
"The Japanese public recognizes how critical the U.S.-Japan alliance is and, somewhat in contrast to our Western European allies or Canada, Japan lives right next door to China and North Korea, has very little room for friction with the United States," Green said.
In 2014, the Japanese government changed its interpretation of Japan's pacifist constitution to allow collective self-defense to include more joint operations with the U.S. military.
"So, [Abe] has really doubled down on relations with the U.S., including his personal relationship with Donald Trump," Green said.
Trump and Abe will likely discuss the importance of coordinating North Korea strategy, "essentially the balance between pressuring the Kim Jong-un regime and exploring opportunities for diplomacy," Nicholas Szechenyi, another Japan expert from the center, added during Wednesday's teleconference.
"The president will likely meet again with relatives of Japanese citizens who were abducted by North Korea in the 1970s and '80s," Szechenyi said. "I think the president will also express support for Prime Minister Abe's interest in exploring bilateral diplomacy with Kim Jong Un."
Hours before Trump's arrival Saturday at Haneda International Airport, National Security Adviser John Bolton told reporters at the U.S. Embassy in Tokyo that North Korea will be among the first issues that Trump and Abe discuss.
Bolton also called short-range missile tests by the North on May 4 and May 9 a violation of U.N. Security Council resolutions that prohibit the communist nation from launching ballistic missiles.
However, Trump later downplayed those recent tests in a tweet posted after he arrived in Tokyo.
"North Korea fired off some small weapons, which disturbed some of my people, and others, but not me," the president wrote.
robson.seth@stripes.com Twitter: @SethRobson1