Global Hawk surveillance drones will return to Tokyo to avoid Guam's typhoon season
by
Hana Kusumoto Seth Robson
May 28, 2020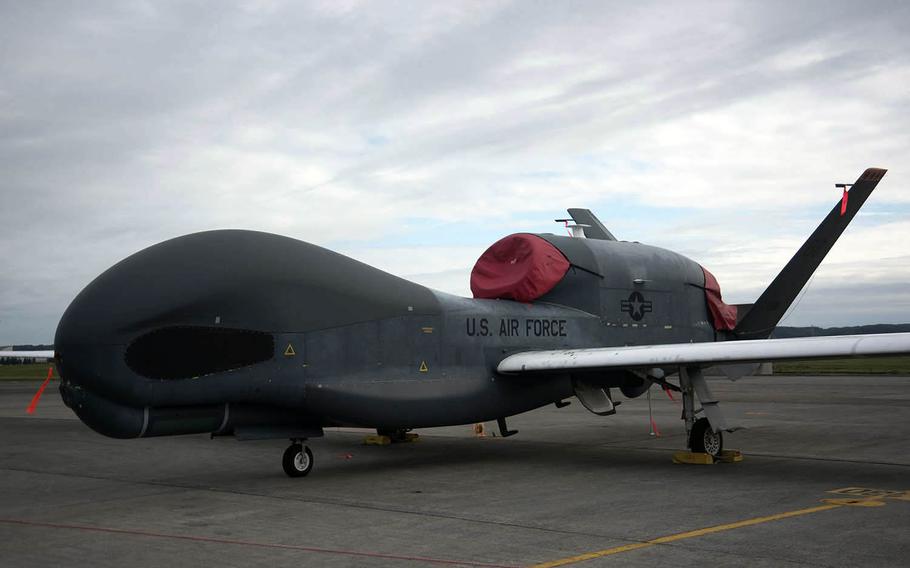 YOKOTA AIR BASE, Japan — The Air Force is sending unmanned RQ-4 Global Hawks to Tokyo again this summer to take advantage of favorable weather conditions, officials said Thursday as U.S. forces prepare for typhoon season in the Far East.
Global Hawks routinely relocate from Guam to Japan to avoid typhoons that batter the island and the nearby Northern Marianas, which include Saipan, Tinian and Rota.
On average, the northwest Pacific, including Guam, sees 32 numbered tropical cyclones per season, some as weak as a tropical depression and some equal to Category 5 hurricanes in the United States. Last year, there were 29 named storms, 17 of them typhoon-strength and four of them classified as super typhoons in the northwest Pacific.
In addition to supporting intelligence, surveillance, and reconnaissance requirements, the Global Hawk has provided imagery during humanitarian-assistance and disaster-relief operations, such as Operation Tomodachi, the U.S. military response to the earthquake and tsunami that struck Japan in March 2011.
"This shift of aircraft to Yokota Air Base ensures persistent reconnaissance in a region where challenges to a free and open Indo-Pacific have increased," 374th Airlift Wing spokesman 1st Lt. Stuart Thrift said in an email Thursday.
The Air Force would not discuss the Global Hawks' arrival date at Yokota or the number of people deploying with them.
However, the North Kanto Defense Bureau, a local branch of Japan's Ministry of Defense, stated on its website Monday that six Global Hawks and about 80 personnel will be deployed there from the end of this month to sometime around October.
"Based on the current security environment, the need for [Intelligence, Surveillance and Reconnaissance] activities in this area continues to be high," the website stated. "They will be temporarily deployed to Yokota Air Base this year after considering the way to secure the most effective operation of Global Hawks."
Tokyo Gov. Yuriko Koike and six leaders of cities and a town near Yokota submitted letters Tuesday to Japanese defense officials and 374th Airlift Wing Commander Col. Otis Jones urging safety precautions and efforts to minimize noise from the drones.
Last summer, four Global Hawks supported by about 20 service members and 100 civilians from the Guam-based 319th Reconnaissance Wing flew out of Yokota from August to October.
In previous years, Guam's Global Hawk detachment has flown out of Misawa Air Base on the northern tip of Japan's Honshu island. The drones moved to Yokota in 2017 because of runway construction at Misawa, which hosted the aircraft again in 2018.
The Northrop Grumman-built drones, which can cost $100 million depending on configuration, are thought to be capable of operating at an altitude of 60,000 feet, high above civilian air traffic, which normally does not surpass 40,000 feet. They can stay aloft for 34 hours and have a range of 14,000 miles.
robson.seth@stripes.com Twitter: @SethRobson1
kusumoto.hana@stripes.com Twitter: @HanaKusumoto