Frontline military medical workers among first in Hawaii to receive coronavirus vaccine
by
Wyatt Olson
December 18, 2020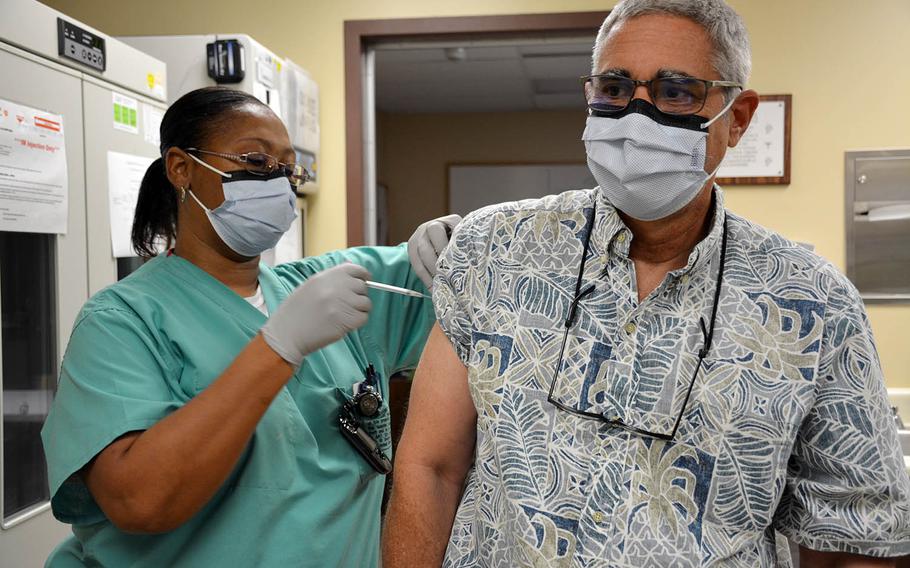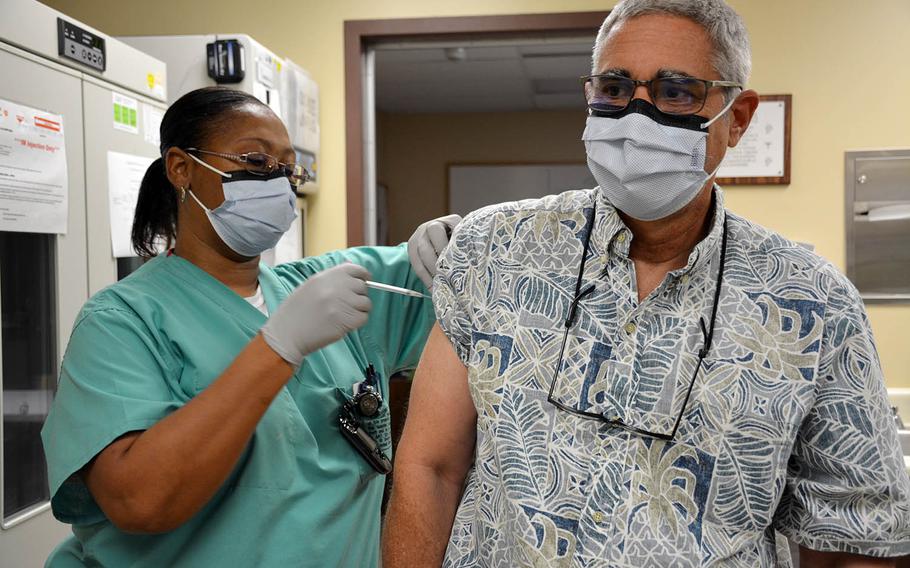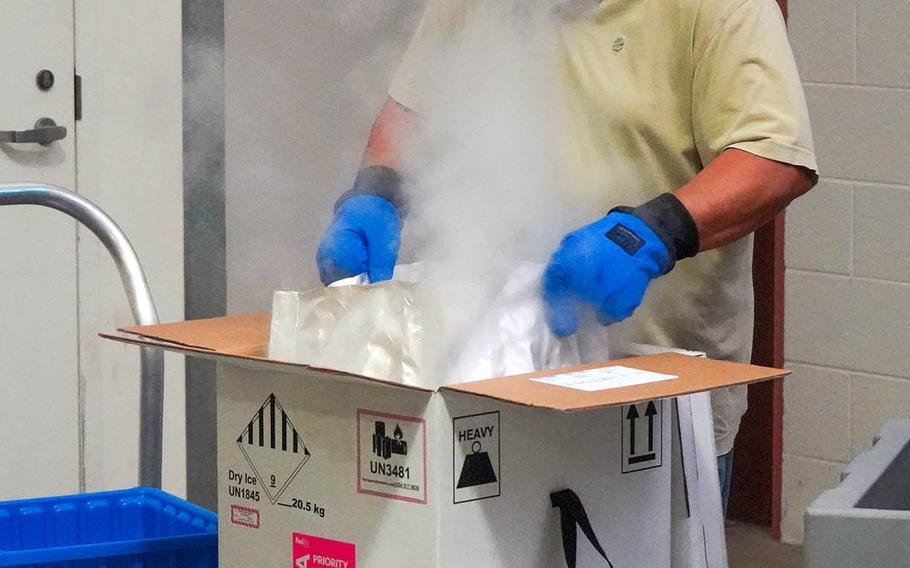 Stars and Stripes is making stories on the coronavirus pandemic available free of charge. See other free reports here. Sign up for our daily coronavirus newsletter here. Please support our journalism with a subscription.
TRIPLER ARMY MEDICAL CENTER, Hawaii — Hundreds of military medical personnel on Oahu had been inoculated against the coronavirus as of Thursday morning, two days after Tripler Army Medical Center received an initial batch of Pfizer-BioNTech vaccine.
The medical center on the outskirts of Honolulu serves all uniformed branches. It is one of 16 Defense Department sites around the world to begin a vaccination drive aiming to protect roughly 11.1 million defense personnel from COVID-19, the disease caused by the virus.
"We're honored that we get to be a key player in reaching the end of COVID," Col. Martin Doperak, Tripler's commander, said during a news conference Thursday morning on the medical center's sprawling grounds.
Citing operational security concerns, Doperak declined to say how many initial doses of vaccine Tripler received.
The doses on hand are being given in a "phased approach" under guidelines developed by the Defense Department, Department of Health and Human Services and the Centers for Disease Control and Prevention, he said.
"[We] are first inoculating our intensive-care unit personnel; emergency room and urgent-care personnel; first responders; inpatient and outpatient health delivery; and support personnel," Doperak said. "Basically, those that will come into contact with COVID patients. This first tier includes both active-duty, civilians and contractors who have volunteered to receive the vaccine."
Defense Department policy requires all active duty and reserve personnel, as well as anyone working in the health care field, to receive flu vaccine each year. But the coronavirus vaccine is entirely voluntary at this point.
"We have well over 50% of the folks volunteering to receive the vaccine," said Col. Ingrid Lim, deputy commander for medical services at Tripler. That amounted to "a few hundred" volunteers as of Thursday morning, she said.
Personnel who opt out are encouraged to reconsider and "to talk to either family members or their doctor if they have specific medical conditions that they are concerned about," she said.
The attitude of those already inoculated has "run from ecstatic and excited and can't-wait to those who are, you know, 'It's just another vaccine,'" she said. "But most folks who are taking it now are excited to be part of history and also excited to get the vaccine to protect themselves. They see it as an essential component to providing good clinical care and being safe."
Tripler was chosen as one of the Defense Department sites for the vaccine rollout because of the state's sizable defense personnel footprint and the medical center's ultra-cold storage capability.
The Pfizer vaccine must be stored at minus 94 degrees Fahrenheit or it will break down and become ineffective.
The first shipments of Pfizer vaccine to the 16 installations are serving as a pilot effort, testing for glitches in the system before larger quantities are distributed, Doperak said.
The Defense Department only received just under 44,000 doses of vaccine from Pfizer, which are being distributed to the 16 installations in proportion to the population size of the selected sites, the Pentagon said in a news release Tuesday.
Tripler supports a beneficiary population of more than 140,000 service members, family members and military retirees of all service branches in Hawaii. That number does not include Defense Department civilian personnel.
Hawaii's civilian medical facilities are distributing roughly 5,000 doses of vaccine received directly from Pfizer. Another 7,800 doses are expected to be delivered next week.
Doperak said that less at-risk categories of people will be offered inoculations as Tripler receives additional doses of vaccine in coming days.
The phased approach prioritizes vaccine for military heath care workers most at-risk for infection, a group that includes members of security forces, fire departments, first responders and ambulance drivers, he said.
Subsequent phases focus on populations with elevated risk of dying from COVID-19.
Only after that will the vaccine become available to the generally healthy active duty service members and dependents, he said.
But even then, certain priorities will be observed.
"A unit that's going to deploy will be ahead of a soldier that's not going to deploy and be back here at home station," Doperak said.
The Pfizer vaccination requires a second shot 21 days after the initial inoculation, but the Tripler staff is not holding back any of the initially received doses, which offer 50% to 70% efficacy compared to 95% effectiveness of the double dose.
"We are giving as many people as possible that first dose because it gives them some protection," he said.
Tripler was among the sites nationwide discovering this week that each vial of vaccine intended to inoculate five people had enough for a sixth, sometimes seventh, shot.
"That basically is a Christmas present for the whole health care system," Doperak said. "You can basically say we've increased the amount we have by 20%."
olson.wyatt@stripes.com Twitter: @WyattWOlson