From pride to fear, transgender aviator says her military career proves ban wrong
by
Kim Gamel
March 29, 2018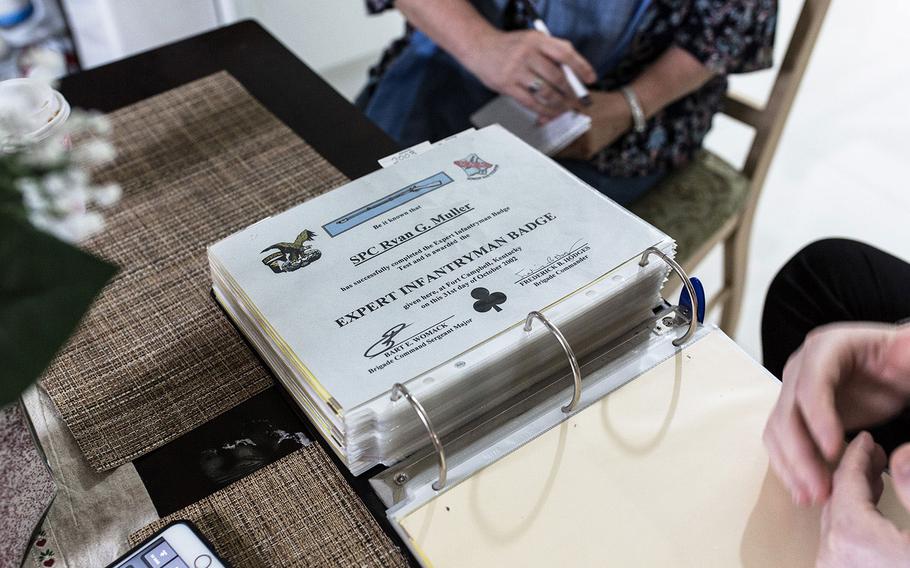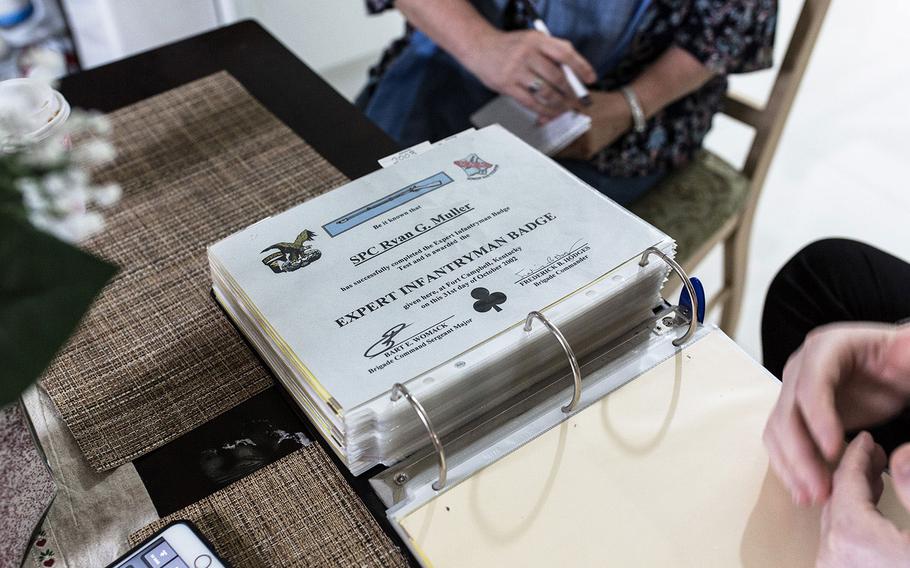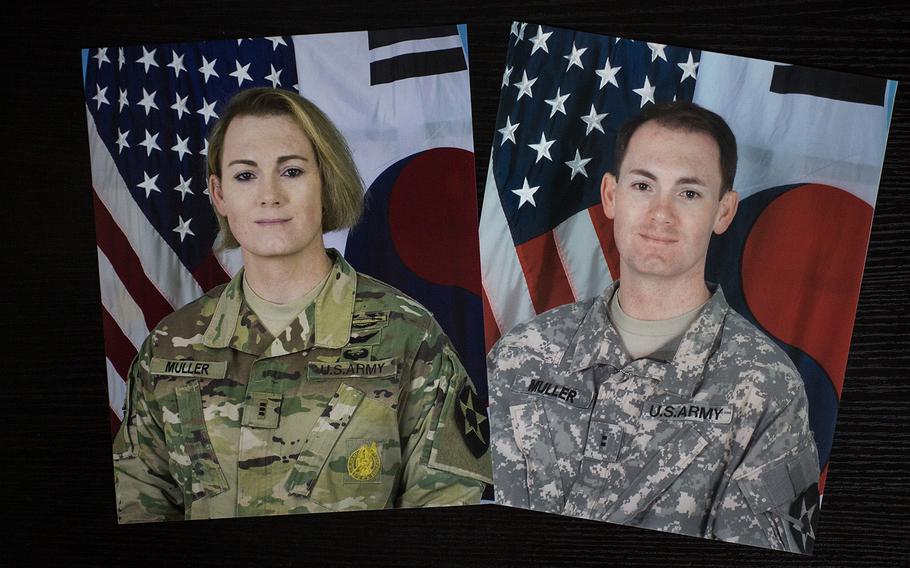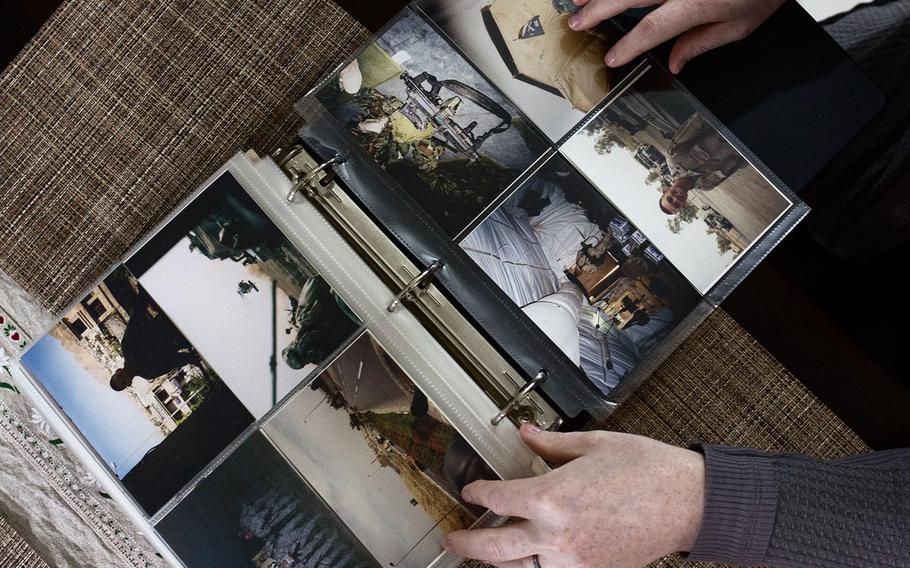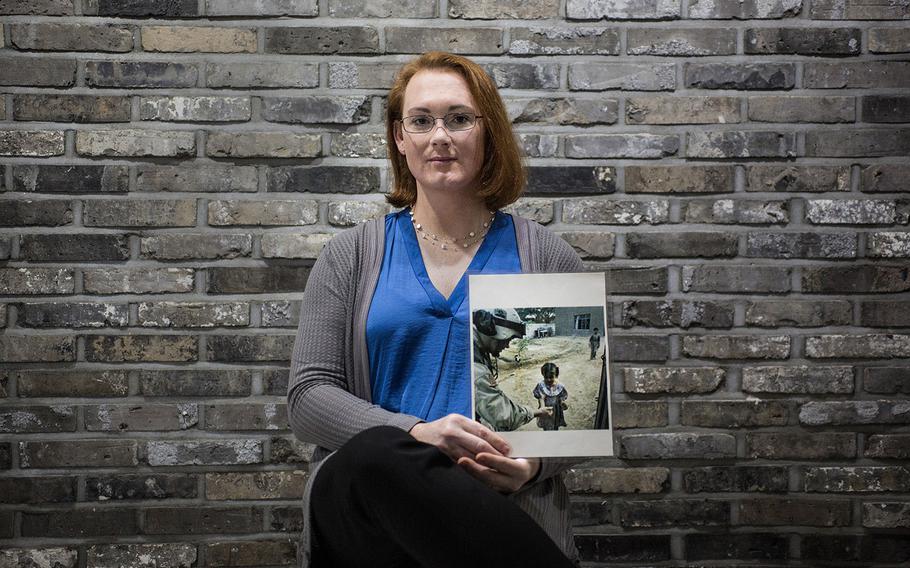 PYEONGTAEK, South Korea — Just nine months ago, Chief Warrant Officer 3 Lindsey Muller was feted as a guest speaker at an Army-sponsored LGBT pride observance at Camp Humphreys.
Now she's worried she may lose her job after nearly two decades of honorable service because of a new push to ban most transgender troops from serving in the military.
Muller, a 36-year-old transgender aviator, is two months shy of beginning the lengthy process of retiring after what will have been 18 years of service. Even if she retires before the status of transgender servicemembers is finally resolved, thousands of others could be affected.
"I think they've proven their mettle in combat; they've proven their mettle in peacetime. They're there for their peers when they need them, and I think to dismiss them would be a huge disservice," she told Stars and Stripes in an interview Thursday.
President Donald Trump issued an order last week banning most transgender troops from serving in the U.S. military except under "limited circumstances." He also said the secretaries of defense and homeland security "may exercise their authority to implement any appropriate policies" concerning the issue.
The new directive rolls back a blanket ban declared by Trump last year on Twitter as he moved to reverse his predecessor Barack Obama's plan to allow transgender individuals to serve openly. But opponents said the changes didn't make it any less discriminatory.
The ban has been mired in legal challenges and four federal courts ruled against it, prompting the Pentagon to allow those serving to remain and other transgender people to enlist beginning Jan. 1 until litigation runs its course.
Trump issued his new order after receiving policy recommendations from Defense Secretary Jim Mattis, a former Marine general, who said in a memorandum that having transgender people in the military posed "substantial risks" to readiness and unit cohesion.
Muller, who enlisted as a male at 17 and served with the 101st Airborne Division when it rolled into Iraq in 2003, said she is living proof that's not the case.
Serving by example
Pfc. Ryan Muller graduated with honors from his infantry class at Fort Benning, Ga.
He went on to earn an Expert Infantry Badge and a Combat Infantry Badge along with numerous other commendations and rave evaluations, which have been carefully cataloged in two binders. Muller also worked as a recruiter in South Carolina.
Muller began pursuing flight school in 2007 and went on to become an Apache pilot.
Lindsey, who has legally changed her name and began openly identifying as a woman in 2016, is currently an aviation safety officer based at Camp Humphreys.
She said she was prepared to resign when she decided to begin the process of transitioning, but her superiors talked her out of leaving.
"At each echelon I was asked to stay based on performance," she said during the interview in her off-base townhouse. "That's been a recurring theme. I put myself at the mercy of my peers and my commanders … and they've said either we'll figure this out together, or it's not an issue."
She was told not to do the interview in uniform or on the nearby garrison.
Muller, who is originally from Poplar Bluff, Mo., saw the military as a way to escape small-town life and see the world. She said she wasn't even aware of transgender individuals until a few years into service when a friend took her to a drag show.
She was inspired to transition by former Navy SEAL Kristin Beck, who came out as a transgender woman in 2013.
At first Muller kept a low profile and stopped wearing her male-only combat badges on her uniform because they attracted too many stares and questions.
But she said her identity was eating away at her, so she put the awards back on and made a "coming-out video" when she turned 30.
While most people have been supportive, she has encountered discrimination, including some co-workers who have told her they don't want her around their families.
"I've had people tell me I should do the Army a favor and commit suicide. My wife and I have both had death threats, threats of assault," she said.
Muller has no regrets and says joining the Army was the best decision of her life.
"The military is the reason I am where I am today, hands down," she said. "It's the reason that I can afford to pay for certain trips, vacations and see the world. It's the reason that my family lives so comfortably."
Having spent more than half her life in uniform, she feels obligated to speak out against the ban on behalf of the thousands of other transgender servicemembers and those seeking to sign up.
"The only way to combat something like this is to face the prejudice head-on, and I can't do that by being silent," she said, adding that her career "proves that a lot of those reservations are not justified."
"If I don't, and I just take my retirement papers, and I just fade off into the distance, what about those thousands of other troopers?" she said. "It essentially feels like jumping on a grenade for those guys."
Legal challenges
Muller is a plaintiff in one of the legal challenges brought by civil rights organizations after Trump's original decision was announced.
The cases were complicated when Trump said Friday that he was issuing a new order after a Pentagon review. The Justice Department immediately asked the federal judges who temporarily blocked the ban last year to dissolve their old orders as moot.
U.S. District Court Judge Marsha Pechman hinted she had little interest in doing so and suggested during a hearing in Seattle on Tuesday that the ban could be struck down permanently, according to The Associated Press.
Natalie Nardecchia, an attorney with the plaintiffs' representative Lambda Legal, argued that the policy even with the changes is unconstitutional.
"When the government discriminates against a group of people, they have to have a reason; they can't say, we'll go study it and come up with a reason," Nardecchia said at a press conference after the hearing.
The proposed ban has divided lawmakers, with the Republican National Committee supporting the ban and Democrats opposed. Some GOP senators also have broken with their party on the issue, including military veterans John McCain of Arizona and Joni Ernst of Iowa.
"I have asked transgenders myself, if you are willing to lay down your life beside mine, I would welcome you into our military," Ernst, a member of the Senate Armed Services Committee, said Sunday on CBS News' "Face the Nation."
Mattis and other Pentagon officials have declined to answer questions on the new policy, citing the ongoing litigation.
The Pentagon's top spokeswoman refused on Thursday to clarify whether the ban would force transitioning or already transitioned servicemembers to leave the military.
"The department remains under four court orders, so we continue to assess transgender individuals as well as retain transgender service members. But beyond that I have to respect the integrity of the litigation," Dana White told reporters.
In his 48-page memo to the president, Mattis recommended that the military disqualify transgender people with a history or diagnosis of gender dysphoria, with some exceptions, as well as those who require or have undergone gender transition.
He also said transgender troops without a history or diagnosis of gender dysphoria and who are otherwise qualified may serve in their biological sex.
Mattis said exempting transgender troops "from well-established mental health, physical health, and sex-based standards … could undermine readiness, disrupt unit cohesion, and impose an unreasonable burden on the military that is not conducive to military effectiveness and lethality."
The Pentagon study leading to the recommendations cited a 2016 survey that found about 1 percent of the force, or 8,980 troops, identify as transgender. Activist groups have put the number as high as 15,000. The Pentagon also said 937 active duty servicemembers have been diagnosed with gender dysphoria since June 30, 2016.
Muller, who said she paid for most of her gender reassignment surgery out of pocket, said she wished she could sit down with Mattis and share her perspective that transgender troops who fight to serve should be honored, not dismissed.
She already feared the writing was on the wall when she stood at the podium June 29 for the ceremony honoring the lesbian, gay, bisexual and transgender community at Camp Humphreys.
"I made a comment during the speech that this was my first LGBT pride event as an openly serving member of the military, and I don't know if it'll be my last," she said. "We just don't know."
Stars and Stripes reporter Marcus Fichtl contributed to this report.
gamel.kim@stripes.com Twitter: @kimgamel