Foul play 'not completely ruled out' in deaths of two US soldiers in South Korea
---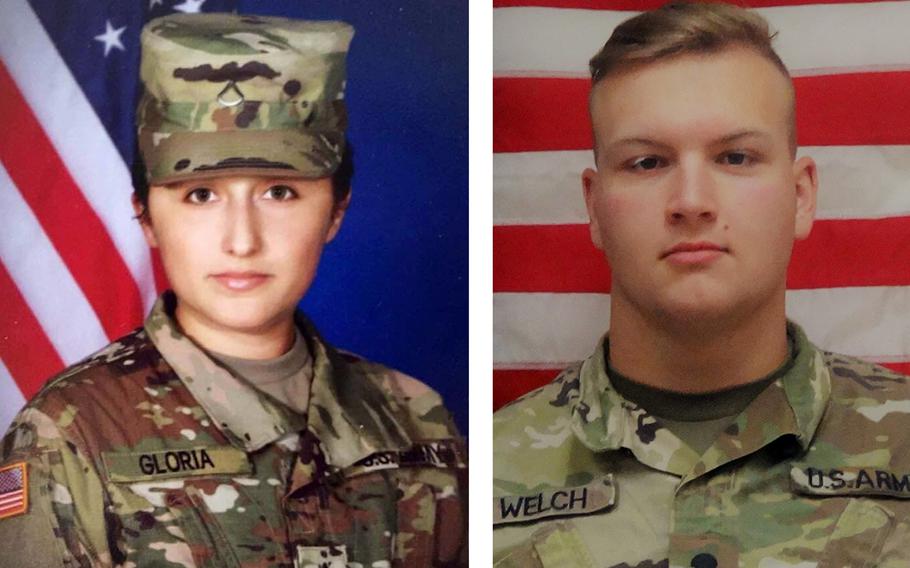 SEOUL, South Korea — The recent deaths of two American soldiers were not connected to each other or the coronavirus, but foul play has not been completely ruled out as investigations are ongoing, the military said.
The 2nd Infantry Division soldiers — Pfc. Marissa Jo Gloria and Spc. Clay Welch — died in their barracks rooms on Camp Humphreys over two consecutive days earlier this month.
Seeking to stave off speculation amid the coronavirus pandemic, officials took the unusual step of immediately announcing that neither soldier had been ill nor exhibited symptoms of the respiratory disease.
No cause has been released because the investigations are ongoing, but the Army Criminal Investigation Command provided new details on Monday in response to a query from Stars and Stripes.
"Initial investigation reveals these two deaths are not connected to each other and are not related to the COVID-19 virus," CID spokesman Chris Grey said in an email.
"At this point in both of the investigations, foul play is not suspected, but we have not completely ruled it out while we conduct thorough investigations," he said.
"I can also tell you there is no danger to the public or the Camp Humphreys community in regard to these deaths," he added. "No further information will be released at this time to protect the integrity of the ongoing investigations."
Gloria, 25, of Moorhead, Minn., was pronounced dead at the scene after she was found unresponsive on March 21.
She was a combat engineer with the 2nd ID sustainment brigade and had been in South Korea since last April, according to a press release.
"She entered active duty on January 2nd, 2019 and got her castle pinned April 2019. It was one the proudest moments of her life," her obituary said, referring to the Army engineers' logo.
"She loved the outdoors and camping, and was always in the mood for a good country song. Her laughter and smile was contagious, and her presence caring and sweet," it added.
Welch, 20, a combat medic from Dearborn Heights, Mich., was pronounced dead at the scene after he was found unresponsive in his barracks room on March 22.
He was assigned to the Fort Riley, Kan.-based 2nd Armored Brigade Combat Team, 1st Infantry Division, which began a nine-month rotation with 2nd ID in South Korea last month.
"Clay's death affects every member in our formation. We are all deeply saddened by the loss," said his battalion commander, Lt. Col. James Armstrong.
gamel.kim@stripes.com Twitter: @kimgamel
---
---
---
---