Former Kadena worker reveals gruesome details of Okinawan woman's death
By
Chiyomi Sumida Matthew M. Burke
February 13, 2017
---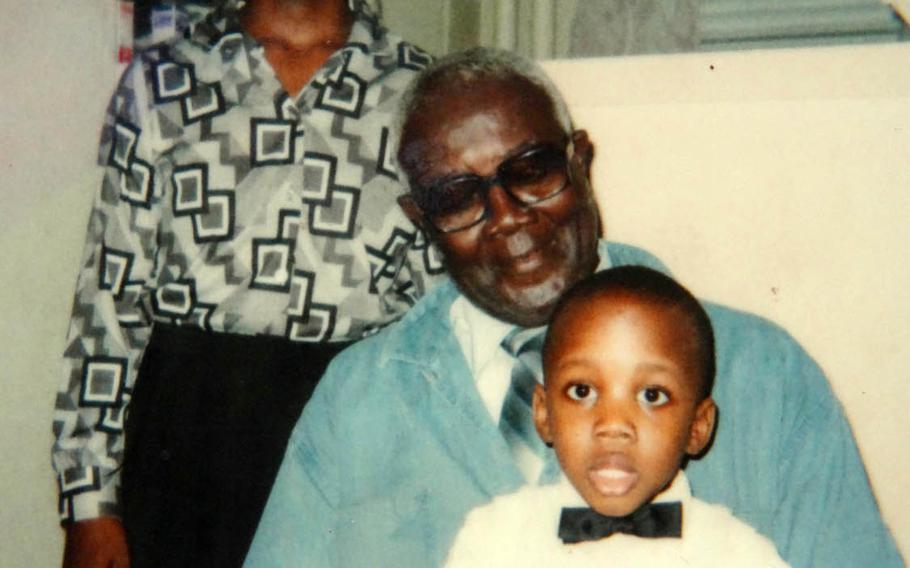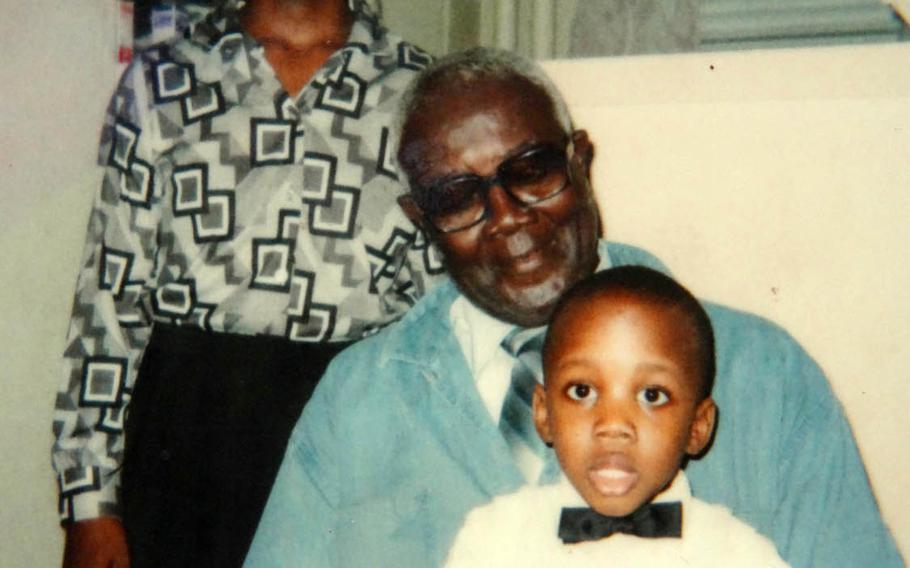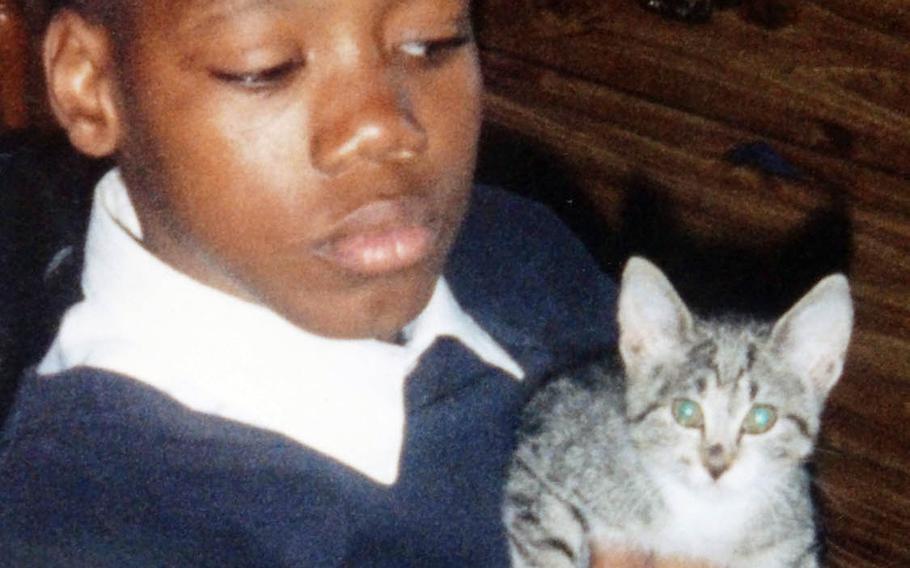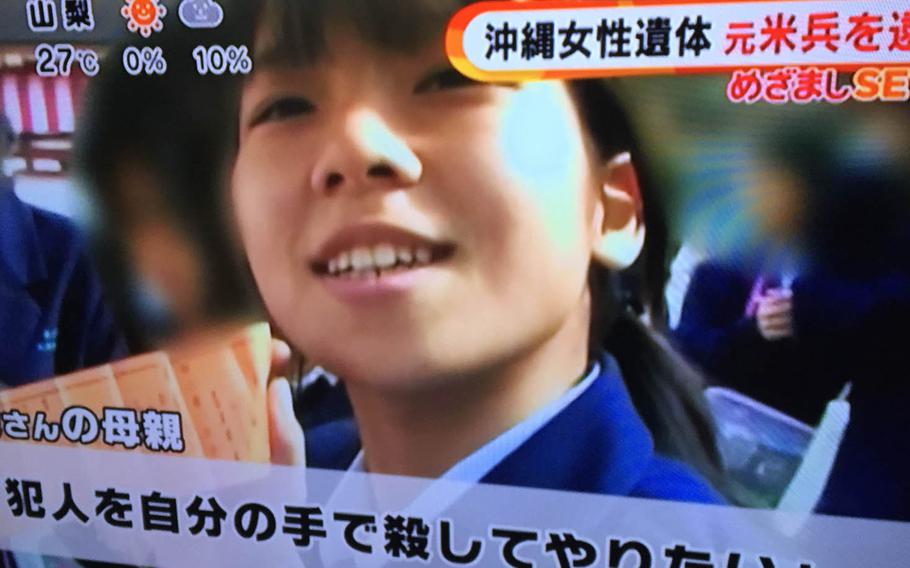 CAMP FOSTER, Okinawa — A former U.S. base worker charged with raping and killing an Okinawan woman fantasized about raping women for years and thought about shooting fellow Marines as a way of attempting suicide, his lawyer said.
Former Marine Kenneth Franklin Gadson made the revelations, including gruesome details of the crime, during a jailhouse interview with his lawyers. The transcripts were released to Stars and Stripes under the condition that they not be released in their entirety.
Gadson, who worked at a Kadena Air Base cable and internet company and went by his Japanese wife's surname of Shinzato, has been charged with murder, rape resulting in death and the illegal disposal of a body in the death of Rina Shimabukuro, 20, who disappeared April 28.
Gadson was interrogated two months later when police said he confessed to the crime. He then took police to her body in a heavily wooded area.
The crime shocked Japan and led to a surge in anti-American sentiment on Okinawa, home to about 30,000 U.S. troops.
Since his incarceration, Gadson has admitted killing Shimabukuro while attempting to rape her, but said her death was not intentional.
Toshimitsu Takaesu, Gadson's lead lawyer, maintained that his client was under the influence of sleeping pills when he confessed after a suicide attempt.
"[Gadson] is competent enough to feel that he has not been treated fairly in the way the incident has been reported, but he is incompetent to recognize the seriousness of his conduct," Takaesu said. "He has no sense of guilt for the victim. To him, it was her fault for having been there at the time."
Gadson's first pretrial conference is scheduled for March 10 and his trial is likely to begin around June.
Legal scholars believe the stream of confessions — in court documents and in statements released to Stars and Stripes — is part of a defense strategy to seek a lighter sentence by showing remorse, which is considered important in the Japanese justice system.
Gadson could face the death penalty if convicted.
Takaesu has also said he plans to seek a psychological evaluation.
Japan's penal code includes provisions for insanity and diminished capacity, which could lead to Gadson receiving a reduction in punishment, or being committed to a mental hospital.
The statementsIn four statements recently released to Stars and Stripes by the defense team, Gadson details his turbulent upbringing, obsession with violent images and a history of disturbing thoughts and behavior.
Gadson's statements were transcribed by Takaesu at the detention center where he is being held. They reflect Gadson's words but are not always direct quotes, as it is apparent that a native Japanese speaker transcribed the statements.
Gadson signed the statements, the first of which was made in September, with the last one dated two weeks ago.
Gadson claims to have heard voices in his head since he was 8 and said he considered killing himself multiple times. He also said he thought about killing his foster mother and accused her of abuse, which she denied in a written statement to Gadson's attorneys.
Gadson said he told the Marines in a group interview in 2007 that he wanted to join primarily because he "wanted to kill people." He claims to have been disqualified from joining because of an allergy to nuts but said he altered a doctor's note to gain entry.
He also said he thought about shooting his fellow Marines as a way to commit suicide.
"During training, I would sometimes get the urge to kill myself," Gadson said, according to the statements. "I remember thinking of how I could drown myself if I tired myself enough during the long range swim training. Out on the [shooting] range, I had the urge to go into the bushes and shoot at others and I could get shot."
'It's her'Gadson said he had fantasies of kidnapping, restraining and raping women "throughout my high school and adult years," according to the statements.
He said he lacked the means to carry out such a crime but the voices continued to speak to him. It all boiled over on the evening of April 28.
Stars and Stripes is withholding some alleged details of the crime because of their graphic nature.
"When she passed my car and I saw her more clearly, I heard the voice in my head tell me, 'It's her' and that she's the one that will fulfill my fantasy. I wasn't 100 percent sure that she was the right one, but when I looked up, I saw a red, full moon and I just knew that that was a sign."
Gadson detailed stalking Shimabukuro and striking her over the head with a blunt instrument.
"I intended to hit her with the stick and make her lose consciousness, then put her in the suitcase, take her to a hotel and then rape her," he said.
Gadson claims he was going to let her go without further injury.
He didn't fear being caught because of Japan's low rate of reporting sexual assaults, he said, due to cultural and social stigma.
After striking the victim, he said the headlights of coming vehicles forced him to drag her into the bushes.
He claims Shimabukuro hit her head very hard as he fell on top of her.
Shimabukuro tried to say something, according to the statements, so he said he choked her until she lost consciousness and went to his car to get a suitcase.
Gadson said this version of events is different from what the police confession states. Police declined to provide a copy of that confession to Stars and Stripes.
He said he did not continue to assault her because if she died he would be unable to rape her. He believes she died due to head injury.
"I am detained because she unexpectedly died," he said. "I did not kill her."
An autopsy could not determine the cause of death because of severe deterioration, police said.
'She may be alive'Gadson said he took her keys and cellphone. Before heading toward Camp Hansen to get rid of the body, he used his phone's camera to take a picture of her phone. He later threw these items and the club he used into a body of water.
Police later searched a river bed in the area where Shimabukuro's cellphone GPS marked her last-known location. They claimed to have found a stick that matched Gadson's description of the blunt instrument used in the attack and a keychain resembling one Shimabukuro carried that night.
Gadson then took her to the wooded location in Onna Village's Afuso district, where he dumped her body.
"When I disposed of her, I thought she may have said something," Gadson's statements said. "I thought that she may be alive, so I stabbed her with a knife to find out."
Gadson said he stabbed her multiple times.
"She did not let out a sound," Gadson said. He believe he stabbed her post-mortem.
It is unclear where Gadson went after dumping Shimabukuro's body. One statement says he went to a hotel. Another says he went home. He did say he later threw away a shovel [which he claims was in his car to be used for gardening, not for the crime], the clothes he had been wearing, the knife and the suitcase in a dumpster at Camp Hansen.
It would be two months before police would charge him.
"During the drive home, I was thinking that the effort required to play out my fantasy was more than I expected and the fatigue and stress was not worth it," Gadson said in the statements. "I was expecting the police to come for me in a few days, but since they didn't I stopped worrying about it. I continued with my daily routine and went to work as usual. I didn't really think about the girl."
Gadson still wasn't worried when police began asking questions, but he knew he was in trouble when they found a photo of Shimabukuro's Facebook profile on his phone.
---
---
---
---