Fired USS Theodore Roosevelt commander has reportedly tested positive for coronavirus
by
Caitlin Doornbos
April 6, 2020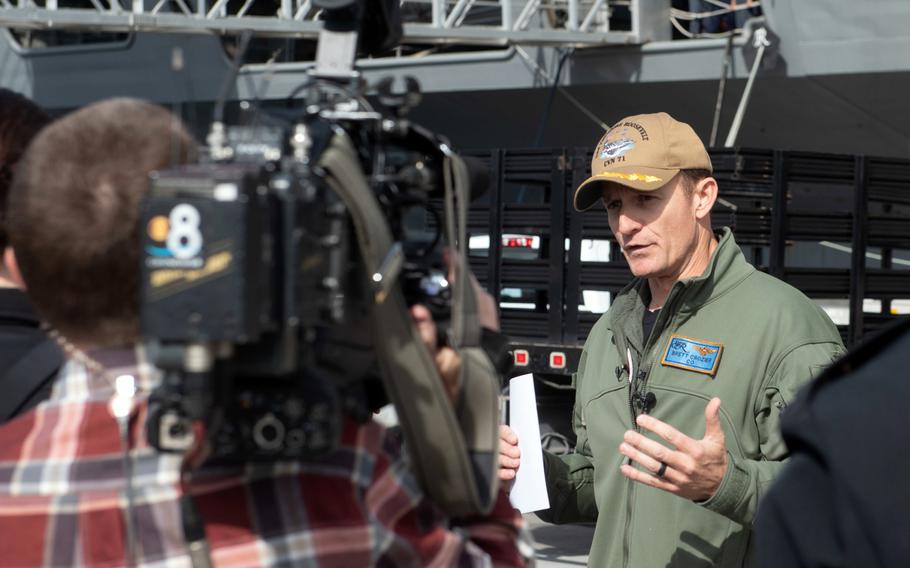 Stars and Stripes is making stories on the coronavirus pandemic available free of charge. See other free reports here. Sign up for our daily coronavirus newsletter here. Please support our journalism with a subscription.
Capt. Brett Crozier, the USS Theodore Roosevelt commander fired last week after his letter seeking help for the coronavirus-stricken aircraft carrier was leaked to the media, has tested positive for the illness, according to a Sunday report in The New York Times.
Acting Navy Secretary Thomas Modly decided late Thursday to relieve Crozier, saying he had lost trust and confidence in his ability to command because his scathing four-page letter demanding approval to remove most of the nearly 5,000 crew members aboard the ship was too widely distributed.
So far, at least 155 sailors aboard the Roosevelt have tested positive for coronavirus, Defense Secretary Mark Esper told CNN on Sunday.
Crozier started showing symptoms before departing the vessel at Naval Base Guam early Friday, said the Times report, which cited family members and two of his close Naval Academy classmates.
Pacific Fleet spokeswoman Lt. j.g. Rachel McMarr declined Monday to comment on the report of Crozier's illness, citing medical privacy laws.
Since Crozier's letter, officials have agreed to allow thousands of sailors to leave the ship. The Navy is now undertaking "an aggressive mitigation plan that is currently isolating, quarantining, and treating affected Sailors to keep the ship prepared to execute its mission," according to a 7th Fleet statement Sunday.
Roosevelt sailors will be staying at hotels across the island, "allowing them to align with the recommended 14-day quarantine period while also maintaining an all hands effort aboard to sanitize the ship," the statement said. Seventh Fleet commander Vice Adm. Bill Merz visited the Roosevelt on Sunday to meet with the crew and area leadership as recovery efforts were underway.
"The team in Guam has shown enormous spirit and focus getting this ship healthy again," he said in a Navy statement Sunday.
Esper told CNN on Sunday that he supported Modly's decision to fire Crozier.
"I think acting secretary Modly made a very tough decision, a decision that I support," he told the network. "It was based on his view that he had lost faith and confidence in the captain based on his actions. It was supported by Navy leadership."
Esper also said the crew cannot be evacuated.
"You actually cannot do that because there's nuclear reactors to be run, you have very sensitive equipment, you have weapons on board that ship," he told CNN. "So it's how you manage the crew, make sure you're protecting them, segregating, treating those that need treated while at the same time maintaining the readiness of the ship in case it's called upon to get to sea quickly."
On Friday, U.S. Reps. Ted Lieu, D-Calif., and Ruben Gallego, D-Ariz., wrote a letter to the Defense Department Investigator General to probe Crozier's firing, stating it "looks like retaliation and sends the message that the Navy does not want commanders to speak out to protect personnel."
At least 17 Democratic senators signed a similar letter on Friday. A petition started Thursday on Change.org to reinstate Crozier as commanding officer had nearly 250,000 signatures by Monday morning.
Crozier's removal may have violated protective disclosure laws, which would have permitted him to report "gross mismanagement" by the Navy, said whistleblower attorney Stephen Kohn in a statement emailed to Stars and Stripes on Friday.
Kohn co-founded the National Whistleblower Center in Washington, D.C., and has represented whistleblowers in the World Trade Center and Oklahoma City bombing cases.
"Military law permitted Captain Crozier to inform a wide range of officials of the life-threatening conditions aboard the USS Theodore Roosevelt, including any 'substantial and specific danger to public health or safety,'" Kohn wrote.
doornbos.caitlin@stripes.com Twitter: @CaitlinDoornbos
---
---
---