Facility for US forces opens on Philippines' main island; another slated for Palawan
by
Seth Robson
January 31, 2019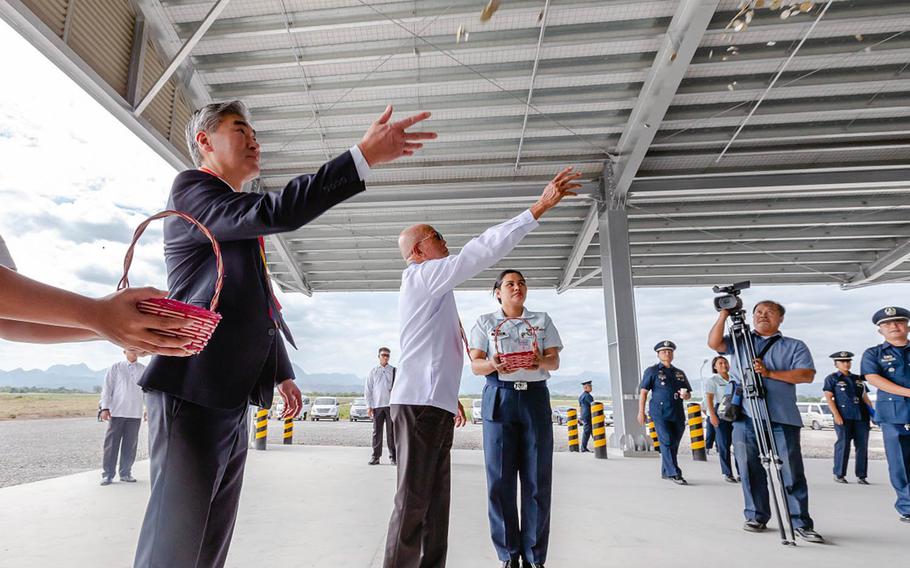 The United States and the Philippines opened the first of several new facilities for visiting American forces on the island of Luzon this week and will start building another on Palawan once funding is available, according to Philippine defense secretary Delfin Lorenzana.
Speaking at Cesar Basa Air Base during Tuesday's opening of a new "Humanitarian Assistance and Disaster Relief warehouse," Lorenzana said, in comments reported by the Philippine Daily Inquirer, that another warehouse would be built at Antonio Bautista Air Base on Palawan once U.S. funding comes through.
The Palawan construction is significant because of its proximity to the South China Sea, according to Carl Baker, executive director of the Pacific Forum think tank in Hawaii.
China has built its own military bases and placed missiles on artificial islands in the contested waters that are subject to claims by a number of neighboring states, including the Philippines.
The Palawan base includes a 9,000-foot World War II-era runway, Baker said.
"That warehouse could be used to store equipment for surveillance flights," he said.
Facilities for visiting U.S. forces will be built on five Philippine military bases under the 2014 Enhanced Defense Cooperation Agreement.
The pact allows U.S. forces and contractors to operate at agreed locations in the Philippines. It stipulates that the U.S. can't set up permanent bases — the revised Philippine constitution bans that — but it hands over operational control of the locations to U.S. forces and allows them to stockpile defense equipment and supplies.
The cooperation agreement "builds capacity for U.S. forces and the Armed Forces of the Philippines by enabling greater interoperability, capability development, and modernization," according to a report posted on the U.S. Embassy in Manila's official website Wednesday.
Supplies and equipment prepositioned at Basa will be critical to the U.S. and Philippines' ability to respond quickly and effectively to humanitarian crises in the region, the report states.
The newly opened warehouse is about 15 miles from Clark Air Base, which was America's largest overseas military installation before it closed following severe damage after the eruption of Mount Pinatubo in 1991.
"This project illustrates not only our commitment to the U.S.-Philippine alliance, but also both of our countries' dedication to peace and stability in the larger Indo-Pacific region," U.S. Ambassador to the Philippines Sung Kim, who helped open the new warehouse, said in the embassy report. "For over seven decades, our alliance has effectively addressed security issues in the region."
The U.S. is also working with the Philippine government on projects at Fort Magsaysay Military Reservation, Lumbia Air Base and Mactan Benito Ebuen Air Base, the report states.
robson.seth@stripes.com Twitter: @SethRobson1