Expert defends Japan's coronavirus strategy, despite lack of tests targeting asymptomatic carriers
by
Caitlin Doornbos
May 15, 2020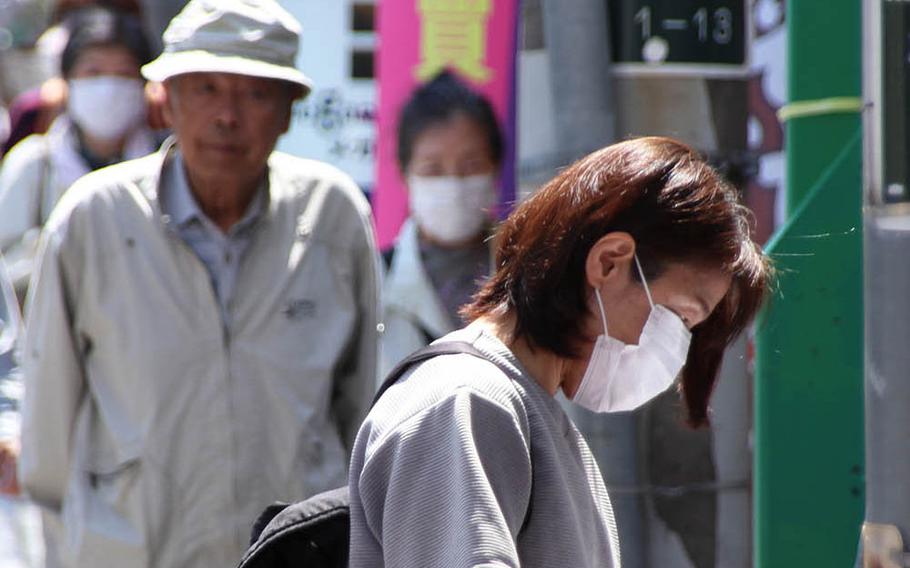 Stars and Stripes is making stories on the coronavirus pandemic available free of charge. See other free reports here. Sign up for our daily coronavirus newsletter here. Please support our journalism with a subscription.
A public policy expert is defending Japan's coronavirus testing guidelines despite criticism that it overlooks carriers who show no symptoms.
Kazuto Suzuki, a professor of public policy at Hokkaido University, said the Japanese testing program is appropriate because the virus' spread is slowing and over-testing would "overwhelm" the healthcare system.
"Testing is not for your comfort; testing is for the public health," Suzuki said during a livestreamed event Wednesday sponsored by the Foreign Correspondents' Club of Japan. "This is the Japanese model, whether you like it or not."
Suzuki argued that an uptick in the number of people tested would also increase the rate of carriers who are mistakenly told they tested negative, which is dangerous for the community.
"The current number [of tests] is sufficient in the current case because the number of cases is going down," Suzuki said. "If you do more testing, you get more false negatives — and that's a problem."
As of Thursday, Japan had reported more than 16,000 coronavirus cases, but the rate of infection has been slowing, according to the World Health Organization. As a result, Prime Minister Shinzo Abe lifted a monthlong state of emergency in most regions of the country.
Those numbers have been scrutinized, though, as some questioned whether the slowed rate is a result of fewer infections or a low number of tests, Suzuki said. About 8,000 to 9,000 tests are processed each day in Japan, but the country has the capacity to process up to 17,000.
Less than 700 coronavirus patients have died in Japan as of Thursday, according to the WHO. Suzuki points to the death rate as proof that Japan's testing strategy is working.
"There are a number of people who have said, 'Oh, Japan is hiding; Japan is not reporting [positive cases],'" Suzuki said. "Maybe, but you can't hide the mortality rate. You can't hide the people who are dead."
Asymptomatic carriers Though studies have indicated patients carrying the virus but showing no symptoms are prevalent, only those who present symptoms are tested for the coronavirus in Japan.
"'Test, test, test' is not Japan's strategy," Suzuki said. "We are able to identify major symptomatic cases. There is a test for everyone who needs it."
The U.S. Navy experience with coronavirus suggests many who carry the virus initially show no symptoms.
When the virus first broke out in Japan, the U.S. military had the same approach: test only those with symptoms. That has since changed, especially for service members preparing for deployments.
After a coronavirus outbreak on the USS Theodore Roosevelt in March forced the aircraft carrier to divert to Guam, each of its 4,800 crewmembers was tested for the coronavirus. More than 1,150 Roosevelt sailors ultimately tested positive, according to the Navy.
About half of those sailors did not have coronavirus symptoms, Navy Bureau of Medicine and Surgery spokesman Cmdr. Denver Applehans said in a San Diego Union-Tribune report April 26. The figure aligns with a U.S. Centers for Disease Control and Prevention study April 3 that found about 50% of those who tested positive in their sampling were asymptomatic.
To prevent the spread on ships, all Task Force 70 sailors preparing for upcoming deployments must test negative before boarding their vessels, even if they have no symptoms. The task force is the battle arm of the 7th Fleet.
Yokosuka base commander Capt. Rich Jarrett in a Facebook Live video address May 8 said asymptomatic carriers make the virus "difficult to contain."
"The virus is difficult to detect, and we continue to observe a late onset of symptoms," he said. "By the time we identify someone with symptoms, they may have been spreading the virus for a week or more."
Symptom-only testing While Japan tests only symptomatic patients, the nation's health ministry recently eased some of its testing guidance, eliminating a suggestion that patients wait four days with a 99.5-degree temperature or higher before consulting a doctor, according to a May 9 Kyodo News report.
The guidelines now call for those with shortness of breath, a strong sense of fatigue or a high fever to seek medical attention, the report said.
Even with the existence of asymptomatic carriers, Suzuki said, limiting testing to symptomatic patients has benefits.
After the novel influenza virus outbreak in 2009, Japan learned to avoid elective testing as test centers were overwhelmed and became "hotbeds" for contracting the virus, Suzuki said.
doornbos.caitlin@stripes.com Twitter: @CaitlinDoornbos
---
---
---