Esper lays out US efforts against Chinese threats during speech in Honolulu
by
Caitlin Doornbos
August 27, 2020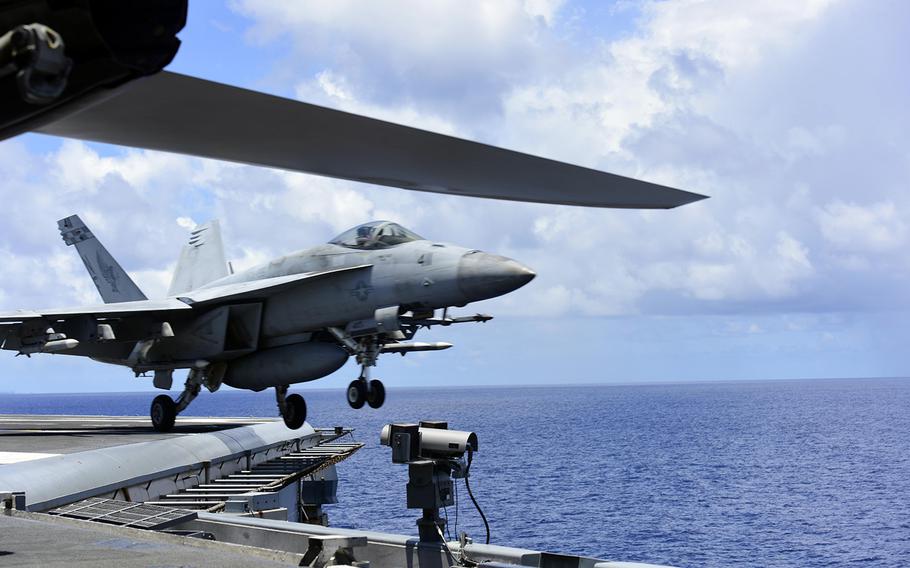 China is the "pacing threat" and the focus of much planning and training in the U.S. military, Defense Secretary Mark Esper said in a speech Wednesday from Honolulu.
Beijing is putting the world order "under duress" by disregarding international norms, he said at the Daniel K. Inouye Asia-Pacific Center for Security Studies. His speech was livestreamed on Facebook.
Esper said that during his year in office he has focused the Defense Department on China, creating a new defense policy office focused solely on the communist nation and a China Strategy Management Group to integrate the department's efforts.
He also said he had directed the National Defense University to "refocus its curriculum by dedicating 50% of the coursework to China" and told the military to make China "the pacing threat in all of our schools, programs and training."
Esper's speech follows a formal State Department announcement July 13 denouncing China's claims to resources and territory in the South China Sea as "completely unlawful, as is its campaign of bullying to control them."
On Wednesday, Esper said: "Beijing has repeatedly fallen short of its promises to abide by international laws, rules or norms, despite continuing to reap the benefits of the international system and free markets."
The U.S. disputes Chinese claims of sovereignty over the 1.4 million square miles of the South China Sea and 27 islands and reefs it has built up and militarized there.
The speech came the same day that the U.S. Bureau of Industry and Security imposed sanctions on 24 Chinese companies for their part in constructing and militarizing the South China Sea features, according to a Commerce Department statement Wednesday.
To counter China's claims, the Navy and Air Force this year have stepped up their presence in the area to keep skies and sea lanes, or according to their own statements, to maintain "a free and open Indo-Pacific."
The U.S. has also teamed with allies and friendly nations, including Japan, Australia, India, Singapore and Thailand and others, to demonstrate cooperation in the region through joint exercises in military power. Sales of arms and equipment are part of the package.
"Our robust network of allies and partners remains the enduring asymmetric advantage we have over near-peer rivals, namely China, that attempt to undermine and subvert the rules-based order to advance their own interests, often at the expense of others," Esper said Wednesday.
Beijing, the defense secretary said, fails to "honor the commitments it made to the international community, including promises to safeguard the autonomy of Hong Kong and not to militarize features in the South China Sea."
China's actions threaten the rights and sovereignty of regional partners and allies, Esper said, so the U.S. has been working with nations such as Bangladesh, Mongolia and the Philippines to "develop their national security policies, strategies, plans and laws."
Esper said the U.S. has more than $160 billion worth of foreign military sales underway to boost regional partnerships across the Indo-Pacific, $22 billion of which were started "in this fiscal year alone."
Those projects include selling F-35 Lightning II stealth fighters to Japan, Seahawk and Apache helicopters to India and F-16 fighters and M1 Abrams tanks to Taiwan, something Beijing firmly opposes.
At a press conference July 14, Chinese foreign ministry spokesman Zhao Lijian said the U.S. should end military sales to Taiwan to "avoid further harming Sino-U.S. ties and peace and stability in the Taiwan Strait," according to a transcript of his remarks.
Looking forward, Esper said his department is "prioritizing the development and deployment of game-changing technologies, such as hypersonic weapons, 5G and artificial intelligence" that could prove vital to security in the region.
That was made possible with "largest research and development budget in the department's history," he said. The 2020 Defense Department budget allocated $104.6 billion to research, development, test and evaluation projects. The Pentagon requested a $2 billion increase for research and development in fiscal year 2021.
"We are divesting from legacy systems and focusing on modernizing our force so we can deter, compete — and if necessary, fight and win – across all domains: air, land, sea, space and cyberspace," Esper said.
Still, he said the department will continue investing in tried-and-true weaponry such as submarines, stealth bombers and precision munitions.
"These efforts prepare our military for future conflicts that we hope we won't need to fight but must — and will — be prepared to win," Esper said.
doornbos.caitlin@stripes.com Twitter: @CaitlinDoornbos