Esper heads to South Korea for talks on intel-sharing pact, defense costs
---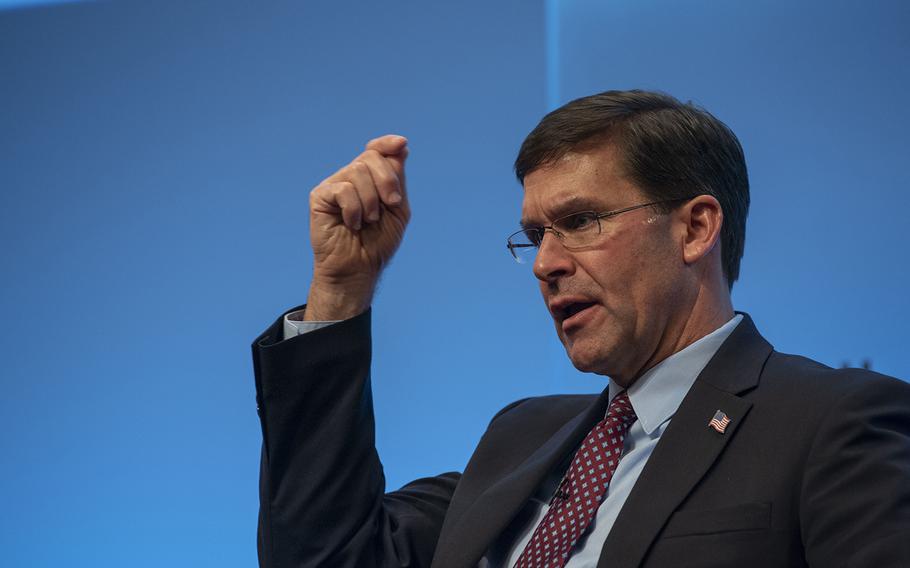 SEOUL, South Korea — With several deadlines looming, the U.S. defense secretary heads to South Korea on Wednesday for talks as the decades-old alliance between the two countries has come under pressure from inside and out.
Defense Secretary Mark Esper's agenda is likely to be topped by South Korea's decision to terminate a U.S.-backed military intelligence sharing pact with Japan, which expires at midnight on Nov. 22.
The allies also are engaged in contentious defense cost-sharing negotiations as the current contract is due to expire at the end of the year.
North Korea, meanwhile, has given the United States an end-of-year deadline to offer a more flexible approach to break the stalemate in nuclear talks between the two adversaries.
Dispute with Japan U.S. officials have stepped up pressure on Seoul to change its mind and renew the General Security of Military Information Agreement, or GSOMIA, which was signed in 2016 to help counter a growing nuclear threat from the North.
Gen. Robert Abrams, the top U.S. commander in South Korea, expressed concern about the impact cancelling the intelligence pact will have on regional security.
"The fundamental principle of the information-sharing agreement was a clear message to the region that [South Korea] and Japan put aside perhaps historical differences," Abrams told reporters Tuesday at Camp Humphreys, about 55 miles south of Seoul.
"Together, we are much stronger for providing for a stable and secure Northeast Asia. And without that, there is a risk of sending the wrong message that perhaps we're not as strong," he said.
The agreement streamlined the intelligence-sharing process by enabling Tokyo and Seoul to communicate directly instead of having to go through Washington.
The United States is concerned about its termination as the North recently resumed missile and rocket tests after its nuclear talks with the United States stalemated.
South Korea has insisted it would reconsider the decision only if Japan agrees to lift what it considers unfair export control measures imposed as economic retaliation by Tokyo. Japan insists the measures were necessary for security reasons.
The defense secretary will also travel to Thailand, the Philippines and Vietnam as part of his visit as the United States continues to vie with China for influence in the region.
"Will discuss areas of mutual concern, while seeking to strengthen defense cooperation & advance regional security and stability," Esper wrote in a tweet.
Pentagon spokesman Jonathan Hoffman said last week that he could "practically guarantee" that the intelligence-sharing agreement would be part of the defense secretary's discussions in South Korea.
"We're hopeful. We're optimistic. We're going to push on it," Hoffman told reporters in Washington, D.C., adding it's necessary to focus on bigger threats such as North Korea and China.
Cost-sharing talks However, even the priorities for the two sides diverge as the South Koreans appear more concerned about negotiations over splitting the cost of stationing some 28,000 American troops on the divided peninsula.
Washington wants South Korea to sharply increase its contribution to offset the cost of stationing some 28,500 U.S. troops on the peninsula, with some reports saying the U.S. is demanding nearly $5 billion a year.
The two sides missed last year's deadline after months of talks but eventually agreed to a stopgap Special Measures Agreement in which the South Koreans agreed to raise their contribution 8.2% to about $920 million for 2018.
But that contract only covered one year, as opposed to past deals that lasted five years.
Kyle Ferrier of the Washington, D.C.-based Korea Economic Institute of America, said both sides may decide on a similar approach that would buy time while giving President Donald Trump a political win ahead of the 2020 presidential election.
"It'll probably go down to the deadline — maybe even past the deadline as it did last year," he said Wednesday in a telephone interview. "I wouldn't be surprised if we do another yearlong SMA and then the Moon administration tries to take its chances and tries to wait out Trump."
Alliance worries Surveys show that local support for the U.S.-South Korean alliance, which was forged in the 1950-53 Korean War, remains strong. But recent events have drawn small but noisy opposition, suggesting the cost-sharing talks risk having a negative effect on opinions toward the United States, Ferrier said.
Several anti-American activists protesting the demands for South Korea to pay more tried to break into the U.S. ambassador's residence last month.
A former South Korean foreign minister, who also once served as the country's chief negotiator for previous denuclearization talks with North Korea, suggested in an editorial Monday that South Korea develop its own nuclear arsenal.
"It's necessary for South Korea to move on to a self-reliant alliance from a dependent alliance," Song Min-soon wrote in the JoongAng Ilbo newspaper. "A defensive nuclear capacity, with a missile range limited to the Korean Peninsula, is justified."
The United States removed tactical nuclear weapons from the peninsula in 1991 and has protected South Korea and Japan under a so-called "nuclear umbrella" comprising bombers and submarines based elsewhere.
Song's suggestion reflected a longstanding fringe debate among South Korean conservatives. But Ferrier said the fact that the suggestion was made by a relatively high-profile and centrist official shows the potential for the cost-sharing talks to spark a "shift in how the South Koreans think about the alliance."
He said the Trump administration's demands fuel concerns the United States may withdraw troops or cancel joint exercises over their cost.
Esper, who is due to arrive Thursday in South Korea, will hold security talks the next day with Defense Minister Jeong Kyeong-doo during the 51st Security Consultative Meeting in Seoul.
Other items to be discussed include South Korea's efforts to assume wartime operational control of its troops from the United States and the return of several U.S. military bases on the peninsula, according to the defense ministry.
gamel.kim@stripes.com Twitter: @kimgamel
---
---
---
---