End-of-WWII commemoration to be livestreamed from fantail of battleship Missouri in Hawaii
by
Wyatt Olson
September 2, 2020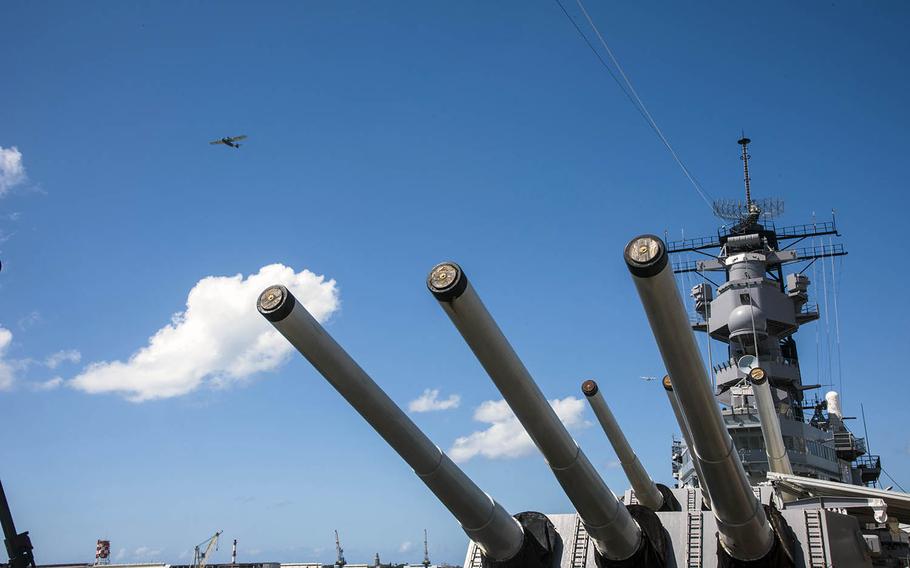 FORT SHAFTER, Hawaii — Defense Secretary Mark Esper is slated to speak Wednesday from the fantail of the battleship Missouri in Pearl Harbor, Hawaii, as part of a commemoration of the end of World War II 75 years ago.
It was aboard the USS Missouri, moored in Tokyo Bay on Sept. 2, 1945, that leaders of the victorious Allied nations accepted the surrender of Imperial Japan, ending a global war that had spanned six years.
The commemoration begins at 9:02 a.m., Hawaii time, a moment chosen to coincide with the commencement of the 1945 signing ceremony.
The livestreamed event can be viewed at the website 75thwwiicommemoration.org/live or or on Facebook Live at facebook.com/75thwwii.
Thousands of sailors and Marines filled the decks of the USS Missouri for the original historic signing of the formal Instrument of Surrender.
Over concerns of the coronavirus pandemic, only a few dozen people will be on hand Wednesday.
Original plans for the commemoration called for a throng of 600 people to fill the ship's fantail. More than a hundred World War II veterans from around the United States planned to fly in for the event, 14 of whom had been eyewitnesses to the surrender.
But the pandemic and a dramatic surge in coronavirus cases in Hawaii in the past month forced planners to drastically winnow down the guest list.
Thirteen World War II veterans living in Hawaii are slated to attend, along with one chaperone or family member. The youngest is 92 and the oldest 99, according to the event planners.
The handful of other attendees are primarily speakers or performers during the event, which is scheduled to last about two hours.
The Legacy of Peace Aerial Parade will pass over the Battleship Missouri Memorial before the commemoration begins. Seventeen World War II-era warbirds will take off from Wheeler Army Airfield in central Oahu at about 7 a.m. and circle along the west coast of the island. They are expected to fly over the Missouri at 8:10 a.m.
The flyover will include a B-25 Mitchell bomber, the type used in the Doolittle Raid on Tokyo in April 1942; a Grumman FM2 Wildcat fighter; and a P-51 Mustang, which was used as a bomber escort.
The commemoration will include live remarks from Esper and Adm. Phillip Davidson, commander of U.S. Indo-Pacific Command, and a recorded message from Gen. Mark Milley, chairman of the Joint Chiefs of Staff.
The event will also include laying of a wreath, a moment of silence, rifle salute, playing of taps and a missing-man aerial formation.
olson.wyatt@stripes.com Twitter: @WyattWOlson