Electricity bills for some Navy housing residents in Hawaii to increase by 68%
by
Wyatt Olson
September 25, 2019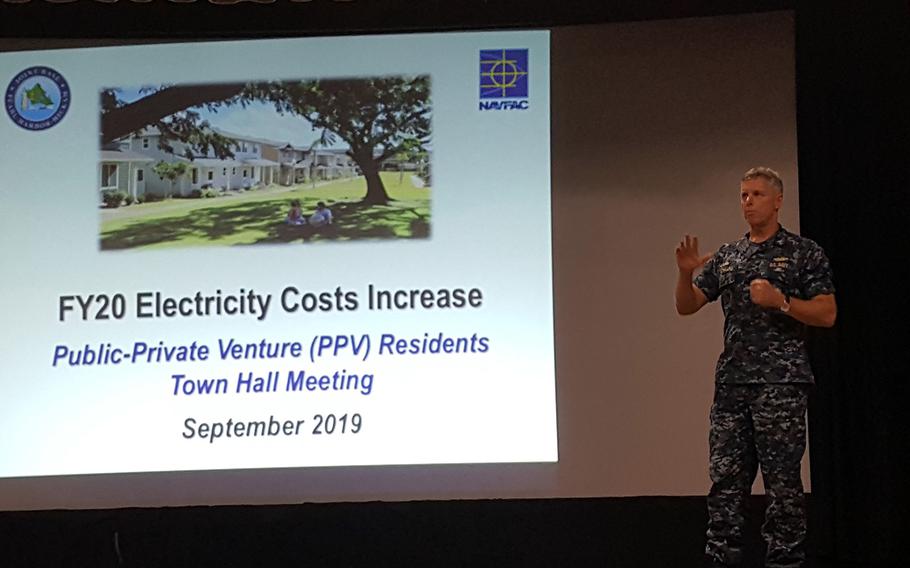 JOINT BASE PEARL HARBOR-HICKAM, Hawaii — Navy installation officials are scrambling to explain a 68% jump in electricity rates next month for airmen and sailors living in privatized housing in Hawaii.
Residents of Hickam Communities and Ohana Military Communities were notified only two weeks ago that the rate for electricity coming from a Navy-owned power grid would increase from 19 cents per kilowatt-hour to 32 cents per kWh on Oct. 1.
A residence using 500 kWh per month — roughly the Hawaii state average — would see a monthly bill increase from $95 to $160.
Hickam Communities and Ohana Military Communities host just over 7,000 residential units.
The Navy is holding a series of town hall meetings in an attempt explain the increase and the short notice.
"No excuses, no excuses," Capt. Marc Delao, head of Naval Facilities Engineering Command Hawaii, told a group of about 200 residents during a Monday evening town hall at Joint Base Pearl Harbor-Hickam.
He said he understood the frustration expressed by some residents for not being given notice of the rate hike months earlier.
"I totally get that," he said. "I will be absolutely honest with you. I failed here. I will take full responsibility for that on behalf of the Navy, the team. I take responsibility."
But he was quick to add that "there ain't really a whole lot I can do" about changing the rate that begins Oct. 1, which is the start of federal fiscal year 2020.
"What is done is done for FY20," he said. "That rate is there."
The rate hike is the result of a Navy-wide budget reform that converted the engineering command from a self-supporting revolving-fund organization into a general fund entity. Under the new structure, the command is required to bill users the actual costs of utilities and facilities management.
For roughly the past five years, the engineering command had set the electricity rate paid by residents of Hickam Communities and Ohana Military Communities below what it actually costs the Navy to buy from Hawaiian Electric Co., Delao said.
As of Oct. 1, the Navy will buy electricity from Hawaiian Electric, add overhead costs of management and maintenance and then charge customers based on those real costs, he said.
Hawaii's residential electricity rates are the highest in America.
Delao said he flew to Washington, D.C., two weeks ago to plead with "corporate headquarters" for relief from the 39 cents per kilowatt-hour the Navy had initially intended for Hawaii.
Last week, Naval Facilities Engineering Command Hawaii learned that the rate for fiscal year 2020 was being lowered to 32 cents per kWh, which is basically the same as Hawaiian Electric's rate for regular residential customers on Oahu, he said.
Some residents questioned why the energy being generated and sold back to Hawaiian Electric from the many solar panels in the two communities did not lead to lower electric bills. An engineering command representative said solar is offsetting only 15 percent of electrical demand.
Delao and other officials at the town hall meeting encouraged residents to use the Navy's Know Load program, an energy assessment that evaluates the efficiency of home appliances.
But a resident who identified herself as a single mother challenged the usefulness of the program.
"I've done it twice, and both times they told me that I'm doing everything fine, everything's perfect," she told the audience. "Yet I'm still paying over $300 a month."
olson.wyatt@stripes.com Twitter: @WyattWOlson
---
---
---